Greetings and welcome to this Hyundai HYM510SPE Lawn mower review which will cover all the main points you need to be aware of if you intend buying it in the coming days or weeks as we will outline all the main features that it has to offer you plus all the main pros and cons that you need to be aware of also before you make your final decision.
This review will also outline some frequently asked questions that has come in the recent past that will be of interest to you also and additional images is provided to give you a better understanding of the structure and components when it comes to its performance, reliability and overall workability options.
One thing in your favour starting off is the fact that you do not need to commute to your local retail store destination to collect as this Lawn mower can be easily ordered online and get delivered to your home hassle free which is one less thing that you need to worry about. These lawnmowers are also powered by the Hyundai OHV 4-stroke Euro 2 low emissions with low maintenance and they are now considered as extremely economical petrol engines which is always good to know.
In addition, please note also that guide prices can be shown at the time of this review as prices can change slightly from month to month depending on local promotional activities so please make sure to view the price checkers outlined below to ensure you have the most up to date accurate price information.
Brief Overview & FAQ's
| Brand: | Hyundai |
| --- | --- |
| Model: | HYM510SPE Self Propelled Petrol Lawn mower (Electric Push) |
| Warranty: | 3-year warranty (terms and conditions apply) |
| Orders Online: | Yes, with hassle free home delivery |
| Price Range: | £330 to £380 (at the time of this review) |
| Cheap Place to Buy: | Amazon UK – View Prices or Stock Availability Here |
| Reliable Stock: | Hyundai Power Equipment UK - View Stock Availability Here |
Frequently Asked Questions (5)
Q. Can the self-propelling be changed to manual around tight corners or flower beds?
A. Yes, you can disengage the self-propelled lever when needed and switch to manual for tight corners
Q. Do I need to pull the recoil cord to start it?
A. No, you can use the electric button to start it (the pull recoil cord is provided as back up)
Q. Is there a side discharge feature available?
A. Yes, a side discharge feature is available with this lawnmower
Q. Does it has the capability to mulch the clippings?
A. Yes, there is also a mulch plug included to allow you to put nutrients back into the soil
Q. Is the self-propelled speed variable or changeable?
A. Yes, the speed of the self-propelling can be changed to 4 different speed levels which is perfect when you need to work at different speed levels, especially to go slower with heavy long grasses
Hyundai HYM510SPE Lawn Mower Review
Hyundai HYM510SPE Self Propelled Button Start Petrol Lawn Mower 173cc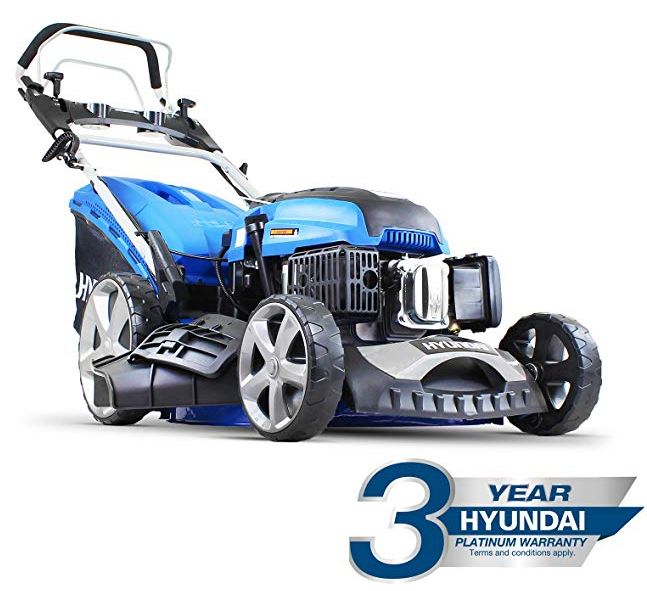 Main Features:
Mow cutting path width of 51cm
4 ways to deal with cuttings (4 in 1)
4 stroke petrol engine 173cc
Push button electric start system
Includes recoil pull start as backup
4 different speed levels available
Single lever height adjustments
Mow heights are 2.5cm to 7.5cm
Provides 6 different mow heights
Grass level box indicator (70L capacity)
Weight is approx. 43.8kg
Today's price can be checked below

Main Pros to Note:
The first key advantage here is the fact that it offers you the push button electric start and the CDI ignition system which is ideal for people who dislike pulling on recoil cords
The level of power provided here is superb and can deal with heavy thick grasses and damp grasses no problem whatsoever
You get a backup recoil starter system in addition to the electric starter system and no tools are required for the assembly process
The grass box at 70L capacity can hold a huge quantity of clippings which means more mowing and less time wasted emptying
There are 4 different ways to deal with the grass cuttings 1. Collect, 2. Rear discharge, 3. Side discharge, 4. Mulching so there is a great selection of options to choose from depending on your individual preferences and is ideal for the larger type garden that takes a good deal of time to get through.
You get a reliable a Hyundai 3 year platinum warranty included which gives great security before you spend any money and of course there is the quick release system with the handles for easier folding and better storage in small sheds (plus drink holders are thrown in!)
Main Cons to Note:
The lowest mow height of 2.5cm won't be low enough for certain gardeners that prefer a tighter cut.
Seriously heavy piece of machinery to operate coming in at over 40kg in weight so a good deal of personal power and strength is required to work with it
No rear rollers are included to give nice attractive stripes across your lawn and too large for smaller type town house gardens
Noise level can be a little too high especially if you have lots of neighbours living close-by and there is no oil included with the delivery
Assembly instructions are quite good but inexperienced gardeners may struggle with them somewhat and the price level tends to be too high for many people which can be double checked below

Further images are outlined below:
Comparison table vs other Hyundai Lawn mowers
The comparison table below compares the HYM510SPE Self Propelled Button Start Petrol Lawn Mower 173cc against various other lawn mowers models under the Hyundai brand for further clarity as follows…
| Feature: | HYM510SPE | HYM510P | HYM460SPE |
| --- | --- | --- | --- |
| Mow Width: | 51cm (20 inches) | 51cm (20 inches) | 46cm (18 inches) |
| Operation: | Self Propelled Rear drive | Self Propelled Rear drive | Self Propelled Rear drive |
| Power: | 4 stroke petrol engine 173cc | 4 stroke petrol engine 173cc | 4 stroke petrol engine 139cc |
| Grass Box: | 70L capacity | 70L capacity | 70L capacity |
| Side Discharge: | Available | Available | Available |
| Mulching Ability: | Available | Available | Available |
| Mow Heights: | 6 | 6 | 6 |
| Cutting Range: | 2.5cm to 7.5cm | 2.5cm to 7.5cm | 2.5cm to 7.5cm |
| Foldable: | Handles Yes | Handles Yes | Handles Yes |
| Starter: | Button & Pull recoil | Pull recoil only | Button & Pull recoil |
| Clean Wash Port: | Available | Available | Available |
| Warranty: | 3 years | 3 years | 3 years |
Price Comparison Options:
Before you make your final decision, feel free also to check out and compare prices from other suppliers that may also be of interest to you outlined as follows: