Many thanks once again for taking the time to visit and welcome to this Bosch Rotak 34 Corded Lawnmower review which will outline everything you need to be aware of if you intend buying it in the coming days or weeks. The plan for this review will be analyse and outline all the features, pros and cons that you need to know before you buy and also to outline further additional images to give you a better understanding on the features that it has to offer you.
Capabilities
In addition, there will also be a video demo and a comparison table against other Bosch lawn mower models to help give you further clarity on its capabilities and features that it has available which is outlined at the end of this page.
First of all, please be aware that guide prices can only be shown at the time of this review as prices can change slightly from week to week or month to month depending on local discount activities so please make sure to view the price checkers outlined below to ensure you have the most accurate up to date price information.
For easier navigation, this review will be split into 5 parts as follows...
Review Content
Part 1 – Quick Overview & Frequently Asked Question Session
Part 2 – Review of Features, Pros and Cons available
Part 3 – Comparison Table vs other Bosch Corded Lawnmowers
Part 4 – Price comparison options in the market
Part 5 – Video Demonstrations Display for additional clarity
Part 1: Overview & FAQ's
| Brand: | Bosch |
| --- | --- |
| Model: | Bosch Rotak 34-13 34cm Corded Rotary Lawnmower 1300W |
| Warranty: | 2 years - can be extended to 3 years if registered online (mybosch .com) |
| Orders Online: | Yes, with hassle free home delivery |
| Price Range: | £110 to £140 (at the time of this review) |
| Cheap Place to Buy: | Argos UK – View Stock Availability Here |
| Support: | Service or repairs on 03447360109 |
| Attractive Prices: | Amazon UK - View Todays Price Updates Here |
Frequently Asked Questions for the Bosch Rotak 34cm Corded Lawn mower:
Q1. How long is the cable provided with this lawn mower?
A. The cable provided with this lawn mower is 10 meters long
Q2. Can you use extension cords if the cable is too short?
A. Yes you can but make sure the fittings are compatible
Q3. Does it include the rear roller for stripes?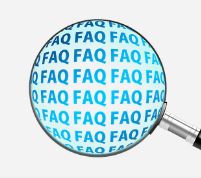 A. Yes, it includes the rear roller for stripes
Q4. Can the rear roller be removed?
A. No, as it is integrated into the unit
Q5. Can it mow tall grass that has not been mowed for a long time?
A. Yes, you will need to start mowing at the higher setting (example 7cm) and do a second pass at a lower setting
Q6. How do you fold down the handles?
A. You need to unscrew the knobs / screws first and then fold down
Q7. How wide is the frame on the lawn mower for storage?
A. The width is 40cm for storing
Q8. Can it be used for large gardens?
A. Yes you can but it will take longer – you are better off with a wider cut such as the 43cm model
Q9. Is this 34cm corded mower self propelled?
A. No, this is a push lawn mower
Q10. What are all the storage dimensions for tight spaces in sheds?
A. The storage dimensions are 61cm L by 40cm W by 55cm H
Q11. How tall is the mowing handle for taller people?
A. The height of the handle in operation is approx. 100cm
Part 2 – Bosch Rotak 34 Corded Lawnmower Review of Features, Pros and Cons
Bosch Rotak 34-13 34cm Corded Rotary Lawnmower 1300W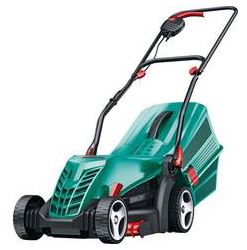 Main Features Available
Provides a 34cm mow path with a hardened and ground steel blade for clean and precise cuts
Includes a robust 1300W Powerdrive motor to deal with the average sized small to medium sized lawn
6 cutting heights are available with a mow height ranging from 2cm to 7cm
Grass collection box is included with a capacity of 40L and the handles can be removed for storage when not in use
A safety switch is included along with the rear rollers for stripes
Ergonomically designed handles are provided
Provides a single lever height adjustor and weighs 11kg
Includes the innovative grass combs to work tight around edges, borders and flower beds
Includes a 2 year warranty as standard and can be extended to 3 years if you register it online within 30 days
The price when last seen on sale with Argos UK was in the £110 to £140 region which of course can be double checked below

Further images about the additional Features are outlined below:
Main Pros Available:
One of the biggest attraction here is the price which is considerably lower than the cordless models – big savings can be made
Very lightweight to work with as the weight of it is only around 11kg which makes turning and steering very easy.
Gives a shorter cut by 1cm when compared to the Bosch 32 Cordless model which is 3cm minimum
Larger grass collector (40L) than the Rotak 32 Cordless by 9L which reduces the amount of times you need to empty
If your grass is very long, then you can start at the highest setting of 7cm and work your way down
The cutting around the edges is very tight with the use of the inset wheels and grass combs on the side
If you register online, you can extend you warranty from 2 to 3 years which is one of the longest available in the industry.
Perfect for people who have limited storage in their sheds as the handles can be folded and the grass box is stackable
It can also be carried easily to the lawn (instead of rolling) by using the integrated handle provided
No need to worry about charging of batteries or buying additional expensive batteries as back up
Main Cons Outlined:
You need to be extra careful with having a cord across your lawn as you mow.
Keeping the cord off the mow paths needs a specific technique but gets easier once you get used to it.
Limited to a mow area of the cord which is 10m, otherwise you need to go to the additional expense of an extension cord
The 5 day repair service is not available for collection in the UK highlands or any of the islands.
Cable of 10m is shorter than other corded brands that we have seen available in the market by 2m and in some cases 5m
Doesn't have the ability to mulch the clippings like other models can do so you always have to collect and empty.
Limited to lawn sizes of 300m2 only – if your lawn is bigger than this, then you should start looking for a larger and wider lawn mower
Not self propelled so if you have steep hills, then mowing will be more difficult to push it
Issues with attaching the handles have been raised as they did not line up properly as they should
On some occasions, the grass box did not fit as good as it should so not all the grass was collected
Selection of Consumer Positive Comments:
Cut really well and collected all the clippings with no tidying up work needed after – really tight around the borders by using the grass combs
Inset wheels were a big help getting very close around each of the edges across the lawn
Gave beautiful stripes across the lawn by use of the rear rollers
Fits neatly in a compact space in small sheds and well worth the money
Simple to assemble and also very easy to adjust mow height settings with the single lever
Selection of Consumer Negative Comments:
A lot narrower than thought and took longer than expected to complete the entire lawn
Grass collection box could fit a little better to prevent grass from falling out
The handle for carrying the unit could be more robust and solid as it is a little flimsy
At times, attaching the handle to the lawnmower could be easier – doesn't line up as good as it should which is annoying
Outer frame is quite weak and made of thin plastic – not sure if it will stand the test of time and the cable length was too short
Part 3 – Comparison Table versus other Bosch Corded Lawn Mowers
A comparison table is outlined below which compares the Bosch Rotak 34cm to various other corded lawn mowers under the Bosch brand…
| Feature: | Rotak 34cm Corded | Rotak 32cm Corded | Rotak 37cm Corded |
| --- | --- | --- | --- |
| Mow Width: | 34cm | 32cm | 37cm |
| Lawn Size: | 300m2 | 300m2 | 600m2 |
| Power Level: | 1300W | 1200W | 1400W |
| Grass bag Size: | 40L capacity | 31L capacity | 50L capacity |
| Height Settings: | 6 | 3 | 6 |
| Mow Heights: | 2cm to 7cm | 2cm to 6cm | 2cm to 7cm |
| Warranty: | 2 to 3 years | 2 to 3 years | 2 to 3 years |
| Handles: | Foldable | Foldable | Foldable |
| Rear Roller: | Available | Available | Available |
| Safety Switch: | Included | Included | Included |
| Weight: | 10.8kg | 10.2kg | 11.2kg |
| Cable Size: | 10m long | 10m long | 10m long |
Part 4 – Price Comparison Options
If you would like to compare various prices across the marketplace, then make sure to take a quick look at the options provided below which will be of interest to you…
Part 5 – Video Demonstration Display
If you wish to view the assembly process and the features available instead of reading about them, then take a look at the short video demonstration outlined below…
Video - Bosch Rotak 34R Lawn Mower Review and Assembly Duration
Repair Service:
Please note also that Bosch offer a 5-day repair service which can be quickly summarised as follows:
Day 1 = Call 03447360109 to arrange the collection
Day 2 = Collection takes place before 5pm
Day 3 = If under warranty it will be serviced straight away. If not, they will give you a quote
Day 4 = Repaired or Serviced and despatch organising
Day 5 = Lawn mower returned
Excludes the UK highlands and also all the Islands
Further Reading
If at the end of this review and you are still undecided, then feel free also to take a look at further reviews outlined as follows:
Bosch 32cm Cordless Lawnmower Review - Take a Look Here
Flymo Mighti-Mo Rotary Lawnmower Review - Take a Look Here
Flymo Speedimo Rotary Lawnmower Review - Take a Look Here
McGregor Lawn Mower Reviews - Take a Look Here
Spear & Jackson Lawn Mower Reviews – Take a Look Here
Mowing Feedback
Have you any previous experience of using a Bosch 34cm Corded Lawnmower in the past? If so, please educate the UK community by leaving your feedback good or bad in the comment section provided below – So that they can learn also!
Any email data is kept strictly confidential