If you are thinking about buying a Lawn mower at Just Lawnmowers UK in the coming days, then make sure to check out our review for what we believe are some of the top picks in several of their Lawnmower categories. They are also known as Calgary Just Lawnmowers based in Sheringham, Norfolk  and they can be contacted directly on +44 345 222 0231 for any queries that you may have which is good to know.
Spare Parts
Please note though that Just Lawnmowers don't stock any spare parts that you may be looking for so you will need to source it elsewhere or source it from their sister company Anglia Mowers who stock a vast range of lawnmower parts instead.
Best Lawnmowers @ Just Lawnmowers
This company stock a vast range of lawnmower brands and we have selected what we believe are the top picks in many of their lawn mower categories be it Electric, Cordless, Robotic, Petrol, Tractor Ride on mower and also Ride on Zero turn mowers. While they don't stock all the major brands, their range of brands is still quite impressive all the same and there are plenty of options to choose from depending on your own budgetary requirements.
Just Lawnmowers Location
Best Electric Corded Lawnmower @ Just Lawnmowers
Cobra Self-Propelled Electric Lawnmower MX46SPE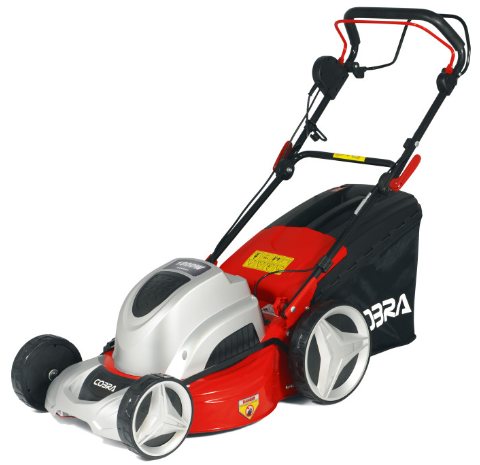 When it comes to Electric corded lawnmowers, our personal favourite at Just Lawnmowers would have to be the Cobra Self-Propelled MX46SPE Electric Lawnmower that offers the self-propelled support for easier mowing, a 46cm or 18 inch mowing deck and a large capacity grass collection 60L box that requires less time emptying while mowing your lawn.
In addition to the self-propelled support, you get the more powerful 1800W motor as well as the Mulch plug to help with providing a natural fertiliser to your lawn and the length of this power is longer than many others coming in at 15m length. There is plenty of power for dealing with long or damp grass plus you have the option to use the side discharge if needed. It gives you 7 mowing height options that range from 2.5cm up to 7.5cm and these are adjusted using a single adjustment lever.
Price Guide: £270 - £320

View also: Our Corded Lawnmower Reviews here
Best Cordless Lawnmower @ Just Lawnmowers
Bosch Universal-Rotak 36-550 Cordless Lawn Mower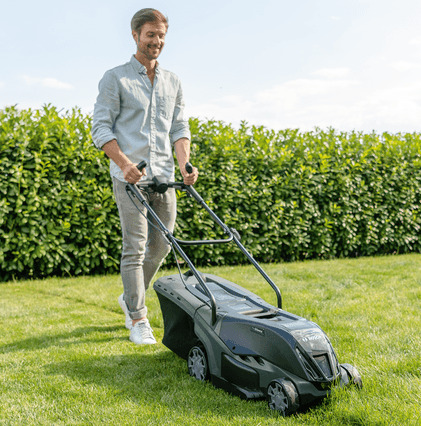 Our top recommendation when it comes to cordless lawnmowers at Just Lawnmowers would have to be the Bosch Universal-Rotak 38cm width Cordless Lawnmower which can cover larger lawn sizes up to 400-500m2 and it comes with a 36V 4Ah battery and of course you don't have to worry about power cords, cables, oils or petrol for that matter. For easier steering and pushing, you get the Ergoflex handles which work great and there are 6 mowing height options available ranging from 2.5cm to 7cm.
It also works great when it comes to the collection of leaves across your garden and it operates with a reduced noise level than expected which is great when you have neighbours living close by. Recharging the battery takes around 2 hours to complete and you can expect to get 20-30 minutes mowing runtime depending on grass and terrain conditions.
Price Guide: £370 - £420

View also: Our Cordless Lawnmower Reviews here
Best Robotic Mower @ Just Lawnmowers
Bosch Indego M+ 700 Robotic Lawn Mower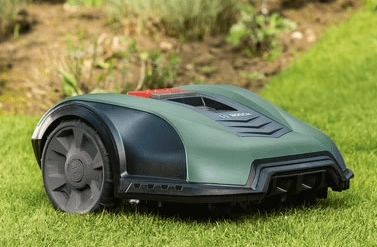 For an easier life and for people who have limited mowing times available to them, then we would recommend the Bosch Indego M+ 700 Robotic Mower which does all the mowing work for you and it can work on lawn sizes up to 700m2 which is good to know for larger lawns.
Robotic lawnmowers are getting smarter and smarter as technology evolves and this Robotic mower from Bosch can be connected to your smart device when you download the App and it can avoid mowing in bad weather conditions as well as mow in straight lines using LogiCut map technologies.
It also has the SpotMow function where it can target specific areas of the garden and it has the brushless motor as you would expect plus the 3 cutting blades for a nice even grass cut. You can also control it with Alexa as well as your smart device and you will need to install the boundary perimeter wire to get it started.
Price Guide: £800 - £1200

View also: Our Robotic Mower Reviews here
Best Petrol Lawnmower @ Just Lawnmowers
Honda Izy HRG 416 PK Petrol Lawnmower
There are several Petrol lawnmowers here that we liked however the one that stands out the most for us is the Honda 4 stroke Izy HRG 416 PK Petrol Lawnmower that offers a 41cm mowing deck and you should be able to get your hands on it for less than £450 when seen at the time of this review. The starting here is superb with the Auto-choke system and it comes with a 5 year warranty as well as a solid and robust steel deck that is protected against corrosion.
When you start working with this lawnmower, you know straight away that you have a powerful engine under your arms as it makes light work of difficult mowing conditions and it ploughs through long and damper grasses with ease which in turn making your mowing work easier and quicker to do.
This new Izy range has the larger fuel cap, an easy access to the spark plug and oil drainage plus access to the air filter doesn't require any tools.
Price Guide: £330 - £450

View also: Our Fuel Lawnmower Reviews here
Best Tractor Ride on Mower @ Just Lawnmowers
John Deere X350R 42 Inch Lawn Tractor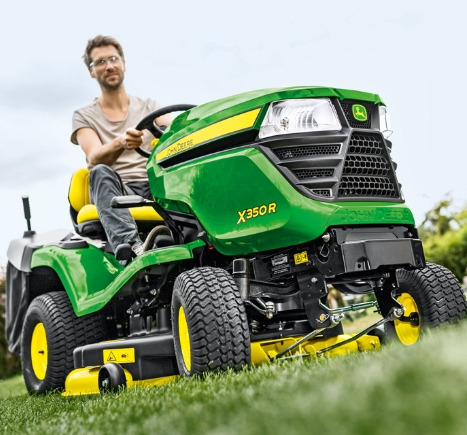 There are several Tractor Mower brands available at Just Lawnmowers but our top pick recommendation is the John Deere X350R 42 Inch wide Lawn Tractor mower which offers the hydrostatic drive for better pedal controls, a superb high capacity hopper and it is designed with a powerful 603cc Kawaskai V-twin iTorque engine and the 107cm or 42 inch wide mowing deck. They deliver it fully assembled and ready to mow so you can get working on it straight away without any delays.
You get the Twin Touch transmission control pedals as well as the cruise control and there is plenty of power and more for damp grasses, slopes, difficult terrain and long grasses – this machine is an absolute pleasure to work with and makes mowing work actually enjoyable! Everything about this Tractor Lawn mower is pure class from start to finish and it is designed for larger lawn areas up to 1.5 acres in size.
Price Guide: £7000 - £8000

View also: Our Ride on Tractor Mower Reviews here
Best Zero Turn Mower @ Just Lawnmowers
Snapper ZTX105 Zero Turn Ride On Mower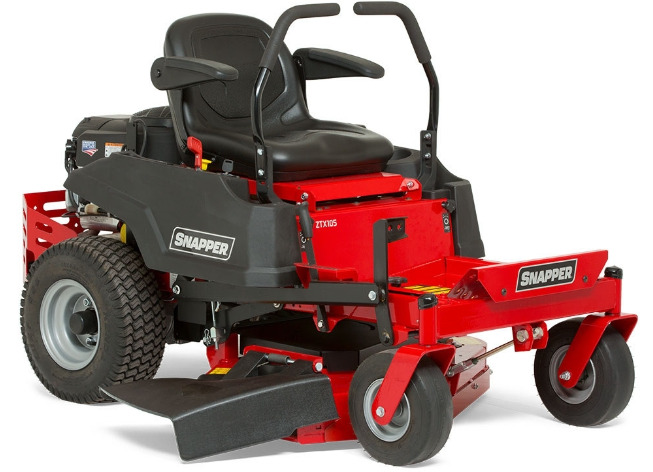 Next we have Zero Turn Mowers and the Zero turn mower that particularly impressed us giving good value for the money is the Snapper Zero Turn Ride On Mower ZTX105 that is designed to work on larger areas up to 2 acres in size and it is designed with the Briggs & Stratton Intek Series 7200 V-twin OHV engine.
It's a compact size Zero Turn mower with a  91cm wide mowing deck and we liked the foot assisted mower deck lift and the two independent Hydro-Gears EZT transmissions work superbly which is a joy to work with. There are bigger Zero turn mowers than this elsewhere but this nice compact size gives great mowing results time and time again and it takes up less space when it comes to storage so the price point is lower and more affordable.
When it comes to slopes, this Zero Turn mower has plenty of power and traction torque and it is covered with their 3 year warranty
Price Guide: £4500 - £5000

View also: Our Best Lawnmower Lists here
Just Lawnmowers Feedback
Have you bought a lawnmower from Just Lawnmowers UK in the recent past?
If so, please share your own experiences and feedback with the wider mowing community by leaving a comment in the comment box section provided below
So that others across the mowing community can learn also…