Are you thinking about buying a lawnmower at Wickes in the coming days? If so, then please check out our Wickes Lawn mower review which includes our top picks for the best value electric lawnmowers in their portfolio from brands that you should already be familiar with.
In addition, we will outline some price comparison options for you to check out and compare for yourself which can possibly save you some money in the process.
Read also: Popular Petrol Lawnmowers here
Wickes Overview
This company was established back in 1972 in Manchester for tradesmen, builders merchants and DIY projects so that multiple different products could be sourced under the same roof at the same time. This resulted in a wider range of products that could be sourced for larger projects more easily which in turn speeded up the process when completing projects on a wider scale.
Support
They work with a number of suppliers worldwide and they have over 230 stores nationwide as well as a customer support centre based in Watford. Wickes can be contacted by telephone on 0844 875 1491 or you can email them directly on wickes@clarioncomms.co.uk. Their full range of lawnmowers on sale can be checked out here if needed
Wickes Community Support Programmes
One thing that Wickes have worked well on is supporting Community based projects, initiatives and programmes which helps to give something back into various community areas. Some examples of this are the Eco Garden upgrade in St Lukes Primary school, the puddle project in Warrington and the Pet Rescue project to protect rabbits against predators.
In addition to this, they supported both the Macclesfield Princes Trust and the Grow project for supporting gardeners which in turn is a great way to build trust and a relationship with the local and wider communities.
Wickes Lawnmower Brands
Although Wickes don't have availability on all lawnmower brands, they do supply many household brand names that you should already be familiar with. Some of the more popular branded lawnmowers include, Black and Decker, Bosch, Einhell, Flymo, Greenworks, Hyundai and Webb. In addition, there are also lawnmowers from the brands of Daewoo, Karcher, Stanley Fatmax and Yard Force for the petrol lawnmowers.
Pros for Wickes Lawnmowers
Excellent store location support structure and customer service to shop local or buy online
Strong history with an established brand and reputation to maintain and protect
Large range of petrol and electric lawnmowers with over 200 models to choose from
Great prices on offer as nearly half of their lawnmowers were on sale for less than £200 at the time of our review
Their range of cordless lawnmowers in particular which are more environmentally friendly is certainly impressive as you have over 50 different models to choose from
Cons for Wickes Lawnmowers
There are no ride on tractor mowers or zero turn mowers available in their portfolio
Although the brands range is quite good, they still don't stock lawnmowers from Husqvarna, Honda, Spear and Jackson or Mountfield which was unexpected
Lacks the expertise and knowledge about some lawnmower technical information that smaller companies would specialise in
The range of robotic lawnmowers is quite limited and could be extended
Range of petrol lawnmowers and self-propelled petrol lawnmowers is somewhat limited especially when it comes to brand choices.
View also: Popular Cordless Lawnmowers here
Wickes Lawnmowers – Great Value Picks
1, Bosch Rotak 36R 1350W Corded Lawnmower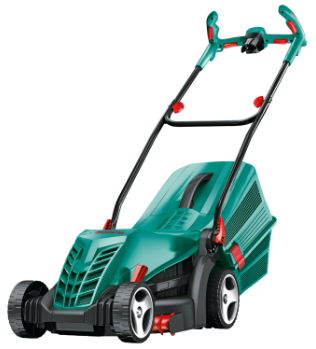 The first great value popular electric lawnmower on sale with Wickes would have to be the Bosch Rotak 36R 1350W Corded Lawnmower which has a lightweight design at only 12kg and a cutting width of 36cm. The length of the cable is 10m long so it is only suitable for small urban type gardens. Some of the things you will like are the Grass combs for the edges, the Powerdrive motor for consistent reliable performance and the decent sized grass box that has a collection capacity of 40 litres.
This Bosch lawnmower comes with the comfortable Ergoflex handles to help manoeuvrability around corners and flowerbeds in particular and it has plenty of mowing height options that range from 2cm up to 7cm. They are a trusted brand in the industry and while they can cost slightly more, they are worth every penny in our opinion.
Price Guide: £100 - £150
2, Flymo Speedi-Mo 36C 1500W Corded Lawnmower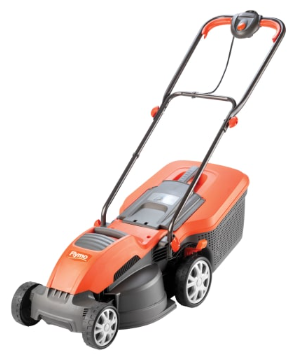 Our second great value option especially if you are seeking a low price is the Flymo Speedi-Mo 360C 1500W Lawnmower with offers a 36cm (14 inches) cutting width, a grass collection bag with a capacity of 40 litres and a reliable 1500W motor built in. The model code to choose is FSM360C and you get a choice of 5 different mowing heights that range from 2.5cm up to 6.5cm.
One big attraction here is the fact that the handles can be folded down easily after use for compact storage in your shed. In addition, the cable is 10m long so it is designed for urban type small gardens, the weight is only 11.5kg so carrying it around is no problem whatsoever and it comes designed with a nice carry handle on the top of the frame
Price Guide: £120 - £170
3, Einhell 18/33 Cordless Lawnmower GE-CM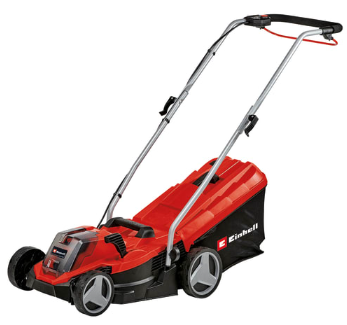 For a great value cordless battery electric lawnmower, the model we felt offers the best value is the Einhell 18/33 Cordless Lawnmower GE-CM and it is suited for people looking for value and the lowest possible price. This lawnmower was on sale for less than £200 when seen at the time of our review and it works well on lawn sizes up to 200m2 maximum.
It's a smaller framed and lightweight lawnmower suited for small gardens and lighter duty work so you will need to mow more regularly to keep the grass under control. Mowing long thicker grasses with a lawnmower like this will be difficult so it would be better to frequently mow the grass so that it doesn't get out of control. It includes an 18V 4Ah battery, a charger, the 30L grass box and the mowing width is narrower at 13 inches or 33cm.
Price Guide: £150 to £200
View also: Reliable Petrol Lawnmowers here
Community Feedback
Have you bought a lawnmower from Wickes recently? Did everything go according to plan or were you disappointed in any way?
If possible, please share your own experiences with the wider community by leaving a comment in the comment box section provided below – so that others in the UK can learn also…