If you are considering buying a lawnmower from Just Lawnmowers UK, then check out our review which will outline some pros and cons that we came across plus an outline of some of our top picks in their Lawnmower portfolio.
Their range of lawnmowers is quite impressive and they offer a 14 day money back guarantee plus fast deliveries to UK mainland from their warehouse in Norfolk.
View also: Popular Cordless Lawnmowers here
Overview
Just Lawnmowers is a trading name of Calgary Just Companies Limited and they are a family business with over 50 years' experience in the gardening, horticultural and leisure industries. They have a warehouse based in North Norfolk and they are an authorised agent for many gardening tools and machinery brands across Europe. They can be contacted Monday to Friday 8:30am to 5pm and they have a support team in place to answer any queries that you may have.
Although the name implies Just Lawnmowers, they do stock a number of other garden tools and equipment such as grass trimmers, hedge trimmers and chainsaws so they are not just limited to Lawnmowers alone. They are based in Norfolk and they can be contacted by calling 0345 222 0231 or sending an email to support@justlawnmowers.co.uk
Promotional Activity
One thing the company are good at is offering promotional discounts. For example, there was a £200 cash back on Stiga Lawn tractor mowers, free trailers with Honda Lawn tractors plus free oils and stabilisers with Mountfield petrol lawnmowers. Another attractive offer we liked was the £200 cash back on the Mountfield 1530H Ride on Mower and they also offer £10 off on your first order when seen at the time of our review.
Brand Portfolio
Although they don't have every single brand in their portfolio, they still stock a large number of household name brands that you should already be familiar with. They are an approved dealer agent for these brands and some of their most popular brands would be Bosch, Cobra, Ego, Honda, Stiga, Mountfield and Stihl.
In addition to this, they also have other brands such as Al-Ko, Echo, Henchman, Mitox and LawnFlite so there is wide selection of models and brands to choose from within each of their categories which can be checked out beloe
Pros for Just Lawnmowers
They score very well when it comes to reviews on Trust Pilot where reviews and feedback are verified and they actively participate in these discussions.
They have the expertise and knowledge when it comes to garden care, lawnmowers, maintenance and more such as preparing the lawnmower for you ready to mow.
The range of brands they have in their portfolio is quite good and there are lots of discounts available on select product lines
Staff are on hand to provide customer care and deal with any questions or issues that you may have – it's nice to speak to an actual human being
Oils and additives are included in selected petrol powered tools and lawnmowers and you have the option to pay extra for the Start n Go service which is worth it when it comes to large purchases where advice, tips and technical information will be needed
Cons for Just Lawnmowers
Although their deliveries seem to work well, on the odd occasion the supply chain can let them down so delivery dates and delivery pallets can be a little unpredictable.
Many of the items are delivered directly from them but some are delivered directly from the supplier so they can arrive sometimes at any date without prior warning
They don't have availability on other selected brands such as Husqvarna, Spear and Jackson, Flymo, Hyundai and McGregor plus they don't seem to have budget type lower priced brands which was unexpected.
View also: Popular Petrol Lawnmowers here
Just Lawnmowers UK – Top 5 Picks
1, Honda Izy HRG 466 SK Self-Propelled Petrol Lawnmower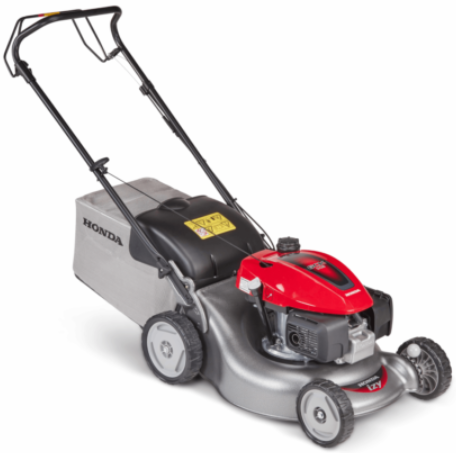 One of the petrol lawnmowers that we really like is the Honda Izy HRG 466 SK Self-Propelled 4 stroke Petrol Lawnmower which offers a single speed self-propelled support as well as a 145cc Honda GCVx 145 engine, a 41cm cutting width and it is designed for lawn areas of 1200-1300m2 in size.
The Honda Izy versions have a new auto choke system for increased performance and easier starting plus easier access when it comes to maintenance of the spark plug, air filter and the oil drain. The noise level is a lot lower than many other petrol lawnmowers and the capacity of the grass collection unit is 50 litres. For added safety, the blade will stop once you remove your hand from the lever and it comes backed with a 5 year warranty as long as it is serviced annually.
Price Guide: £550 - £670

2, Bosch Advanced Rotak 36-650 Cordless Lawnmower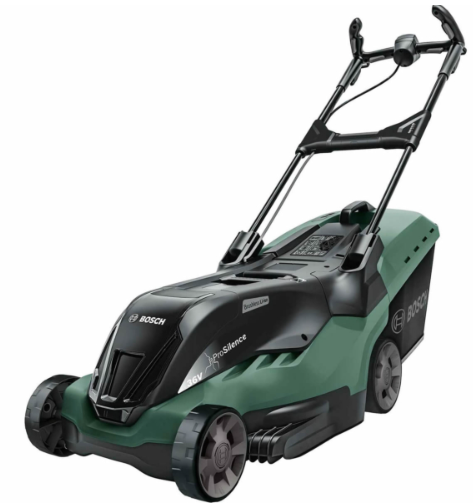 For an electric lawnmower, the model we liked was the Bosch Advanced Rotak 36-650 Cordless Lawnmower which includes the 4Ah battery and charger pack, a collection grass bag with a capacity of 50 litres and a mowing width of 40cm which is wider than many other electric lawnmowers in the market.
It works well on all grass types and the collection of leaves and the noise level is so much lower than your typical petrol lawnmower which is great if you have neighbours living close by. It comes with the rear roller for stripes, 7 mowing heights from 2.5cm to 8cm and the comfortable Ergoslide handles can be adjusted to your liking.
In addition, the grass combs on the sides can cut nice and tight to the edges leaving less work for trimming afterwards and it comes with a warranty of 3 years for peace of mind. Recharging takes approx. 2 hours long and you can expect a mowing runtime of 20 – 30 minutes depending on grass and terrain conditions.
Price Guide: £450 - £570

3, Honda HF 2417 HBE Premium Garden Tractor Mower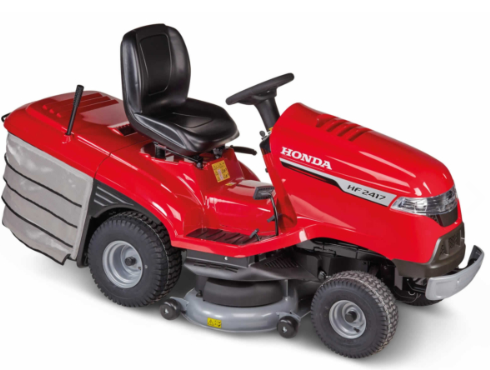 When it comes to garden Tractor ride on mowers, the tractor we recommend is the Honda HF 2417 HBE Premium Garden Tractor Mower which has a 101cm cutting width, a 4-stroke Honda GCV engine with 17HP, a grass collection capacity of 300 litres and of course the attractive and easy to use Hydrostatic transmission for speed control. Even though the price is quite high, this tractor ride on mower comes with excellent engineering and quality components to serve the test of time and they offer a 5 year domestic warranty as well as a 1 year commercial warranty.
It is designed for large lawns and grass areas of up to 8000m2 and the fuel tank has a capacity of 5.4 litres. The superior design and makeup with a 4-stroke OHC V-twin Honda GCV520 530cc 17HP engine is certainly an impressive piece of kit and there are 7 mowing heights to choose from that range from 3cm up as far as 9cm
Price Guide: £4200 - £5000

4, Mountfield 1530H Garden Tractor Mower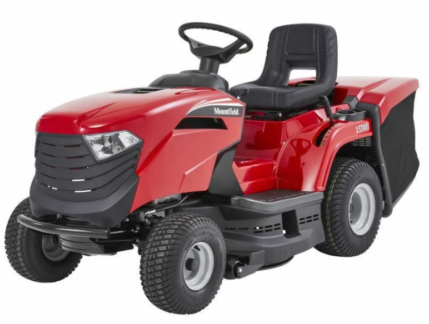 Another ride on tractor mower that we really liked is the Mountfield 1530H Garden Tractor Mower which comes at a much lower price than the Honda but it still offers the 84cm cutting width, the Hydrostatic Transmission and of course the Mountfield Series Stiga 7750 OHV Engine. The Hydrostatic transmission means that you get the forward and reverse speeds that can be controlled and adjusted by pressing a foot pedal which is similar to driving an automatic car.
It is delivered fully assembled and ready to mow and it is well capable of dealing with lawn sizes of up to 1.5 acres no problem whatsoever. The grass collection is smaller but still very adequate at 240 litres, it has the twin bladed cutting system as standard, there is also the option to side discharge and it comes with a 5 year warranty as long as it is serviced annually by an authorised approved dealer.
One of the attractions here is the slightly smaller frame dimensions so it can fit through a 3ft garden gate and the high back seat can be adjusted to suit your own comfort levels and personal height.
Price Guide: £2700 - £3300

5, Bosch Indego XS 300 Robotic Lawn Mower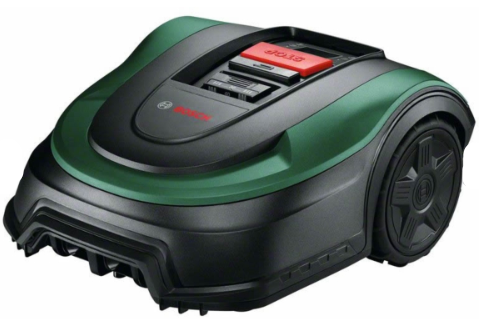 For robotic lawnmowers at Just Lawnmowers UK, the model we preferred is the Bosch Indego XS 300 Robotic Lawn Mower that takes away all the hard work so you don't have to and it returns to the docking station automatically when it needs to be recharged once again. The speed is impressive as well as the navigation Logicut Intelligence and certain areas can be targeted when needed using Spot mow instead of mowing the entire lawn.
This particular model is designed for smaller 300m2 lawns but there are larger models in the wider range to cater for larger lawn sizes also. The grass clippings are mulched back into the soil so you will hardly even notice it and it comes backed with a 2 year warranty for peace of mind.
You will need to install the perimeter wire which takes time, patience and effort but once complete, its bye bye mowing and time for you to sit back, relax and let the robot do all the mowing for you.
Price Guide: £550 - £700

Read also: Reliable Petrol Lawnmowers here
Conclusion
After completing our review for Just Lawnmowers, we hope our work here can give you some direction and hopefully it can speed up the process when it comes to making your own final selection. We have included our pros and cons plus our top picks in their lawnmower categories plus the opportunity to compare prices elsewhere which can possibly save you some money in the process. You can check out their updated promotional offers and prices below...

Community Feedback
Have you ever bought a lawnmower from Just Lawnmowers in Norfolk before? Were you happy with your purchase or were you disappointed in any way?
If possible, please share your own experiences with the wider community by leaving a comment in the comment box section provided below – so that others in the UK can learn also…