If you are thinking about ordering a lawnmower online from Lawnmowers Direct in Essex, then check out our review for what we believe are the top picks in each of their lawnmower categories be it petrol lawnmowers, electric lawnmowers, robotic lawnmowers or even Tractor Ride on mowers. There is a huge range of over 400+ Lawnmowers available in their catalogue and they offer various other gardening equipment tools such as hedge trimmers, grass trimmer's and so much more.
Read also: Popular Corded Electric Lawnmowers here
Overview
The company Lawnmowers Direct was established back in 1999 and the business is owned by Ernest Doe & Sons Ltd who were established as far back as 1898. They manage 18 branches around the area mostly in the south East and they use the Feefo review platform for submitting customer and client reviews. They are an approved supplier for some of the top brands and they have significant buying power when it comes to getting discounts on bulk orders from their lawnmower suppliers. As they have a maintenance team, they can also supply a wide range of spare parts to deal with any problems that you may have.
Location
The company are based in Ulting, Maldon, Essex CM9 6QH and they can be contacted by email on info@lawnmowersdirect.co.uk or you can call them on 01245 383519 or 01245 383565. Their business hours are Monday to Friday 9.30am to 4.30pm and you can visit their contact page here
Pros for Lawnmowers Direct
Unlike many other suppliers, they offer brands and lawnmowers which are not on sale with many other online stockists such as Husqvarna robotic lawnmowers, Honda Self Propelled lawnmowers and Honda Ride on Tractor lawnmowers. They even stock Honda Robotic lawnmowers, Husqvarna Automowers and Stihl Electric lawnmowers which have limited availability online.
They offer free engine oil with all petrol based lawnmowers and equipment products
They are an approved official dealer for many of the top brands of lawnmowers
Unlike some online retailers, this company have their own impressive warehouse for stocking and checking order despatches plus their own engineering maintenance team and a wide range of spare parts.
Cons for Lawnmowers Direct
Some items and brands are not always readily available. They appear to be stocked however deliveries can take a lot longer than expected which can be frustrating
There are so many lawnmowers, it is difficult to choose which one! They had over 400 lawnmowers on sale at the time of our review so its not that simple to narrow your search down to just 1 lawnmower
Some prices are competitive yet many others were higher than expected
Their business hours are not bad however they are closed on Saturday's which was quite unexpected and certain items are only available to selected areas – for example, some Tractor ride on mower brands are only available to Cambridgeshire, Norfolk, Essex, Suffolk, Hertfordshire and North London areas.
View also: Popular Petrol Lawnmowers here
Part 1: Lawnmowers Direct Petrol Lawnmowers – Top 2 Picks
1, Honda HRG466PK IZY Push Petrol Lawnmower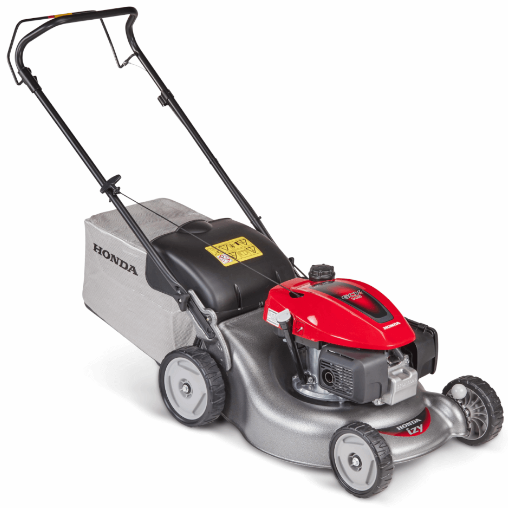 The first lawnmower that we recommend is the Honda HRG466PK IZY Push Petrol Lawnmower which has superb engineering, superb power and fantastic mowing results. It is part of the IZY range and the power if offers when it comes to thicker and long grasses is second to none. Deliveries are normally covered within a week, it offers a cutting width of 46cm and the price level is impressive especially when you are buying a lawnmower from a brand like Honda.
Included in the design is the choke optimisation, easy reliable starting, a 50L grass capacity bag and 6 different mowing heights. Pushing the lawnmower is not all that bad as it only weighs 31kg and there is a 5 year warranty as long as it is serviced annually by a reputable company.
Price Guide: £400 - £550
2, Honda HRG466SK IZY Self-Propelled Petrol Lawnmower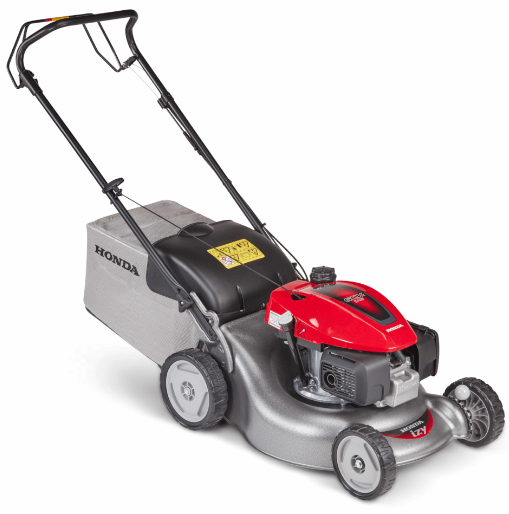 If you prefer using a self-propelled lawnmower, then you will certainly like the Honda HRG466SK IZY Self-Propelled Petrol Lawnmower which costs a good deal more than the push Honda lawnmower but it is absolutely necessary for larger mowing jobs, mowing on slopes or even mowing on rough terrain.
When you buy a self-propelled mower like this, you will NEVER buy a push lawnmower ever again in our opinion. Stock levels tend to be quite good and deliveries are normally covered with 7 working days. The cutting width here is also 46cm, the engineering is top class and a 5 year warranty is available as long as it is serviced annually.
In addition, there are 6 different mowing heights, the grass collection bag has a capacity of 50L and the weight is less than 35kg which is very manageable especially with the self-propulsion.
Price Guide: £550 - £680
Part 2: Lawnmowers Direct Electric Lawnmowers – Top 2 Picks
1, Bosch Rotak 34R Electric Rotary Mower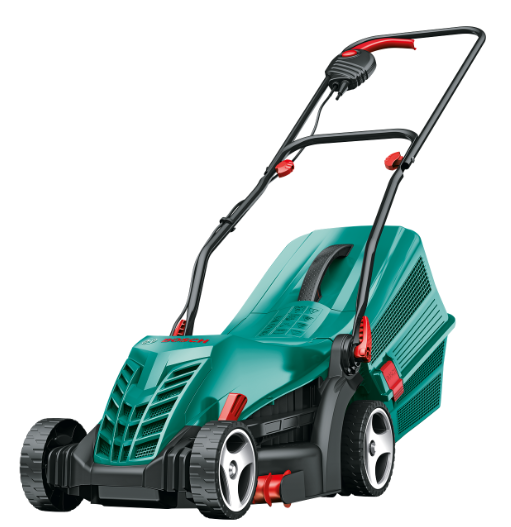 When it comes to electric lawnmowers from Lawnmowers Direct, you should take a closer look at the Bosch Rotak 34R Electric Rotary Lawnmower which tends to be on sale for less than £160. Sometimes, they can offer discounts of £25 on this lawnmower so savings can certainly be made if you are buying at the right time.
Deliveries are free to the UK mainland and they tend to take 3 to 5 working days when in stock. It has the grass combs for the tidy finish of edges, a 34kg mowing width, a weight of only 11.1kg and it is ideal for small to medium sized urban type gardens that can be serviced by the length of the power cable.
The capacity of the grass box is 40 litres also which is bigger than many other electric type lawnmowers, it has the Ergoflex handles to help the mowing manoeuvrability and it has the rollers on the rear to give you that beautiful striped effect. Starting the machine is done by pressing a button and there are 5 mowing heights ranging from 2cm up to 7cm
Price Guide: £120 - £160
2, Bosch Advanced Rotak 36-750 Cordless Lawnmower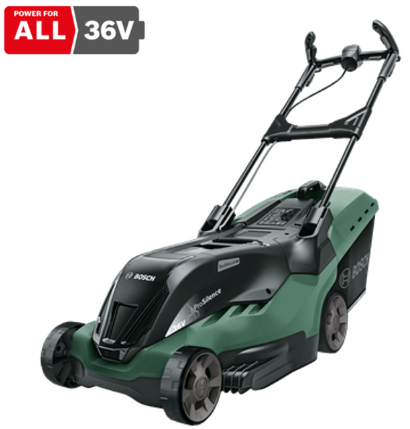 If you need to avoid the cables and go down the cordless battery route, then you should take a closer look at the Bosch Advanced Rotak 36cm Cordless Lawnmower which costs a good deal more than the corded version but you have the freedom of not having to worry about electric cables on your lawn as you work. This lawnmower is well stocked from we have seen so deliveries tend to be a lot quicker usually in 3 to 5 working days.
The noise level here is low also which is good if neighbours live close by, the mowing width is 36cm and there are 7 mowing height positions that range from 2.5cm up to 8cm. The battery and charger are included in the pack (avoid bare tool options) and you can get a mowing time of 20-30 minutes depending on grass conditions and the charge of the battery when you start.
Price Guide: £350 - £530
Part 3: Lawnmowers Direct Robotic Lawnmowers – Top 2 Picks
1, Husqvarna Automower 105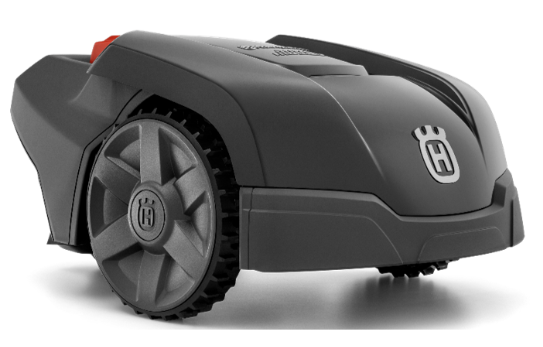 When your lifestyle is way too busy and you need your grass cut for you, then the solution you need is the Husqvarna Automower and the model we particularly liked is the Husqvarna 105 Robotic Automower which takes away all the hard work associated to mowing gardens. It can work on slopes and within the designated boundary area and the grass clippings are mulched back into the soil which act as a natural fertiliser. Stock may not be as readily available as you might expect so deliveries can take slightly longer that other branded lawnmowers.
This particular model is designed really for gardens up to 600m2, it can manage slopes of 25-28% and it returns to the docking station automatically when it needs to be recharged once again.
The  boundary installation kit needs to be installed which will take some time and effort but it will be worth it in the end once you are ready to go – no more mowing!
Price Guide: £800 - £1000
2, Honda Miimo HRM 40 Live Robotic Mower
Another robotic lawnmower that performs really well from Lawnmowers Direct is the Honda Miimo HRM 40 Live Robotic lawnmower and this is designed for lawn sizes of up to 400m2. It's a smart Robotic mower where it can be connected to your smart device and you can monitor it from there plus it is also compatible with Amazon Alexa.
It maps the layout of the garden, it can reach all the harder to reach areas and it basically does all the hard work so you don't have to. Recharging the mower is done automatically in the docking station and the maximum incline recommended is 15% slopes. It works on both iOS and Android, recharging takes 45 minutes and it comes with the 125m boundary wire as well as 180 pegs.
Price Guide: £850 - £1000
Part 4: Lawnmowers Direct Tractor Ride on Mowers – Top 2 Picks
1, Honda HF2417HME Tractor Ride on Mower
Main Features
530cc four-stroke V-twin petrol engine
Honda's Versamow mulching system
Fully hydrostatic transmission
8.4 litre rear-mounted fuel tank
Variable speed control up to 8.2km/h
Price Guide: £4000+
2, Westwood V25-50HE Garden Tractor Mower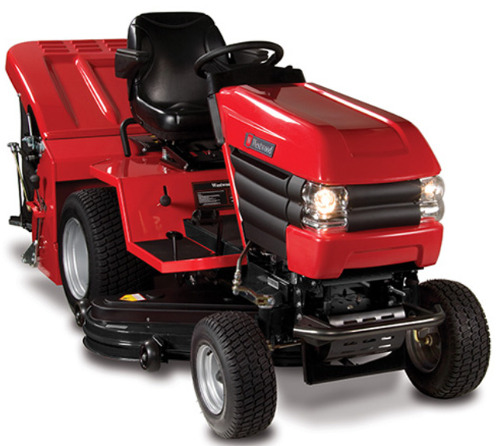 Main Features
Westwood's flagship lawn tractor mower
Handmade in Oxfordshire
50 inch IBS deck for areas up to 3 acres
Designed with a 726cc Kawasaki engine
Optional 390 litre powered grass collector
Price Guide: £6500+
Read also: McGregor Grass Trimmer review here
Conclusion
After completing this review for Lawnmowers Direct in Essex, we hope our work here can help you out in some small way and perhaps speed up the process when it comes to selecting your own Lawnmower. We have included petrol lawnmowers, self-propelled lawnmowers, electric lawnmowers and tractor Ride on mowers as well as Robotic lawnmowers so there should be something here that can work for your own mowing requirements.
If you feel that you need to look elsewhere or check out other brands or compare prices further, then check out some of the discounts available from Argos who offer a great selection of lower priced lawnmowers plus various other garden equipment and tools.

Community Feedback
Have you ever bought from Lawnmowers Direct in Essex in the past? Have you anything positive or negative to report?
If possible, please share your own experiences and opinions with the wider community by leaving a comment in the comment box section provided below – so that others in the UK can learn also…