If you are looking to buy a Lawn mower at B&Q in the coming days, then please make sure to take a quick look through this review which outlines some of the best Lawnmowers currently on sale in their Garden machinery category section.
There are over 50 Lawnmowers on sale throughout their portfolio so we have narrowed our list down to what we believe are the best lawnmowers in specific sectors be it Ride on Tractor Mowers, Robotic Lawn mowers, Petrol lawnmowers and Electric powered Lawnmowers. Hopefully when you scroll down through our list, it can speed up the process for you when it comes to making your own final decision.
View also: Our Ride on Tractor Mower Reviews here
B&Q Lawnmower Review Overview
For easier navigation, our review will be split into 3 separate parts outlined as follows…
Part 1: Best Ride on Tractor Mowers
Part 2: Best Robotic Lawnmowers
Part 3: Best Push Lawnmowers (Petrol & Electric)
Price Indications
As price guides can only be shown at the time of this review, please make sure to view the price checkers provided below to help ensure you have the most accurate up to date price information. Various combo deals are in place from time to time such as Lawnmowers with a Grass trimmer or Lawnmowers with a garden tool and these will become clearer as you view the price checkers outlined further down on this page.
Read also: Popular Petrol Lawnmowers at Argos
Part 1: B&Q Tractor Ride on Lawnmower Recommendations (2)
1, Mountfield Petrol T40H Ride-on Tractor Lawnmower 452cc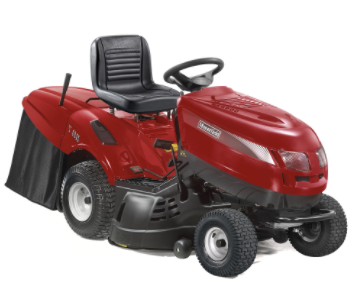 Key Features to Note:
Reliable Mountfield ST500 OHV engine
Electric key-start with a 102cm twin blade cut
7 mow heights ranging from 2.5cm to 8cm
Powered with a 452cc single cylinder engine
Includes rear collect container of 260L capacity
Alarm will sound when grass box is full
Robust tow hitch provided for accessories
Blades are disengaged if driver gets off the seat
Ideal for larger sites up to 2.5 acres
Delivered assembled and ready to mow
Hydrostatic forward drive & reverse drive
Warranty duration is 2 years long
Price Guide: Less than £2500
Compare: Mowers Online Prices Here
2, Mountfield 72cm Petrol Ride-on lawnmower 28M 352cc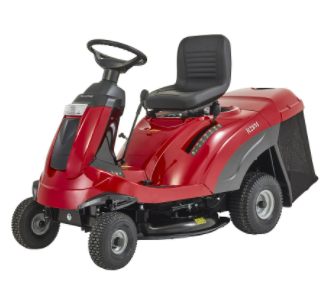 Key Features to Note:
Smaller & lower priced ride on mower
Ideal for people with smaller sized gardens
Easy to navigate & get through narrow gates
Single cylinder Mountfield ST350 OHV engine
Electric key-start 352cc engine
Mowing width 72cm plus 2 year warranty
7 mow height options from 3cm to 8cm
Rear grass box collection capacity of 170L
Grass box can be emptied from the seat
Mulching plug needs to be bought separately
Ideal garden size guide up to approx. 1 acre
Comes fully assembled upon delivery
Price Guide: Less than £1500
Compare: Mowers Online Prices Here
Video Overview – Mountfield Tractor Ride on Lawnmowers
Part 2: B&Q Robotic Lawnmower Recommendations (2)
If you prefer an automatic Robotic lawnmower to do all the work for you instead even while you are away from home, then the 2 Robotic lawnmower suggestions below will do the trick for you…
1, Worx Landroid M1000 Cordless Robotic Lawnmower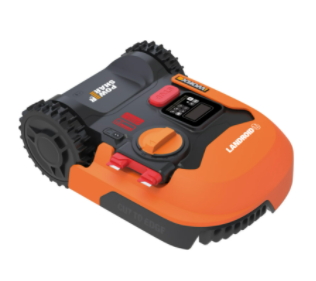 Key Features to Note:
For lawns up to 1000 meters squared
Fully automatic robotic lawn mowing
Includes charging dock base and nails
Boundary wire is 180m long
Measurement gauge, 3 Amp charger
Hex key, staples x 250, blades x 9
Mowing height range is 3cm to 6cm
App control with smart phone capability
20V battery is tool interchangeable
Cutting width 18cm with 3 year warranty
Price Guide: Less than £1000
2, Mac Allister Cordless Robotic Lawnmower MRM250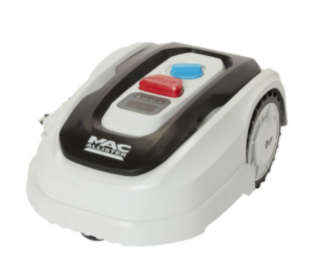 Key Features to Note:
Lower priced robotic mowing solution
Quick starting function with security pin
Requires installation and programming
For smaller lawns up to 250 meters squared
Or approx. 16m long by 15m wide
Staples, screws, hex key are included
Also measure gauge, nails & charge station
Tilt and lift safety functionality
Battery power 2.0Ah 20V Li-ion
Mowing width 16cm & 2 year warranty
Price Guide: Less than £500
Video Overview – Worx Landroid Robotic Lawnmower
Part 3: B&Q Push Lawnmower Recommendations
If you want to avoid both the Tractor ride on mowers and the Robotic mowers, then check out the 4 popular Push Lawnmowers instead which include both Electric (1) and Petrol (3) powered lawn mowing alternatives
1, Erbauer Cordless 36V Lawnmower ELM18-Li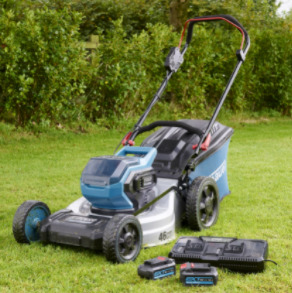 Key Features to Note:
Cordless electric powered lawnmower
No cables, fuel, fumes or oils
Powerful 5.0Ah battery provided
Little to no maintenance required
Includes folding handle for storage
Large grass collection 50L capacity
6 mowing heights from 2.5cm to 7.5cm
Brushless motor for increased efficiency
Wider mow cutting width of 46cm
Multiport dock charger for batteries
2 18V batteries requires 60 min charge time
Price Guide: Less than £450
2, Toro 140cc 46cm Petrol Lawnmower 20945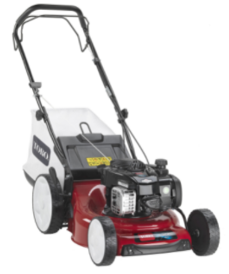 Key Features to Note:
Petrol powered 140cc mowing engine
Designed with Briggs & Stratton engine
Engine model 140cc 500 E Series OHV
Wide mowing width of 46cm
Includes a mulching plug & 1L fuel tank
Cuts into small clippings for the soil
3 in 1 mowing – rear, mulch & collect
Large grass collection unit 55L capacity
Solid and robust steel metal deck
Washport provided for easy cleaning
2 year warranty provided
Price Guide: Less than £350
Video Overview – Toro Recycler Petrol Lawnmower
3, Mountfield 125cc Petrol Lawnmower HP185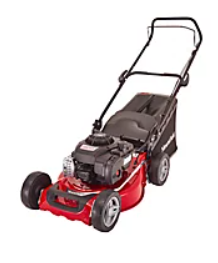 Key Features to Note:
Briggs & Stratton OHV 125cc engine
300 series engine hand propelled
Mowing width of 46cm
Includes mulching plug for the soil
Acts as a natural fertiliser
Metal steel robust deck coated
Rear discharge, collect or Mulch
Larger grass box capacity 60 litres
Fuel tank capacity is 0.75 litres
Price Guide: Less than £250
4, Mac Allister 170cc Petrol Lawnmower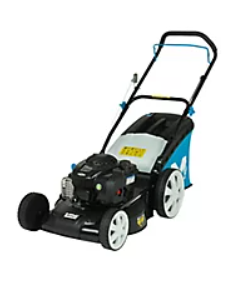 Key Features to Note:
Code reference order MLMP170H51
Powerful 170cc engine displacement
Wider cutting width 51cm
Designed with a Honda engine
Engine model reference Honda GCV170
Powder coated metal steel deck
Side discharge, mulch or collect
Alert system when grass box is full
Grass collection unit capacity 60 litres
Price Guide: Less than £370
Video Overview – Tips with Servicing a Mac Allister Petrol Lawnmower
Read also: Popular Lawnmowers at Argos UK
Conclusion
After completing our review for the best lawnmowers available at B&Q in the UK, we hope our work here can help you out in some small way and give you some suggestions and ideas to think about when making your final decision. We have included Ride on Mowers, Robotic Lawnmowers, Petrol Lawnmowers and an Electric Cordless Lawnmower so there should be something here to cater for your own individual needs.
Optional Feedback B&Q Lawnmowers
Have you ever bought a Lawnmower from B&Q in the past? Anything positive or negative to report?
Feel free to leave your feedback in the comment box section provided below…