If you are considering buying a Lawnmower at Lidl in the future, then check out this quick Lidl Lawnmower review which will cover both the corded Parkside Electric Lawnmower and also the cordless Parkside Electric lawn mower so at least you have more than just one option when it comes to making a final decision. In the event that it is out of stock or gone off sale at Lidl when you visit this page, then make sure to check out alternative suppliers provided further below or even the alternative brands that we recommend based on our own personal experiences.
Lawnmower Overview:
For easier navigation this review will be split into 5 parts as follows…
Part 1: Lidl Parkside Corded Lawnmower Review
Part 2: Parkside Corded Lawnmower vs Bosch Rotak Corded Lawnmower
Part 3: Lidl Parkside Cordless Lawnmower Review
Part 4: Alternative brands to consider (3)
Part 5: Conclusion plus Feedback
The types of Lawnmowers available at Lidl are electric and there is the choice of either corded powered and also battery powered under the brand of Parkside lawn mowers. One thing they are good at is offering you the lowest possible price levels to get your foot inside the door so to speak so it is very hard to match them when it comes to prices from their competitors. Plus it is very difficult to find these Parkside Lawnmowers on sale anywhere else.
Video Insert: Unboxing of the Parkside Cordless Lawnmower
Read also: Selection of popular Lawnmowers @ Homebase here
Part 1: Lidl Parkside Corded Lawnmower Review
Parkside Electric 1300W Corded 32cm Lawnmower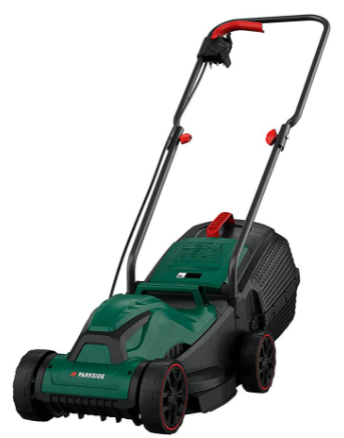 Corded Lawnmower Features:
Corded push electric lawnmower
Motor power level is 1300W
Mow cutting width is 32cm - 3 height settings 2cm to 6cm
Grass collection unit 30L capacity
Light design at approx. 8kg - Comfortable wide handles
Safety switch & cable strain relief
Handles can be folded down
Price Guide: Less than £100
Pros for the Corded Lawnmower
This lawnmower has a lightweight design at less than 10kg so it makes the job of pushing a lawnmower so much easier to do especially around flower beds and tight corners
It's a lower priced solution for getting grass cut! There are no batteries, no chargers, no fuel or oil costs to worry about – just plug it in and away you go
The handles can be folded down when not in use to help those with limited storage options
Simple to use, low cost and environmentally friendly option when it comes to gardening and mowing work
Good quality steel cutting blade to give a clean finish and collection of the grass clippings into the rear grass box worked as good as can be expected.
Cons for the Corded Lawnmower
Lacks the superior power of petrol lawnmowers when it comes to tall grasses, denser or damp grasses – a second mow around may be needed by starting at the higher levels or pivoting the rear wheels
You need to develop a technique of avoiding the cable cord as you go around the lawn each time
Depending on the size of your lawn, extension cords may be needed as the length of the cable here is just 10m long (Bosch is 12m long)
It is limited to small gardens only with a lawn size guide of approx. 250m2 and the grass collection is on the smaller size of 30L capacity (Bosch offers a larger 40L capacity)
The mowing height options are lower at just 3 settings where the Bosch Rotak offers 5 settings and the Spear and Jackson 32cm also offers 5 mow height settings
Stock levels and availability at Lidl are quite limited so you may need to look elsewhere to get your hands on it – check out prices and stocks from Amazon UK here instead as back up
Part 2: Parkside Corded Lawnmower vs Bosch Rotak Corded Lawnmower
To give you a better idea of how it compares to the Bosch Rotak 34cm Lawnmower, then check out the comparison table provided below so you can see how all the features compare such as the mow width, mow settings, weights, lawn size guides and cable lengths…
| Lawnmower: | Parkside | Bosch Rotak |
| --- | --- | --- |
| Power: | 1300W | 1300W |
| Mow Width: | 32cm | 34cm |
| Mow levels: | 3 | 5 |
| Collection box: | 30L capacity | 40L capacity |
| Rear Roller: | None | Included |
| Mow Heights: | 2cm to 6cm | 2cm to 7cm |
| Safety Switch: | Included | Included |
| Grass Combs: | None | Yes |
| Weight: | ~8kg | ~11kg |
| Lawn size guide: | Up to 250m2 | Up to 300m2 |
| Power cable: | 10m long | 12m long |
| Warranty: | 3 years | 2-3 years |
View also: Selection of popular Lawnmowers @ Argos here
Video Insert: Assembly and first test of the Parkside Electric Lawnmower
Part 3: Lidl Parkside Cordless Lawnmower Review
If you wish to avoid the hassle of a cable cord while you mow, then take a closer look at the Parkside Cordless Lawnmower instead which gives you more freedom on the lawn without any cables and you also don't have to worry about buying extension cords either. The cutting width on the Cordless is 11cm wider than the Corded but the weight of the cordless is a good deal heavier than the corded so keep this in mind
Parkside Electric 40V Cordless 43cm Lawnmower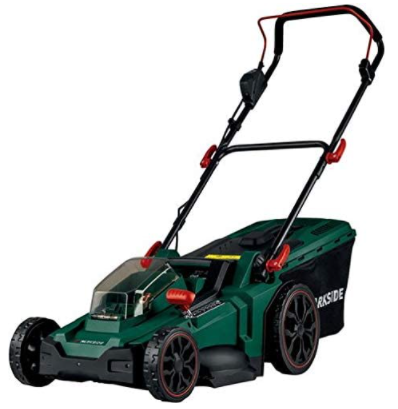 Cordless Lawnmower Features:
20V x 2 battery cordless power
Bare tool or battery/charger included
Brushless motor for optimum efficiency
Wider mowing width of 43cm - Higher number of 7 mowing heights
Mow heights range from 2.5-7.5cm
Battery duration 20 to 30 minutes - Battery recharging takes 90 minutes
Lawn size guide up to 500m2 - Eco mode for saving battery life
Cuts tight to boundaries - Collection box capacity 50L
Price Guide: Less than £200
Pros for the Cordless Lawnmower
There is no need to worry about cables across the lawn while you work, plus no fuels, oils or extension cords for that matter.
Additional batteries and chargers are available as back up if needed which is good to know in the background
Unlike many other cordless mowers, this option has the Eco mode for lighter trim cuts and the Auto mode for higher tempo cuts which helps to preserve the battery life duration
The extra-large collection box of 50 litre capacity is larger than the norm which ultimately means less time is wasted emptying it
Having the double batteries gives you the additional power for cutting and you get the double twin charging units for charging both batteries at the same time.
The handles can be folded down when not being used which goes a long way for people with limited storage space in their sheds.
Cons for the Cordless Lawnmower
Some of the Parkside lawnmowers come as bare tools without the battery and charger so make sure you are selecting the correct model number when making a purchase!
Thicker, denser and taller grasses will deplete the batteries a lot quicker so you will need to take this into consideration when it comes to battery life expectations
As this lawnmower is larger, the weight is a good deal heavier than the corded version so you need to be able to push a heavier lawnmower of nearly 20kg weight
You are limited to mowing times of the battery life which can be frustrating when the battery dies without the mowing job completed in full
No rear rollers are included for the stripes and there is no mulching function like we have seen from other brands.
Stock availability at Lidl tend to be quite limited so you should check out the prices and stocks from Amazon UK here instead as back up
Video Insert: Parkside Lawnmower Mowing Test Review
Part 4: Alternative Lawnmowers to Consider (3)
If you find that the Parkside lawn mowers is out of stock or is only available as a bare tool without the battery and charger, then check out our 3 alternative recommendations summarised briefly as follows…
Corded Alternative: Bosch Rotak 34R 34cm Electric Lawnmower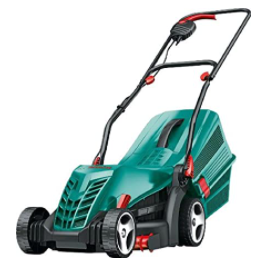 Key Features to Note:
Corded electric power 1300W motor - Mowing width is 34cm
Lightweight design approx. 11kg
Foldable handles for storage - Grass combs for a tighter finish
Mowing heights range from 2cm to 7cm
Lawn size guide up to 300m2 - Power cable length is 12m
Standard 2 year warranty applies - Third year is added if registered online within 28 days
Price Guide: Less than £150 level
Cordless Alternative: Greenworks 40V 41cm Cordless Lawnmower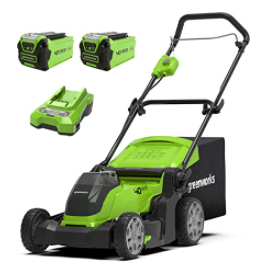 Key Features to Note:
High levels of stock availability - Operates as 40V – 2 x 20V 2Ah batteries
Batteries x 2 and twin charger included
Mowing steel blade width 41cm - Mulching plug option included
5 different mow height settings - Mowing heights range from 2.5-8cm
Lawn guide size up to 600m2 - Batteries are compatible with other tools
Weight 18kg with a 12 month warranty
Price Guide: Less than £300 @ Amazon
Cordless Alternative: Spear & Jackson 34cm Cordless Lawnmower and Trimmer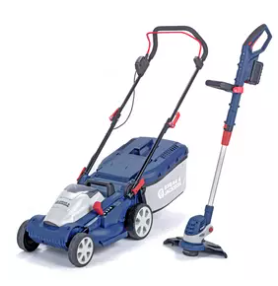 Key Features to Note:
Cordless lawnmower and trimmer combined
Mowing steel cutting width 34cm - Stronger 4Ah batteries x 2 included
Only 1 battery is used, the 2nd battery is back up
Batteries recharge in 60 minutes average - Lawn size guide is up to 600m2
Brushless motor design for optimum efficiency
Built in rear roller for garden stripes - 5 mow heights ranging from 2cm to 6cm
Smaller collection box capacity of 35L
Trimmer cleans up edges, flower beds and boundaries
Warranty protection lasts for 3 years
Price Guide: Less than £220 @ Argos UK

View also: Our list of best Grass Trimmers here
Part 5: Conclusion plus Feedback
After completing this lawnmower review, we hope our work here has helped you out in some small way and perhaps given you some ideas to think about. We have included both the corded Parkside lawnmower plus the Parkside Cordless lawnmower as well as various other recommendations based on our own experiences so there should be something here to cater for your own needs.
Would we buy it? To be honest, they work and mow just fine but it would have to be a no as we would much prefer to stick to a more recognised and established brand such as Spear & Jackson who are based in the UK, especially from a backup support point of view, customer service and access to any parts, batteries or additional chargers that may be needed in the future – further price information and reviews can be double checked at Argos below…

Lidl Lawnmower Community Feedback
Have you ever used a Lidl Parkside Lawnmower yourself in the recent past? Did everything work out for you as expected or did you experience any problems that we should know about?
If possible, please feel free to leave your opinions or feedback in the comment box section provided below – so that others across the UK community can learn also!