If you are thinking about buying a Redback Lawnmower in the coming days, then make sure to check out our Redback Lawn mower review which covers what we believe are 2 of the best electric lawnmowers under this brand at present. Many of the Redback lawnmowers where out of stock at the time of this review so we focussed on the lawnmowers currently on sale and which could be ordered online and delivered to your home hassle free usually within 7 working days.
Redback Lawnmower Overview
All the Redback garden tools are made by a company called Ningbo NGP Industry who are based in Ningbo, China and they sell most of their garden tools across Europe and Australia. In Europe, they have distribution channels built up in England, Denmark, Germany, France, Italy and Spain and they have been around since the year of 2000.
They design and make petrol fuelled tools and machinery as well as various other garden tools powered by lithium-ion based batteries. From a UK point of view, you can find them easily on sale with Mowers Direct UK who tend to stock quite a good range of models from what we have seen. They are based close to London and can be contacted directly on 020-3026-8712 with any specific queries that you may have.
View also: Our Best Lawnmower Lists here
Mow Direct UK location
Redback Lawnmower Review – 2 Recommendations
Instead of just reviewing one lawnmower, we have covered 2 separate Cordless battery powered Lawnmowers so at least you have more than just 1 choice when it comes to making any final decisions. Please note also that price guides can only be shown at the time of this review, so please make sure to view the price checkers provided below which will help ensure you have the most accurate up to date price information needed.
At a glance, these lawnmowers offer the 4 in 1 mow options where it can collect, rear discharge, side discharge and mulch which are not always available from other branded Cordless lawnmowers in the UK. Plus they come with more powerful 6Ah batteries for longer mowing runtimes unlike some of the lower priced 2Ah batteries on sale elsewhere that offer significantly lower battery power and life runtimes.
View also: List of our best UK Grass Trimmers here
Option 1: Redback Self-propelled 48cm Cordless Electric Lawn Mower - E148CV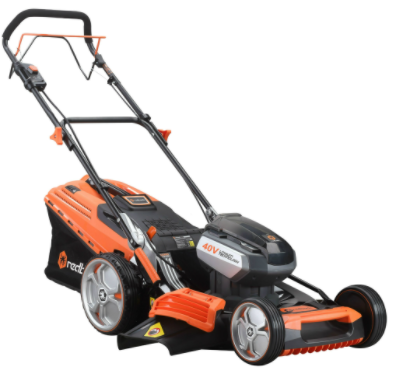 Lawnmower Features:
Cordless stronger battery powered 6Ah
Sell propelled operation - Available also as a bare tool
Wider mowing cutting width 48cm - Larger collection grass box capacity 60L
Foldable handles for tight storage
Includes EC20 charger unit & battery code EP40
7 mow heights ranging 2.5cm to 7.5cm - For small & medium gardens
Larger lawn size guide up to 1400m2
Side discharge option for clippings - Mulch plug option also available
High cutting speed of 2800 RPM - Heavier weight of 25kg plus
Price Guide: Over £500
Option 2: Redback Self-propelled 46cm Cordless Electric Lawn Mower - E146CV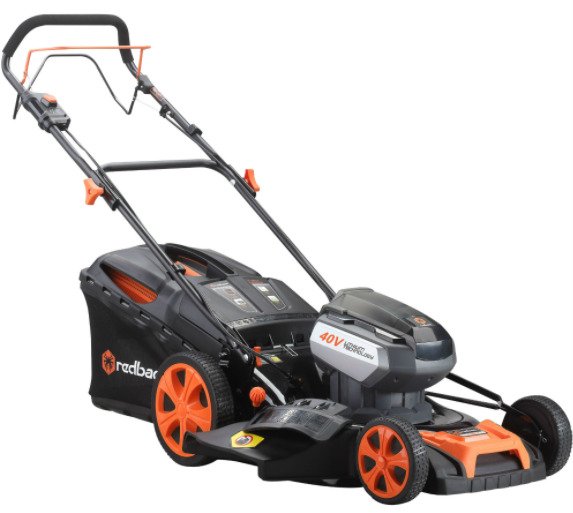 Lawnmower Features:
Longer battery runtime with 6Ah battery
Self-propelled, 40V battery power with a safety key
Metal steel deck housing protection - Battery recharging takes 130-140 minutes
Battery mowing runtime is 20 to 30 minutes - Easy to fold down handles when not in use
For lawns up to 1000m2 as a guide - 4 in 1 mowing capabilities for clippings
Rear discharge, collect, side discharge & mulch
Large collection box capacity of 60L - Zero maintenance and low noise levels
5 mow heights ranging from 2.5cm to 7cm
High-grade brushless DC motor
Price Guide: Over £400
Pros for the E148CV Cordless Lawnmower
Not too many cordless lawnmowers are self-propelled but you have this mowing support here which goes a long way to help get the mowing jobs completed quicker than normal and they are a great help when it comes to hilly or difficult terrain. Being self-propelled though tends to deplete the battery charge a lot quicker
Many other cordless lawnmowers are only 32cm or 34cm where this cordless mower offers a much wider cut at 48cm which means less mowing laps at the end of the day and quicker mowing
The grass collection unit is a lot larger than many others – you get a 60L capacity collection unit where many others can be 40L or even 30L capacity
It is rare to have a side discharge and mulching available on a cordless lawnmower but these extra features and functionality's are available here – plus the housing is made from steel unlike many other cheaper models made from hardened plastic
You get a more powerful 6Ah battery which gives you a longer mowing time of around 20 to 40 minutes depending on grass conditions. Less powerful batteries usually last less than 20 mins with difficult mowing conditions
With the larger frame, wider mow width and the more powerful 6Ah battery, it can handle much larger lawns of up to 1400m2 as you are not limited to cables or extension cords (recharging of the battery will be needed for lawns this size)
You get a free delivery and a minimum 1 year warranty when you buy directly from MowDirect in the UK. Plus the charger and battery is covered for a period of 6 months and you have the option of getting additional batteries and chargers as back up.
Overall, you will find that this lawnmower offers a range of premium features and functions to give you the experience similar to a petrol lawnmower
Cons for the E148CV Cordless Lawnmower
The price of the batteries and chargers are very expensive when bought separately or even if you want a second back up battery – we didn't expect the price of the batteries to be so high at well over £100 and the charger to be over £50!
As it is bigger and offers a wider cut, this machine is heavier to use at over 25kg so take this into consideration when making your selection
Battery life works fine with lighter trim cuts but depletes a lot quick under more difficult situations such as denser grasses, tall or damp grasses.
It can be annoying and frustrating when the battery life dies before the mowing job is completed in full – you need to stop, recharge and wait for the battery to be charged up once again (more powerful batteries take longer)
The grass collection unit is a little flimsy and we would be worried about how long it would last under difficult mowing conditions
As it is a more powerful 6Ah battery, you will need to wait longer to get it charged up again which will take 130 to 135 minutes on average
While it can handle various grass types, it can tend to clog up a bit when it comes to damper grasses or thicker grasses – there are limitations when compared to higher spec petrol powered lawnmowers.
Only available at MowDirect so there are less opportunities to shop around so to speak
The self-propelling speed is fixed and cannot be adjusted. A variable self-propelling speed would have been a lot better around corners and flower beds
Battery runtime is a lot lower than what has been advertised – up to 50 minutes has been seen yet we only got 20/25 minutes runtime from it
Video Insert: Overview of the Redback Electric Lawnmower
Comparison Table
For further clarity on these Redback lawnmowers, please check out the comparison table below which covers the batteries, mow heights, lawn size guides and additional features so that you can see them side by side…
| Cordless Lawnmower | Redback E148CV | Redback E146CV |
| --- | --- | --- |
| Battery: | 6Ah x 1 40V | 6Ah x 1 40V |
| Operation: | Self-propelled | Self-propelled |
| Mow Width: | 48cm | 46cm |
| Side discharge: | Included | Included |
| Mulch Plug: | Included | Included |
| Collection box: | 60L capacity | 60L capacity |
| Height settings: | 5 | 5 |
| Mowing heights: | 2.5cm – 7cm | 2.5cm – 7cm |
| Deck design: | Metal | Metal |
| Handles: | Foldable | Foldable |
| Lawn size guide: | Up to 1400m2 | Up to 1000m2 |
| Battery Life: | 20 to 40 minutes | 20 to 40 minutes |
| Battery recharging: | 135 mins average | 135 mins average |
| Weight: | ~27.5kg | ~26kg |
| Mower Warranty: | 1 year | 1 year |
| Battery warranty: | 6 months | 6 months |
| Charger warranty: | 6 months | 6 months |
Read also: Popular Lawn mowers at Homebase here
Conclusion
After reviewing these Redback lawnmowers, we were certainly impressed overall by their performance and we couldn't fault them in any major way. They offer longer mowing times with the more powerful batteries, wider cutting paths than the average, additional functionality's of side discharge, mulching and larger lawn types of up to 1400 meters squared.
Having the self-propelled support is not that common when it comes to cordless electric lawnmowers. Yes they are a lot more expensive than what we expected but they are well worth it especially if you want a cordless lawnmower that is self-propelled and if it is for a lawn size area that it a lot bigger than the normal. Having the increased power, metal deck, self-propelling and longer runtimes is a significant advantage but you will need to be prepared to dig a lot deeper into your pockets to get your hands on a lawnmower from the brand of Redback in our opinion so it is certainly not for everyone. Even the price of the charger unit and battery when bought separately is far too expensive for our liking…
Verdict
Would we buy it? Yes we would but the only thing holding us back would have to be the price. Plus some of the features such as the mulching and side discharge isn't of interest as our preference is to rear collect instead but that is just us. If you feel that it is too expensive for your own needs, then check out a lower priced Spear & Jackson Electric lawnmower instead from Argos below which is available for less than £100 when seen at the time of this review for smaller type lawns…

Redback Lawnmower Community Feedback
Have you ever used a Redback Lawnmower yourself in the recent past? How long did the batteries last for you and what size lawn did it manage?
If possible, please feel free to leave your opinions or feedback in the comment box section provided below – so that others across the UK community can learn also!