Hello once again and welcome to this compilation review of McCulloch Lawnmowers which are on sale in the UK at present. If you are looking at buying a McCulloch lawn mower in the coming days, then please make sure to take a quick through this review which you will find helpful in your decision-making process.
In addition, to help you save some money in the process, please ensure you check out the price checkers which are outlined below to make sure you get the lowest price and best value for your money.
View also: Our Best Lawnmower Lists here
Lawn Mower Review Overview
| Compilation Review | Detail: |
| --- | --- |
| Lawn Mower Brand: | McCulloch Lawnmower Compilation |
| Models Reviewed: | 4 popular models |
| Lawnmower types: | Petrol & Electric Robotic |
| Cheap Place to buy: | Amazon UK - View today's low prices here |
Video: McCulloch Lawnmower demo
Overview
McCulloch was founded in 1943 by Robert McCulloch. The history of McCulloch spans over 60 years and the McCulloch Corporation started its manufacturing of engines during World War II. In 1949, when McCulloch introduced its first light one-man chainsaw, woodworking would never be the same again.
The line of innovative chainsaws would continue over the decades, and business was expanded, first by airplane and kart engines in the 1950s, then by mini chainsaws in the 1960s. Later, in the 1970s and 80s, trimmers and blower vacs were added to the range.
Current Status
Today, as a part of the Husqvarna group, McCulloch continues the tradition of powerful engines, technical innovations, and strong designs that have been our hallmarks for more than half a century. Lowering fuel consumption, emissions and noise levels are of top priority to us, as is improving safety and user-friendliness.
McCulloch has a policy of continuous product development and therefore reserves the right to modify the design and appearance of products without prior notice. McCulloch offers a complete line of garden products: powerful chainsaws, sturdy trimmers, lawnmowers, garden tractors and hedge trimmers.
Each one provides you with all the power you need to get it done. Further points of interest and FAQ's are outlined further down on this page.
View also: Our petrol Lawnmower Reviews here
Review of McCulloch Lawnmowers in the UK - Compilation
1, McCulloch M46-110R Classic 110cc 46 cm Petrol Rotary Lawnmower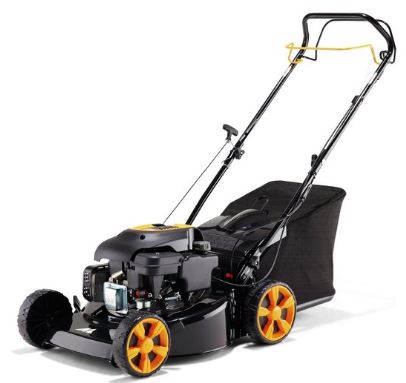 Main features:
The McCulloch M46-110R is a medium-sized yet powerful, petrol rotary lawnmower that offers a classic design with effective solutions. It is equipped with a 46cm cutting width and 50 L collection capacity, it is more than capable of tackling medium sized lawns.
The M46-110R also has a heavy duty steel body and high performance 110cc engine that provides the power for tough mowing tasks. It comes with a McCulloch 110 engine, 46 cm cutting width and 6 cutting heights from 30-80 mm
There is a 3-point height adjustment and has a 50 L collection capacity and this is NOT a Self-Propelled lawnmower. The item weight is 30kg and the package dimensions is 84.2 x 60.2 x 45.8 c
Pros:
Good product, easy starting and folding handle does fully fold but requires to be removed from the hinged housing on the mower body to achieve that
Easy to put together great machine to use even on small bits of grass. Well made and easy to start.
Once sorted it starts easy every time one minus is the basket would like a plastic one this mesh one is too flimsy but it would not stop people from buying again.
Easy to push with little effort
Cons:
There is confusion over the mower – is it a push mower or self propelled? This is a push mower – not a self propelled mower so please take this into consideration before you buy.
Grass  collection mechanism is only average and could be better and the wheels could be made from better quality.

2, McCulloch M51 Petrol Lawnmower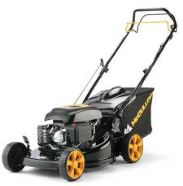 Main Features:
This is a medium-sized single speed lawn mower with 51cm cutting width and collector and it is durable, long lasting with a heaving duty steel body. It has foldable handles for easy, space saving storage.
It has 6 cutting heights and the cutting heights range from 3cm-9cm and there is a 55 litre grass box capacity and also the fold down handle for compact storage. This model is height adjustable, has a metal deck and also a central height adjustment
Included is an Easy start system and the weight is 33kg. The dimensions are 96 x 60 x 57 cm and the Wattage is 2300 watts.
Pros:
This is a really good and hardworking lawn mower, it is a little high on its lowest cut for some people.
All in all a good buy as no major problems experienced
Instructions fairly straight forward, takes about 15 minutes to read and put machine together.
Cons:
Not a self propelled mower so you have to do all the hard pushing, will be difficult to use if you have steep slopes to climb.
The grass box could have been made a little larger to cut down on the frequency of emptying

3, McCulloch MCB40-450C Petrol Rotary Lawnmower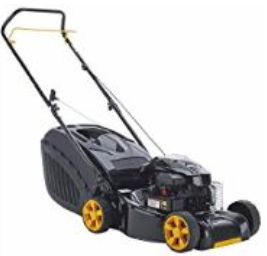 Main Features
This McCulloch MCB40-450C Petrol Rotary lawnmower offers a classic design with effective solutions. It is a great product and gives good value for the amount of money you have to pay
Included also is the 125cc Briggs and Stratton engine and this model has a metal blade which is 40cm in width. You also get 5 cutting heights and the cutting heights range from 2cm up as far as 7cm.
There is also the 50 litre grass box capacity and it is recommended for all sized lawns and you are not restricted by the length of a cord if you had an electric corded mower. Also the weight of this particular model for pushing is 35kg
Pros:
Starts easy and collects the grass in the collector quite well
It gives a nice clean finish across the lawn
Cons
It is not self propelled and there is no rear roller for lawn stripes
Tends to struggle with denser thicker and damp grasses so the power in the engine could be better

4, McCulloch RM1000 Robotic Lawnmower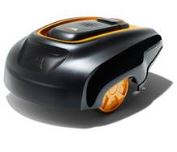 Main Features:
Automatically cutting the grass little and often, the McCulloch robotic lawnmower is the ideal way to get a lush green lawn all year round with very little effort. ROB is green fingered, cutting the grass little and often into small clippings, that are so fine that they quickly break down and add nutrients back into the soil, helping to create a thicker, stronger, healthier, greener lawn. That means you never have to cut the grass again, and never have to empty a grass box either.
ROB is a McCulloch robotic lawnmower and can handle most gardens up to 500m2 with inclines of 25%. Not only cuts the lawn, but helps make it stronger and healthier. By continuously cutting the grass tips little and often, the fine grass clippings disappear back into the soil acting as a natural lawn feed, meaning there is no need to collect them. He discreetly mows even at night. He's also quick & easy to install.
Fitted with a loud audible alarm when lifted and a security pin code for added protection, also protected against theft. 1x robotic lawnmower, 1x charging station, 3x metal cutting blades, 400x pegs, 200m boundary wire. It has 5 cutting heights for you and the cutting height ranges from 2cm-5cm. It has an 0.8 hour recharge time and weighs only 7kg.
Pros:
An easier mowing experience, a time saver, removes a boring job from your to-do list.
All the hard work is done for you already and you have more time on your hands to get other jobs done.
Cons:
Can be very complicated to set up initially so you need a lot of patience in getting it laid out and planned out.
Tough enough to get the external perimeter set up also and you will need help to get this done and price is also a little on the high side

Video: McCulloch Robotic Lawnmower set up
Further Reading
In addition, if you would like to look beyond McCulloch lawnmowers, then take a look at some of the Best UK Lawnmowers reviews as follows:
Best UK Petrol mowers – Take a look here
Best UK Corded Mowers – Take a look here
Best UK Cordless Mowers – Take a look here
Best UK Hover Mowers – Take a look here
Best UK Robotic Mowers – Take a look here
Best UK Tractor Ride on Mowers – Take a look here
Conclusion
On a final note, if you're looking for something with power, a McCulloch lawnmower is the one for you. McCulloch brings innovative technology alongside powerful and reliable engines are at the heart of every McCulloch product. Smart and helpful features will help you power through your garden chores. Each McCulloch product is designed for high performance and durability.
Powerful interiors are matched by equally powerful exteriors. The machine's sporty and distinctive black design and fierce yellow elements draw you to its power but the big problem seems to be stock availability especially during peak seasons - plus there appears to be limited suppliers who stock this particular brand of lawn mowers. If you need a good deal, then check out the popular Spear and Jackson lawnmowers from Argos below instead as stock availability availability from McCulloch tends to be unpredictable at times...

Mowing Community Feedback
Finally, if you have used a McCulloch lawnmower in the past, please share your experiences with the community by writing a comment in the comment box below – the community would greatly appreciate it!