Hello to all the mowers in the UK and welcome to this detailed compilation review of Makita Lawn mowers which are available for sale in the UK market at present.
If you are considering buying a Makita Lawnmowers in the coming weeks or days, then take a quick look through this review which will give you some guidance which model will best suit your own individual requirements as each model has its own set of capabilities. Price will also be an important factor for you to consider so please make sure to look through the price checkers provided below which will give a more accurate price tag and stock availability.
View also: Bosch Lawnmower review here
Lawnmower Review Overview
| Compilation Review | Detail: |
| --- | --- |
| Lawn Mower Brand: | Makita Lawnmower Compilation |
| Models Reviewed: | 7 popular models |
| Lawnmower types: | Electric and Petrol |
| Cheap Place to buy: | Amazon UK – View today's low prices here |
Makita Lawnmower Overview
It all started with the motor over 100 years ago. Makita Corporation was founded in 1915 as an electric motor sales and repair company. Today, as a global brand in over 40 countries, Makita is an innovation leader, manufacturing best-in-class products at 10 plants operating in 8 countries. The unmatched quality and durability of Makita products is driven by the company's strong R&D capabilities, and have earned the trust of professional users worldwide.
Every day, on jobsites around the world, Makita delivers the power, performance and durability that professional users demand with products that are more compact, have less vibration and feel better.
Milestones
Makita has the industry's widest line-up of outdoor power equipment, and it's driven by years of engineering and innovation. Makita milestones include the first 18V lithium-ion cordless tool system, the first brushless motor tools for contractors, the world's first 4-stroke engine power cutter, and more. Today and tomorrow, professional users will seek new ways to solve problems and work more efficiently, and Makita is focused on new innovation to meet this demand. Put Makita technology to work for you.
Global Network
Makita is a global network of ten manufacturing and assembly plants that is the source of Makita products used on job sites around the world. The product development team works closely with engineers on job sites to develop products that exceed the demands of the consumer. Makita are a well-known producer of high quality lawn mowers, making both electric and petrol variants.
Frequently Asked Questions about Makita Mowers
Q1: Is the Makita DLM431Z Twin LXT a reliable machine how does it fare on roughish lawns?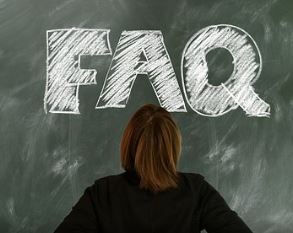 A: This model is more than capable in tackling rough type lawns
Q2:  What is the Makita DLM380RFE 36v LXT Cordless Lawnmower lowest setting cut the grass?
A: This product has six different height settings lowest being 25mm
Q3: Does Makita Corded ELM3311X 1100W 33cm Electric Mower collect all of the clippings or does it leave a lot behind?
A: The Makita Corded ELM3311X 1100W 33cm Electric Mower does have grass collection box with a level indicator to let you know how full it is and performs very well in keeping in the grass
Q4: How long is the guarantee for?
A: All products are guaranteed for 12 months in respect of manufacturing faults
Read also: Popular Robotic lawnmowers
Makita Lawnmower Reviews - Our Top Picks
1, Makita DLM380Z Cordless Manual 36V Lawn Mower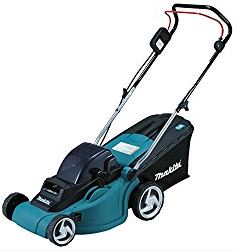 Main Features:
The Makita DLM380Z is an affordable electric motor with plenty of convenient features on offer. The DLM380 is the latest cordless lawn mower from Makita that has a powerful 36v DC motor, powered by 2x 18v Lithium-Ion batteries, allowing you to use your existing power tool batteries.
Recommended for lawns 270-540m². It comes with a battery capacity warning lamp. The 38cm cutting width is an ideal size for most gardens, allowing you to mow through large areas with ease. Similarly, the 40 litre storage tank is very much appreciated.
In smaller gardens, you don't need to empty it until you're finished and, even on larger areas of land, you don't need to make too many stops. At 14 kg, it's a reasonable size and the design has enough support to help push this weight, even when combined with a full tank of cuttings. A grass level indicator is added on top of the grass box for the user to check whether the box is empty or full,
Folding handle for compact storage and adjustable height with 6 settings from 25-75mm. Bearing wheels are included and is powered by two 18V Li-Ion batteries (no batteries included) In relation to the Lock key - remove the lock key before inspecting, adjusting, cleaning, servicing, leaving and storing the mower.
This model weight is 15Kg, the product dimensions are 46 x 71 x 39 cm and you also get the grass box included.

Pros: No extension cord included and that's a great advantage of a cordless mower as you don't have to worry about a cord across your lawn as you mow. The Height adjustment is straight forward and easy to use. Mowing and cutting is the same quality as corded versions and the battery life (4amp) is very good and will give plenty of work to you don't always ned to be recharging. Good quality and good size grass box which requires less frequent emptying.
Cons: The handle could be a little more comfortable and it can be difficult to clean underneath also.
2, Makita PLM5121N2 Mulching Lawn Mower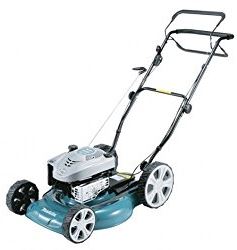 Main features
The Makita PLM5121 is a petrol mower that works well in a variety of garden sizes, offering both power and practicality. Here's a run-down of its best features: This Makita mower has a 4-stroke petrol engine that provides plenty of power. This is ideal for getting up slopes or dealing with larger gardens.
Likewise, the 51cm cutting width is a fantastic feature, allowing entire areas of lawn to be cut down at once. For extra versatility, this device also has 5 distinct cutting heights. This tool also comes with a mulching feature, helping you turn your cuttings into useful fertiliser.
Despite all these features, it still keeps a somewhat slender profile of 114.5 x 46.5 x 102.3cm, despite all its large features. It does have a weight of 32kg but this never becomes a problem thanks to the powerful motor.
With a 51cm cutting blade, this lawnmower makes light work of most gardens in a short amount of time. Combined with adjustable heights and an ability to create mulch, there are additional features at work here that will please many gardeners and landscapers.

Pros: Overall it performs pretty good. Mows well and no clippings to pick up. There is plenty of power in this engine to tackle most common mowing jobs to give you a satisfactory result. Another good thing is the low price which compares very well with similar models across the market
Cons: No collection box is included with this model so make sure you are aware of this before you buy. It also is not an environmentally friendly option when compared to electric mowers.
3, Makita DLM380RF4 36V 380mm Cordless Li-ion Lawnmower with 4-Batteries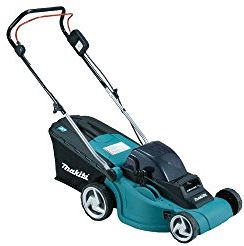 Main Features:
Another electric mower, the Makita DLM380RF4 is designed to offer practicality and additional versatility. There are certainly features here that will please many gardeners out there, so let's go through its key properties. This tool is powered by lithium-ion, giving you a great electric device that isn't hindered be cables.
Furthermore, this tool has 4 such batteries, designed to keep down time to an absolute minimum. Great for very active gardeners! With a 38cm cutting width, this device is well suited for most gardens, especially those with large areas of open lawn. Lock key; remove the lock key before inspecting, adjusting, cleaning, servicing, leaving and storing the mower.
The 40 litre storage unit is also a nice touch, as the lawn mower can go for long periods of time without needing to empty the tank. Likewise, the mower has 6 adjustable cutting heights, ranging from 25 to 75mm. In terms of size, this Makita mower is surprisingly slim, with a frame of 72 x 45 x 42cm.
As for its weight, it only weights 19kg so, even with a full storage unit, it never feels to heavy to move. The main focus here is the 4 battery set-up, which allows the mower to endure through even long mowing sessions. That said, it still has plenty of practical features too, from its long cutting blades and big storage tank to its adjustable heights.

Pros: No cord to worry about and you don't have to worry about the price of an added extension cord. The noise levels are also seriously lower which is great if your neighbours live close-by.
Cons: You may need to replace the batteries a few years down the line so that will be an added expense for you.
4, Makita Corded ELM3311X 1100W 33cm Electric Mower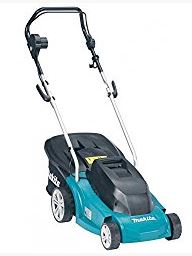 Main Features:
The Makita ELM3311X is an ideal electric mower for properties with lawns up to 400m, with its 1,100W electric motor. The unit benefits from inboard wheels for cutting close to walls and boarders, it also comes with a high-quality light weight, 27 litre cloth grass collection bag with fill indicator for added user convenience.
Newly designed housing allows for closer mowing against walls and borders. High quality grass collection box with level indicator is a great feature. Powerful motor with electronic braking for added user safety.
Lawnmower features: 1100 watt electric rotary motor - You get a metal blade with a 33cm width. With this model, you get 3 cutting heights and the cutting heights range from 2cm-5.5cm. There is the 27 litre grass collection box, a 10m power cable and finally the safety switch.

Pros: Perfect for your small to medium size lawn and gives plenty of power which will be more than you would expect for a mower of this size. It's really lightweight so it's simple to push around and work with. The overall design and performance gives satisfactory results that one would expect to see. It is also so easy to assemble and easy to use, this Makita mower leaves a lawn with a good finish - and it's quiet too. Hardly any noise at all.
Cons: The grass box could be a bit larger to require less time emptying and you have to get an extension cord which is an added expense (but can be got at a low price nowadays). Price can be viewed as being a little on the high side but is well justified by the quality of the mower you are getting
5, Makita PLM4622 46cm 190cc 4-Stroke Petrol Lawn Mower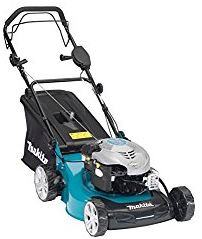 Main features:
Makita PLM4622 46cm 4 Stroke Petrol Lawn Mower 190cc. The Makita PLM4622 is a 4-Stroke, 190cc Petrol Lawn Mower with a cutting height of 20-75mm and a 60 litre collection box for a lawn surface up to approx. 1,800m. Self propelled Lawnmower designed for cutting lawn surface up to 1,800m,
Powerful and environmentally friendly 4-stroke engine. Low noise and clean exhaust emission, low running costs and a 3 step adjustable handle and it also has Solid steel housing.
Included is the Grass Box and the mulching kit and the Self-Propelled is great for the steep hills and the weight is 35.4kg

Pros: The self propelled capability is a major bonus and will help you get the job done quicker saving you time and it will help you around larger lawns and also steep inclines. Performs very well overall and will manage to run through thick and tall grass quite easily.
Cons: The noise level is a little high and you have the added costs of fuel, gas and on-going maintenance costs.
6, Makita DLM431Z Twin 18v / 36v LXT Cordless 43 Centimeters Lawn Mower Bare Unit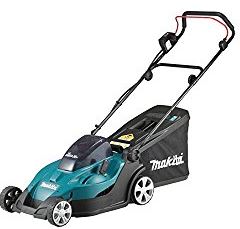 Main features:
Makita DLM431Z is a cordless push-type lawn mower designed for cutting lawn surface of up to 950 sq m. It is powered by two 18 V Lithium-ion batteries in series (not included) to supply energy to the powerful 36 V DC motor drive system and delivers up to 30 minutes of run time using two 18 V LXT 5.0 Ah batteries (not included).
Smooth running lawn mower thanks to built-in ball bearing on axles. Easy installation/removal of grass box, can be removed by just lifting it up.
Features rubberised handle bar and foldable handle that makes it compact for easy storage. Box Contains 1 x Makita DLM431Z and 1 x Socket wrench, the item weight is 18.3 Kg and it has a removable battery.

Pros: Great if you have the batteries already – performs quite well similar to a corded mower and there are the safety advantages of not having to worry about a cord on your lawn as you mow.
Cons: No batteries are included so you need to buy these separately. If you have the batteries already you need to keep them charged and always remember to have them charged. This model is not self propelled so you need to do all the hard pushing yourself. Run time on the battery could be longer  - if you lawn takes longer than 30 minutes to do then you won't be able to do it all in one sitting.
7, Makita DLM380RFE 36v (2 x 18v) LXT Cordless 38cm Lawn Mower (2 x 3.0ah Batteries)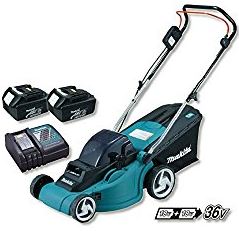 Main Features:
Makita DLM380RFE 36V (2x18V) Cordless li-ion Lawnmower 380mm The Makita DLM380 cordless lawnmower is powered by 2 18V batteries in series. Features: High manoeuvrability.  Environmentally friendly Folding handle for compact storage. Adjustable height with 6 settings from 25-75mm and bearing wheels Carry Handle
Lock key; remove the lock key before inspecting, adjusting, cleaning, servicing, leaving and storing the mower. Battery capacity warning lamp A grass level indicator is added on top of the grass box for the user to check whether the box is empty or full; the hinged indicator plate will open up and stay at high angles during mowing operation if the box is empty.
The angle of the indicator plate becomes lower as it fills up and almost closed once full XPT (Extreme Protection technology). Comes with Grass Box and 2 X BL1830 18v 3.0ah Battery Packs and the Battery Charger. The mowing width is 380mm/15" and the cutting height is 25, 32, 42, 50, 60, 75mm
The mowing area is 270-540m² and included is the Grass box with a capacity of 40L. Size Dimensions (LxWxH): During operation - 1,145 mm x 465 mm x 1,023 mm - 1,070 mm, when stored - 680 mm x 470 mm x 505mm, the rated voltage  is 36VDC (2 x 18V li-ion) and the net weight is 15kg

Pros: The batteries are included and they charge quite quickly. Performs as good as the corded version and is environmentally friendly when compared to petrol mowers. Again, there is the added advantage of not having to worry about buying an extension cable or having it lying around your lawn as you mow. Little to no maintenance costs and there is no need to worry about gas / oil costs either
Cons: Folding it needs a little practice to get the hang of it and you always need to remember to keep you batteries charged at all times.
Read also: Popular Cordless Lawnmowers
Comparison Table
A quick summary comparison table is also outlined below:
Model
Mow Width
Engine / Battery power
Makita DLM380Z Manual 36V Lawn Mower
38 cm
2x 18v Lithium-Ion batteries
Makita PLM5121N2 Mulching Lawn Mower
51 cm
4-stroke petrol engine
Makita DLM380RF4 36V 380mm Cordless Li-ion Lawnmower with 4-Batteries
38 cm
36V 4-Batteries
Makita Corded ELM3311X 1100W 33cm Electric Mower
33 cm
1100W
Makita PLM4622 46cm 190cc 4-Stroke Petrol Lawn Mower
46 cm
190cc,
4-Stroke Petrol
Makita DLM431Z Twin 18v / 36v LXT Cordless 43 cm Lawn Mower Bare Unit
43 cm
2x18V, li-ion battery
Makita DLM380RFE 36v (2 x 18v) LXT Cordless 38cm Lawn Mower (2 x 3.0ah Batteries)
38 cm
2x 18v Lithium-Ion batteries
Points to consider when buying a Lawnmower
From the cheap and cheerful to the large and powerful, we'll tell you how to go about finding the perfect lawn mower for you. A good starting point for thinking about what type of lawn mower you need is to ask yourself these questions:
How large is your lawn? Are you looking for a model that is great for quickly tidying up a small patch? Or do you want a more powerful lawn mower that can whizz through long grass in a large area?
How tall or strong are you? Some mowers have adjustable height handles to be more comfortable to use. Self-propelled petrol mowers with key starts are much easier to use than pull-starts or heavy models that have to be pushed around.
Where do you want to use your lawn mower? Are you planning to get a model that will handle well on a slope or can manoeuvre around trees and ponds?
How smart do you want your lawn to look? Does it have to be striped like a bowling green or are you happy as long as it's short?
How much space do you have to store your mower? Models with foldable handles can squeeze into tight spots.
Tips to maintaining your Lawn
A healthy and attractive lawn is one feature of a home that most people value almost as much as the house itself. Lovely lawn care can add tremendously property value to your home purchase, so it is important to keep your lawn maintained and manicured as much as possible. Hiring lawn-care specialists can become rather pricey as spring and summer arrive, because of the high demand of these professionals, and because of their expertise.
Yet, there are several tips from the experts that you can use to take care of your lawn yourself, without hiring a professional, thus saving you a substantial amount of money. Let us take a look at seven helpful lawn-care tips to keeping your yard in immaculate condition throughout the year.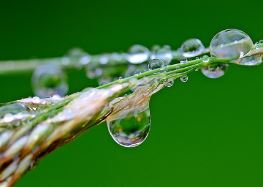 Tip #1: Mow the grass properly - The first item of lawn care is, of course, the grass. Everyone wonders how much grass should be mowed and what the length should be. Generally, you want enough greenery to support the process of photosynthesis, meaning that plenty of foliage is exposed to sunlight. If you cut the grass too short, it can damage the grass and result in wasting water. Try not to cut more than one-third of the blade during a mowing. It is also important to mow grass when it is dry as opposed to wet.
Tip #2 Give your grass adequate water - The season and the soil type are the two factors that determine how much water will be required for the lawn. During the hot summer months, watering is obviously more important than the wintertime. Choose the early morning for watering if possible, as this will minimize wasting water and evaporation. If it happens to rain abundantly during the night, you can have a water supply for two weeks with no watering required. Try not to water your lawn at night, as this promotes fungus and insect problems.
Tip #3 Use the right fertilizers - Weed killer should be used in lawn care, especially during early spring and fall. Weeds are an unavoidable part of maintaining your lawn, so choosing a good weed product is very important to the health and beauty of your yard. Two types of weed controls that are most popular are the pre-emergent type, which works before weeds appear and the post-emergent, for using directly on the weeds themselves. Be sure and spray on a non-windy day to avoid contact with blowing chemicals.
Tip #4 Aerate your lawn for renewed vigor - With all the activity that many lawns receive, it is a good idea to keep soil compaction from occurring, thus stifling the root growth. Machine aeration can be done annually in the spring and fall to let your lawn breath. When aerating, you do not want your soil to be too wet or dry, but just moist.
Tip #5 Rake your lawn - Raking your lawn also allows you to feel the crisp grass underneath the thatch that accumulates on top.
Tip #6 Trim the edges of your yard - Lawn care involves trimming around the edges and corners of your yard gives it a clean and well-kept appearance year-round. It also adds to the value of the home over time as well.
Tip #7 Never just let it go- It is much easier to continue maintaining your lawn than to let it go for a while in between care. Once the yard begins to grow up and shrubs begin to become bushy, it is much more of a hassle to get it back into tip-top shape.
By following these simple guidelines, you can actually enjoy lawn care and have the yard of your dreams in no time!
Further Reading
So that more or less is that - I really hope you found this review on the Makita Lawnmowers useful but if you are still undecided, then take a look at some of the Best UK Lawnmowers reviews as follows:
Best UK Petrol mowers – Take a look here
Best UK Corded Mowers – Take a look here
Best UK Cordless Mowers – Take a look here
Best UK Hover Mowers – Take a look here
Conclusion
In summary, no matter which Makita model you choose, you're buying a luxury, high-quality lawn mower that will work wonders on your garden. However, after comparing all these options, it's clear the  Makita DLM380Z has some advantage over the other designs. A great price tag, some noteworthy features and a lithium-ion design that is in-line with today's technology, this is a mower that's hard to ignore. Makita lets you go cordless for trimming, cutting, clean-ups and mowing.
The LXT Lawn Mower has fast blade speed and broad cutting width for efficient mowing, but without the noise, maintenance and emissions of gas mowers. 18V X2 (36V) Technology delivers gas performance without the hassles because it uses the power of two 18V batteries, the same 18V batteries that power 150+ solutions in the expansive LXT system. If you're looking for a quality name to invest in, a Makita lawn mower will offer plenty of benefits for your garden so you will not be disappointed.

Community Feedback
Finally - if you have used a Makita lawnmower in the past, please share your experiences good or bad with the community by leaving a comment in the comment box below – the community would greatly appreciate your feedback so that they can learn also!!!