If you are thinking about buying the Mountfield SP185 lawn mower in the coming days, then please make sure to check out our Mountfield SP185 Petrol self-propelled lawnmower review which will outline everything you need to know before you make any final decision.
We will also provide price comparison options further down on this page to help ensure you get the best possible price plus a comparison table vs the SP41 lawnmower so you can see them both side by side.
View also: Popular Petrol lawnmowers
Variations of the Mountfield SP185
Please be aware that their appears to be different versions of the SP185 in the market depending on where you are looking. Some retailers sell the Mountfield SP185 with the Stiga 139cc engine while others are selling it with the Briggs and Stratton 125cc engine and the price and everything else is more or less the same. That being said, you should double check you are getting the correct version as some information online is a little confusing.
Mountfield SP185 Lawn mower Review
Mountfield SP185 139cc 46cm Petrol Rotary Self Propelled Lawnmower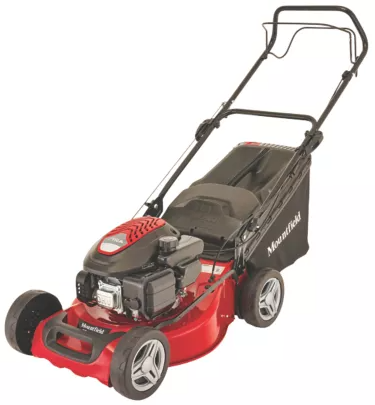 This Mountfield SP185 lawn mower offers a mowing width of 46cm plus 6 mowing heights that range from 2.2cm up to 6.5cm and it is designed with the Stiga ST140 139cc OHV Autochoke engine. One attractive feature is the integrated front handle on the bumper and the handles can be easily folded down using the camlock adjustors either side.
The grass collection box offers decent storage capacity at 60 litres plus you get the mulch plug included to return the clippings to the soil as a natural fertiliser and it also comes back with a standard 2 year warranty. It uses standard unleaded petrol and SAE30 lawnmower oil and the fuel tank provides a holding capacity of 0.75 litres.
Price Guide: £250 - £350

Read also: Mountfield Corded Electric lawnmower review
Video - How to Assemble the Mountfield SP185 Lawnmower
Pros for the Mountfield SP185 lawnmower
The Autochoke included in the design works great and is much better than the manual choke in other lawnmowers
Some self-propelled petrol lawnmowers can cost well over £400 so you certainly can make a lot of savings here with their attractive price point
It performs well on damp and long grasses as long as you start on the higher settings and work your way down on the second pass.
It comes from a brand that has a long tradition in quality products and also with a strong reliable reputation that they need to protect so it's in their best interest to make sure their clients are satisfied at all times
There is plenty of power in the engine and the self-propelled support operates at a nice comfortable pace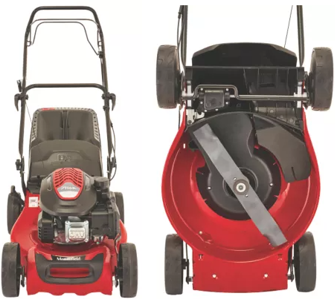 Cons for the Mountfield SP185 lawnmower
If you need to return this lawnmower due to any faults, you will need to remove all the fuel and oil first which is a major pain in the rear.
There is no anti-vibration system in place unlike several other brands we have used in the past
Some of the upgrades on this lawnmower appear to perform worse than the original versions
You cannot expect it to work perfectly without having it serviced annually so please make sure you bring it to your lawnmower service shop prior to the mowing season starting (also clear the undercarriage manually every 2-3 weeks)
Some people may find that the self propelled support is too fast especially when you are starting off
There is no electric key start, no side discharge, no variable speed and no rear rollers either (which explains the lower price)
Price Comparison Opportunities
Mountfield SP185 vs SP41
Another lawnmower in the Mountfield range is the SP41 which is a smaller petrol self propelled lawnmower but it still offers plenty of power nonetheless and it comes with a much lower price tag. The mowing width is 7cm narrower, the engine capacity is 16cc less but it still has the Autochoke starter and it can deal with lawn sizes up to 250m2 no problem whatsoever.
Mountfield SP41 Petrol Self Propelled 123cc Lawnmower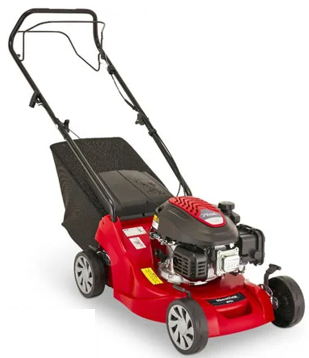 This lawnmower SP41 offers a mowing path of 39cm and it comes designed with the Stiga ST120 123cc Autochoke petrol engine. It is self-propelled and the grass collection box is smaller than the SP185 at 40 litre capacity. It is designed for lawn sizes up to 250m2 or even possibly slightly more and there is 5 mowing height options that range from 2.2cm up to 7cm.
The chassis is rust and corrosion proof which is good to know and the handles can be folded down after use for more compact storage in you shed. The oil tank holds 0.5 litres, the fuel tank can hold 0.75 litres and it comes with the standard 2 year warranty from Mountfield.
Price Guide: £250 - £300

Read also: Mountfield 827H Ride on Mower review
Comparison Table
To add further clarity for the SP185 vs the SP41, feel free to check out the comparison table below where you can see both of these petrol self-propelled lawn mowers side by side
| Lawnmower | Mountfield SP185 | Mountfield SP41 |
| --- | --- | --- |
| Mow width | 46cm | 39cm |
| Engine | 139cc 4-Stroke Stiga ST140 OHV | 123cc 4-Stroke Stiga ST120 OHV |
| Grass bag | 60L capacity | 40L capacity |
| Lawn size | Up to 350m2 | Up to 250m2 |
| Mow heights | 6, 2.2cm-6.5cm | 5, 2.2cm-7cm |
| Fuel Tank | 0.75L capacity | 0.75L capacity |
| Mulch plug | Included | None |
| Weight | 25kg | 21kg |
| Warranty | 2 years | 2 years |
Read also: Popular UK Petrol lawnmowers
Conclusion
After completing our Mountfield SP185 self-propelled petrol lawnmower review, we hope you have a better idea of what this lawnmower is all about and what it can offer you. Starting off anyway we couldn't fault it in any major way as it started on the first pull and it ploughed through mild damp grasses 3 inches high and the grass collection bag collected most of the grass clippings in a satisfactory way.
Maintenance Requirements
Time will tell if this lawnmower will continue to work as well as it does starting off but you will need to make sure that it is serviced annually and you should also get into the habit of clearing the dried grass and debris from the undercarriage every week or even every 2-3 weeks. This helps in a big way when it comes to a quality even cut and better collection of grass clippings in the grass box.
While its not the best self-propelled lawnmower we have ever used, it still provides great value for the money but again you will need to make sure you look after it and maintain it properly

Mountfield SP185 Lawnmower Feedback
Have you ever used the Mountfield SP185 Lawnmowers in the past? If so, please share your own feedback and experiences with the wider mowing community by leaving a comment in the comment box section provided below…