Hello again and welcome to this review about the Toro Lawn mowers which will cover various models in a format of a compilation review so you can pick and choose which model will suit your own individual needs the best.
Toro is a brand that has been established for a long time and is certainly one that you can trust and the selection of lawn mowers they have certainly have gained a lot of interest across the public for the past number of years.
To make sure you get the best value on your Toro lawn mower, please ensure to check out the price checkers below and a stock checker is also provided at the end of this review if that is of interest to you also.
Toro Lawn Mowers - Overview
Toro lawn mowers are diverse and are loved by most of the consumers around the world. They are indeed necessity for maintenance of lawns. If you like to spend time in your lawn then buying a sturdy and strong Toro lawn mower is something that you must consider.
The below mentioned lawn mowers by Toro are the ones that have received most reviews from the buyers. Based on the pros and cons, now you can easily decide which lawn mower will suit you the best.
Working in different ways and having different sizes, you can buy any lawn mower that fits your needs and suits to the size of your lawn. 
Doing your homework before buying a lawn mower will definitely help you out and save you some bucks. Toro indeed offers a diverse variety of economical and strong lawn mowers for you.
There is no need to hire a gardener or borrow a lawn mower from your neighbor now as these lawn mowers are here to rescue you.
Overall, Toro lawn mowers have a good reputation in the market. They are widely used and are appreciated by the customers for not only their great working but also their good price.
 
Toro Lawn Mower Review Compilation (in no particular order)
1, Toro Recycler 22 inch 190cc Personal Pace Lawn Mower Blade Override 20333
Main Features
The Toro Recycler Personal Pace Lawn Mower is driven by self-propulsion and has a variable speed. This Personal Pace mower can adjust to the speed of your walk automatically and has a lightweight agility that gives powerful performance.
It is infinitely adjustable to the pace of your walk (up to 4.8 miles per hour). You can step away at any time from the mower without having to restart it again on use due to the mower's Spin Stop System. 
The Bag on Demand feature allows you, within seconds, to switch from mulching of the material to bagging, while the bag is left on the mower.
The Guaranteed-to-Start (GTS) warranty and just Check and Add feature means that for the life of the engine, you would not have to change the oil and it will start easily and smoothly.
You will find it easy to clean and wash due to its Quick Wash Wash-out Port.
Pros and Advantages: The mower is excellent for mowing and bagging leaves as well as grass, and will be sure to win your trust by its dependability and quality. Its personal pace is great in adjusting to your walking speed and makes the task easy to handle and requires less exertion. The pace even helps move smoothly around obstacles and in reverse. The lawn mower is easy to start and the engine works smoothly and evenly. Its 2-year warranty of full coverage is definitely a plus point.
Cons and Disadvantages: One thing that you will need to keep in mind while purchasing this product is that it does not manoeuvre perfectly in small spaces and over tree roots. In addition to that, the bag is built in a way that its back is in a tilted-up position. This causes only the front of the bag to be full, due to which you will need to empty the bag frequently. In some places, the cut may seem uneven and hence, the spot would need to be mowed again. The price is also a little on the high side for me
2, Toro 22 inch Smartstow Variable Speed High Wheel Mower 20339
Main Features
The Toro SmartStow Variable Speed High Wheel Lawn Mower's SmartStow feature will allow you to store the lawn mower upright, reducing the space needed for storage up to 70%.
You can mow uneven terrain with the help of this model due to its 11-inch high rear wheels. These wheels are also helpful in manoeuvring complex landscapes and obstacles.
The self-propulsion and variable speed makes it easier for you to manoeuvre in tight spaces. It comes with a two-year full coverage warranty.
Easier access has been provided to make it easier for you to service the mower's blade and to clean the under-deck.
Its 3-in-1 feature allows you to bag, mulch or side discharge, providing flexible performance for all kinds of mowing conditions.
Its 3-years' warranty on Guaranteed-to-Start (GTS) ensures that the mower will start on the first or second pull, resulting in an easy start.
Pros and Advantages: You will love the ease it is in storing, washing and emptying this mower. Since it is self-propelled, less exertion is required of you and all you need to do is to direct the mower's movements. It is easy to pull in the backwards direction and manoeuvre across obstacles. The height settings provide you with the option to cut the grass higher or lower. All in all, its dependability and quality are great and the price is very attractive.
Cons and Disadvantages: It needs to be kept in mind that the mower may not work that well with very large grass. Wet grass might get the mower clogged and lead to problems in cleaning up. The height control needs to be refined as it does not give much options for the mowing conditions and the engine is good, but needs to be improved upon for longevity and durability.
3, Toro 20360 eCycler 20 Inch Cordless Electric Lawn Mower
Main Features
The Toro e-Cycler Cordless Electric Lawnmower leaves you with no worries of gas, oil or emissions.
This eco-friendly lawn mower depends on electricity.
Its Volt system is powerful and you get superior mulching performance from the mower due to its steel mulching deck.
The lightweight mower is easy to carry and handle, weighing almost 77 lbs.
The controls have been designed in a way so that you find them easy to operate and handle.
There are two-step operator controls and one-handed
Deck mowing width is 20 inches
Very popular option for mowers looking for an environmentally friendly alternative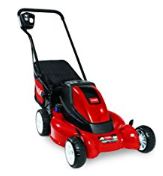 Pros and Advantages: The lawn mowers ease of use is great and you will find that despite its light weight, it is easy to control and manoeuvre. As the wheels are inset into the deck, you will find it easy to cut close to bushes and trees. You will find the handle to be comfortable due to its thick rubber-foam padding. The battery charges 70% in 2-3 hours and 100% overnight. You can easily store it in a small space due to its foldable handle.
Cons and Disadvantages: Issues have been raised in the past over its durability, with the mower's circuit breaking and not working. If you do not want to mulch and prefer bagging, it would require frequent emptying of the bag due to its tilted design, which allows only half of the bag to be filled. In addition to that, the wheels need to be separately adjusted to be set to the cutting height. The levers which control these movements require effort to be moved and the price is a little steep but compares well to other similar branded models in the marketplace
4, Toro 30 inch 76cm Personal Pace Time-Master Mower 21199
Main Features
Large areas that require handling can be quickly and easily dealt with due to the Toro Personal Pace TimeMaster Mower's large deck (30 inches).
The Personal Pace feature of the mower with its Traction Assist Handle automatically adjusts to the pace of your walk, making the work pace convenient.
Its 223cc engine will deliver the performance and the durability that you require. You can easily store the mower in small spaces due to its compact design, convenient handle and light weight.
Its Dual Force cutting system has atomic blades which cut grass into mulch, leading to a healthier and lush lawn.
You can easily step away from the mower to empty the bag or other tasks due to the mower's Spin Stop system that allows the engine to keep running even when the blades have been turned off.
The mower is perfect for users who have large areas to mow and busy schedules.
The large deck allows efficient mowing of large lawns and grassy areas.

Pros and Advantages: If you had been worried about large areas that needed mowing, the wide deck of Toro Personal Pace TimeMaster Mower is sure to end the problem. Not only is it easy to deal with, the mower's deck cuts quite evenly. Its folding handle will make it easy to move and store, which makes it portable and convenient. The mower can also bag wet grass as well as dry grass, which will make it easy for use in wet areas.
Cons and Disadvantages: The main problem that arises with this mower is its durability. The mower does not last long and its blades and other parts have been known to wear off soon. Taller grass is not easily cut by the mower and it needs more time to be mulched as compared to small grass. On somewhat relatively mild inclines, the mower needs to be pushed up. It also stands true for higher inclines. The mower is also expensive and pricey so you will need to dig deep into your pocket to fund the cost of this!
5, Toro 21 inch 53cm High Wheel Push Mower 21320
Main Features
The Toro High Wheel Push Mower comes with a 21-inch cutting width and is lightweight as well as manoeuvrable. You can easily mow in tight areas due to its smaller width and manoeuvrability.
The Check & Add engine allows the engine to function without oil change for the rest of its life and also helps the machine in providing you with superior mulching and cutting capabilities.
The compact and easy to use mower model provides excellent performance to you at great value.
If you are looking for a mower to manage smaller, flatter yards, the Toro High Wheel Push Mower is the best option.
You can use the mower in uneven terrain quite smoothly due to its 11-inch rear tires.
Its 3 year GTS warranty ensures that the mower will start on the first or second pulls for three years, or the mower will be fixed by the suppliers.

Pros and Advantages: The lawn mower is perfect for small and flat areas, providing you with even cuts and efficient start. The price of the product is also reasonable for the services that it provides. Its high rear wheels ensure a smooth mowing experience for you and its oil does not need to be changed, but only replenished. The great mulching and cutting will leave you satisfied.
Cons and Disadvantages: The mower is not good for long grass and large areas or wet grass. While it provides great performance in mulching and cutting, the mower does not bag as properly and the bag needs to be frequently emptied as its designed in a way that only allows half the bag to be filled. In inclined or uneven areas, the mower cannot be as easily used.
In addition, feel free also to check today's stock levels by clicking on any of the images provided below…


If you would like to view further compilation reviews on other brands, then take a look at other brand reviews as follows…
.
If you have worked with Toro Lawn Mowers in the past, it would be greatly appreciated if you can share your experiences good or bad with the community by leaving a comment in the comment section below
Finally, I would like to thank you for taking the time to visit and best of luck with whatever decision you make.
Regards
Paul