If you are interested in buying a Toro Petrol Lawnmower in the coming days or weeks, then make sure to check out our Toro Lawnmower review which will outline all the best solutions and options available to you and we will also outline all the main features that they offer as well as some of the main pros and cons that we came across during the course of our review.
Toro is a brand that has been established for a long time and is certainly one that you can trust and the selection of lawn mowers they have certainly have gained a lot of interest across the public for the past number of years.
Toro Lawnmower Review Format
This review will be broken up into 4 main parts for easier navigation so feel free to skip to whatever part interests you the most.
Part 1 will outline the best Electric start Toro Lawnmower, part 2 will outline our favourite Toro Recycler lawnmower, part 3 will outline our recommended Toro Automatic Drive Lawnmower and finally part 4 will outline the best value Toro Lawnmower for people seeking the lowest possible price on offer when it comes to Toro Petrol Lawn mowers.
View also: Our Best Lawnmower Lists here
Part 1: Best Electric Start Toro Lawn mower
Toro Timemaster 20978 21811 ES 76cm Self Propelled Lawn mower
For an electric start self-propelled Toro lawnmower, we would definitely recommend the Toro Timemaster 20978 / 21811 ES 76cm wide self-propelled Lawn mower which offers a much wider mowing path of 76cm to get the mowing jobs done quicker and of course you have the electric starting system so you don't have to worry about pulling the starter recoil cord.
It uses the SAE30 premium engine oil as well as unleaded petrol and it has a  Briggs & Stratton 1000 223cc Series engine so there is plenty of power and more to deal with tougher mowing conditions and rough terrain.
The wider mowing path and the self propelled auto-drive support means you can reduce mowing times 30%-40% no problem and the fuel tank can hold 1.4 litres of petrol which means around 1 hour of mowing time uninterrupted. This lawnmower also offers the automatic drive, the blade brake clutch, a large grass collection fabric box with a capacity of 88 litres and there are multiple mowing height options that range from 3cm up to 10cm for longer grasses.
Pros
You have the electric start so you don't have to worry about pull cords plus you have the self propelled support and wider deck to mow larger lawns at a faster rate.
The automatic drive system is great in that it will work to suit your own mowing and walking pace and it can work on larger lawns up to 1000m2 no problem
Cons
When you need to disengage the self-propelled support for flower beds or trees, it is very heavy at 65kg to move around manually
It needs to be serviced and maintained annually and the prices for this can be very expensive – plus you will need a small trailer or a very large car hatchback boot to fit it when the time comes to bring it to the local service shop
Price Guide: £1500 - £2000

View also: Our Robotic Mower Reviews here
Part 2: Best Toro Recycler Lawn mower
Toro 21772 55cm Self-Propelled BBC Petrol Recycler Lawnmower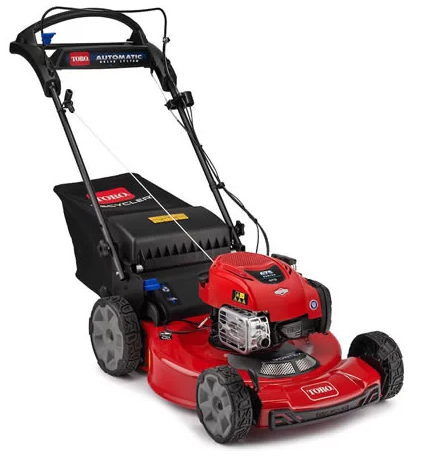 When it comes to the Toro Recycler lawnmowers, we would have to recommend the Toro 21772 55cm wide self-propelled Petrol Recycler Lawnmower with the BBC blade brake clutch for faster mowing and the powerful Briggs and Stratton 675 163cc Series engine for the automatic drive system and blade brake system.
You can use this lawnmower for lawn areas up to 700-800m2 in our opinion and you can work it by recutting the grass clippings and returning it to the soil as a fine mulch.
It collects grass very well with its unique vortex technology and it operates as a rear wheel drive self propelled lawnmower that mows at a nice walking pace to suit you.  You get 4 mowing heights that range from 2.5cm up to 10cm plus you get the wash port and the 2 year warranty
Pros
The automatic drive works superbly to suit your mowing pace
The blade brake clutch is great to have in place as well as the wash-port and the self propelled support
There is plenty of power in this engine for difficult mowing conditions
Cons
No electric start so you need to use the recoil pull cord
Spare parts, servicing and annual maintenance costs tends to be quite high
There is no rear roller for lawn stripes
Price Guide: £750 - £850

View also: Our petrol Lawnmower reviews here
Part 3: Best Toro Automatic Drive Wide Lawn mower
Toro TimeMaster 21810 Automatic Drive 76cm Lawnmower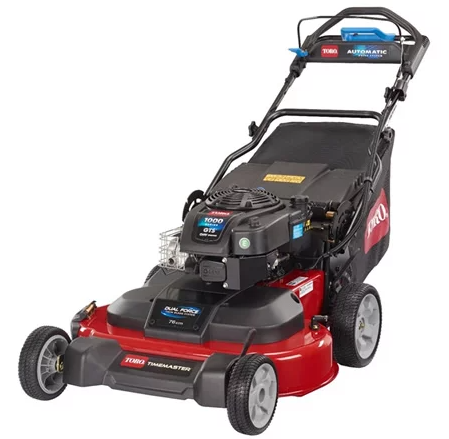 For those of you with larger lawns for example lawn sizes 800m2 or even 1000m2+, then we would recommend this wider 76cm mowing path self-propelled automatic drive Toro 21810 lawn mower that is an absolute joy to work with and you can still get plenty of exercise done instead of using a tractor ride on mower.
It's a very heavy lawnmower at 62kg weight but you have all the self-propelled rear wheel drive support to get you around the lawn with ease – all you have to do it steer it and manage the control levers.
As you have the wider mowing path and automatic drive, mowing times are reduced and there is plenty of space in the grass collection bag for the clippings plus there is plenty of power for mowing with its Briggs & Stratton Series 1000 223cc engine. It also has the blade brake clutch, a 1.4L fuel tank and the mowing heights range from 3cm up to  10cm for mowing longer grasses.
Pros
For larger lawns, this is the ideal solution as you have the wider mowing path and the self-propelled support to reduce mowing times significantly and plenty of power in the 223cc B&S engine
The handle can be folded down easily with the side lever plus there is plenty of power for difficult terrain and mowing conditions
Cons
As it is a more powerful automatic drive and wider lawnmower, it tends to be a heavier user of petrol
There is no electric starter so you need to use the recoil pull cord instead
Price Guide: £1400 - £1800

View also: Our Ride on Tractor Mower reviews here
Part 4: Best Value Toro Lawn mower
Toro 20944 / 20942 46cm 159cc Self-Propelled 3 in 1 Lawnmower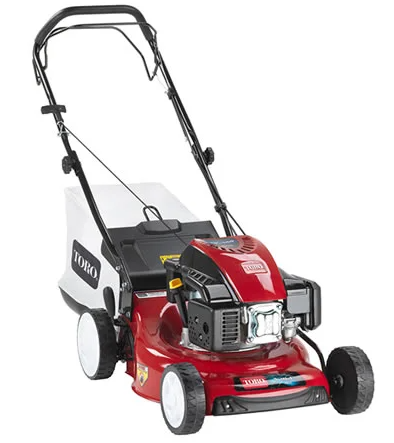 For a lower priced more affordable Toro lawnmower, we would recommend the Toro 20944 / 20942 self-propelled 3 in 1 Lawnmower that will work better for those of you on a tighter budget or seeking a lower priced alternative. It comes with a Toro OHV GTS 159cc engine and it offers a 46cm mowing path as well as a 55L capacity fabric collection bag for the clippings.
It can recycle and mulch the grass clippings to be returned to the soil as a natural fertiliser and the self-propelled supports operates as a single speed setting.
The mowing height options range from 2.5cm up to 10cm for longer grasses and you can clean the undercarriage by using the wash port link provided. The weight is more manageable at 29kg plus there is also a 2 year warranty cover.
Pros
It is a much lower priced option within the Toro lawnmower range
You can use the wash-port and the mulching when you need to
The self-propelled support works at a nice walking pace
You can recycle or mulch the grass instead of collecting to reduce mowing times
Cons
There are no rear rollers in place for the lawn stripes
Maintenance costs and spare parts tends to be very expensive
You need to use the recoil pull cord as there is no electric starter
There is only one single speed self-propelled support setting
Price Guide: £450 - £550

View also: Multiple best Lawnmower lists here
Video - Toro Super Recycler Lawnmower
Conclusion
After completing all our Toro Lawnmower review work, we hope you have a better idea on the best possible options available to you which should speed up the process when it comes to your own online research. We have recommended best value Toro Lawnmowers, electric start Toro lawnmowers and also wider Toro Automatic drive lawnmowers for those of you with larger lawns so there should be something here to cater for your needs – further information from the supply base in Gloucester can be checked out below

Toro Lawnmower Community Feedback
Have you ever used any of these Toro Lawnmowers before? If possible, please share your own opinions, experiences or feedback with the wider mowing community by leaving a comment in the comment box section provided below…