Are you think about buying a Toro TimeCutter Zero Turn Mower in the coming days or weeks? If so, then check out our review which will outline all you need to know plus our own feedback before you make that all-important final decision. We have tested various different Tractor lawn mowers and Zero turn mowers already and we wanted to test and see if the Toro TimeCutter Zero Turn ride on mower was as good as they say it is.
Queries
Is it at the same level as other brands? What areas is it better in or worse in? To learn more about our feedback, then check out the pros and cons outlined below plus the features that it can offer you. In addition, we will provide a short FAQ session which hopefully can answer some of the queries you may have along with a comparison table across different Zero turn options from Toro.
Read also: Best Electric Corded Lawnmowers
Focus
Our review will focus on one of our favourites under this brand namely the Toro TimeCutter MyRide Zero turn mower reference number 74867 but we will also take a look at 2 other smaller and lower priced zero turn options also so at least you have more than just one choice when it comes to making any final decisions. For easier navigation, our review will be split into 5 separate parts as follows so feel free to skip to whatever part interests you the most.
Zero Turn Mower Review Content
Part 1: Overview & FAQ's
Part 2: Toro TimeCutter Zero Turn MyRide tractor mower 74867 review
Part 3: Smaller & Lower Priced Alternatives x 2
Part 4: Comparison table for all 3
Part 5: Conclusion & Optional Feedback
As guide prices can only be shown as the time of this Toro TimeCutter review, please make sure to view the price checkers provided below to ensure you have the most accurate up to date price information.
Read also: Our Mountfield Tractor Lawn mower review here
Part 1: Overview & FAQ's
| Brand: | Toro |
| --- | --- |
| Model: | Toro TimeCutter 74867 HD XS5450 MyRide Zero Turn Tractor Mower |
| Engine: | Toro V-Twin engine |
| Engine Capacity: | 708cc |
| Power: | 18.2 kW or 24.5 HP |
| Warranty: | 3 years - Available in Gloucester |
| Price Level: | Guide £5k - £7k - View Today's Price Here |
Frequently Asked Questions - Toro TimeCutter HD XS5450 (10)
Q1. Does it include a service kit in the package?
A. No but it can be added as an optional extra with a price guide of £70 extra
Q2. What type of oil is needed?
A. You can use a Toro SAE30 engine oil or Briggs & Stratton SAE30 engine oil
Q3. How quicker is this mower versus traditional tractor mowers?
A. As a guide, your average job can be done 30% to 40% quicker
Q4. What size area can it be used for?
A. As a guide, it is recommended for areas up to 10k square meters.
Q5. How wide is the deck on this machine?
A. The cutting deck width for this Toro TimeCutter is 137cm
Q6. How are the speed levels controlled?
A. There are 3 ground speed selections which uses smart speed technology
Q7. What cutting heights are available and what is the lowest it can cut to?
A. The mow heights start from 3.8cm up to 11.4cm over 13 different height setting positions
Q8. Does it include any wash cleaning ports?
A. Yes, there are 2 wash ports included for improved cleaning practices
Q9. How much fuel can it handle?
A. The fuel tank has a capacity of nearly 19 litres
Q10. What is the maximum speed it can mow at?
A. The maximum ground speed it can mow at is 8.5 mph (approx. 13.6 kph)
Read also: Popular Robotic lawnmowers
Part 2: Toro TimeCutter MyRide Zero Turn mower Review
Toro TimeCutter HD XS5450 MyRide Tractor Mower (74867)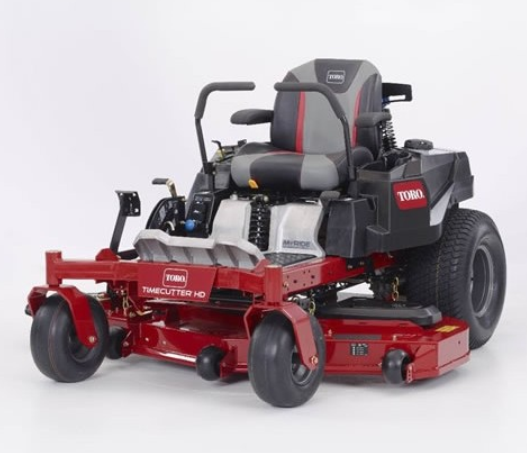 Key Features in Summary:
Toro V-Twin engine 708cc
Cutting deck 137cm/54 inches
Ability to turn on the spot
Superb around obstacles
Power output 18.2 kW / 24.5 HP
3 Anti scalp wheels
Ground speed is 8.5 mph
2 wash ports, arm rest, cup holder
Fuel tank capacity 18.9L
Warranty of 3 years available
Zero Turn Mower Description:
The one big feature with this 54 inch Toro TimeCutter is the whole idea of reducing the amount of time you need to spend mowing – hence the name TimeCutter and one of the main benefits is the reduction of mowing time on average of 35% to 40% when compared to traditional tractor mowers.
As with other zero turn mowers, you can turn on the spot which is supported by the smaller front castor wheels and it includes a premium powerful Toro V twin 708cc engine with a power output level of 24.5 HP or 18.2kW which you notice straight away. It is certainly one of the most powerful mowers that we have ever used.
The design and build is from higher quality grade 50 steel and it is designed for both mulching and side discharge. There are 3 speed selections available managed by the smart speed technology and the cutting heights can be adjusted through 13 levels ranging from 3.8cm to 11.4cm. There are 2 levers either side for steering which works great, there are 3 anti scalp wheels included to prevent any potential damage and it can handle smaller lawns or even larger paddocks as big as 10k square metres no problem whatsoever.
When on rough, bumpy or difficult ground conditions, this machine supports you with the rear shock suspension adjustable platform which helps to provide a smooth ride regardless of the conditions you face. The rear wheels are 22 inches thick plus there are comfortable arm rests and a cup holder provided.
There are 2 wash-port decks, the operator platform is suspended, the ground speed is 8.5 miles per hour and you get a 3 year warranty on condition that it needs specific service requirements and it is available in Gloucester (delivered fully assembled)
Price Guide: £5k - £6k level

Further images of the Toro TimeCutter HD XS5450 MyRide Tractor Mower 74867 are outlined below (5)
Technical Specification Information
Technical Information – Part 1
45.7cm padded seat
Model reference 74867 HD XS5450
Cutting width 137cm / 54 inches
Cup holder & arm rests
4 adjustment point rear shocks
HG-ZT3100 transmission
13 Cut heights of 3.8 cm to 11.4 cm
Oil tank capacity 2L
Weight is 378kg
Technical Information – Part 2
Blade Tip Speed is 5,730+ m per min
Deck Grade 50 High Strength 10 gauge
3 anti scalp wheels
Ground speed of 8.5 mph / 13.68 kph
Pro-Controlled Dampers steering
Fuel tank capacity 18.9 L
Suspended operator platform
Turning radius is zero
Pros to be Noted
This Toro TimeCutter model offers you the ability to turn on the spot, superior quality & performance, smart speed options and it is a lot easier to work with than you think.
Once you get the hang of the controls and functions, this machine is an absolute pleasure to sit on and work with and gets larger mowing jobs done so much quicker – around 35% faster than normal – sometimes even as much as 50%!
Cutting heights can be adjusted for smaller jobs at the lower setting or easily change to higher mow height cuts for larger paddocks – great flexibility and choice overall with mowing heights.
A great reliable and trusted service is available from Mowers Online UK in Gloucester who deliver it fully assembled and ready to go and they are only a phone call away for any issues that you may come across – good back up support is available locally in Gloucester.
The quality of the deck is superb and typically 50% stronger than standard decks you see elsewhere
The smooth MyRide suspension system built in is absolutely brilliant in absorbing any bumps or vibrations so you get a super smooth ride at all times – this will impress you as it did for us.
Cons to be Noted:
Only a 3 year warranty is available where many other brands offer longer warranties of up to 5 years
There is no oil, dump cart or maintenance service kit included in the package (they are only available as optional extras which will be added to the overall price)
In peak season, stock availability can be somewhat unreliable and unpredictable so you may need to wait longer than expected to get the model you specifically want.
The lowest mow height is 3.8cm which won't be low enough for some people who prefer a tighter and cleaner finish
There is no grass collection unit that you see available on commercial tractor lawn mowers – only the side discharge and mulching options.
Some warranties say that it is 3 years but in the small print it can have a disclaimer of 3 years or 300 hours – whichever comes first
Commercial warranties can be as low as 30 days versus the domestic warranty of 3 years
Part 3: Smaller & Lower Priced Alternatives
If you feel that the Toro TimeCutter HD XS5450 is out of your price range at the moment, then take a closer look at 2 smaller and lower priced options outlined below that may work better for you in the long run…
1, Toro TimeCutter 5075T MyRide Zero Turn Garden Mower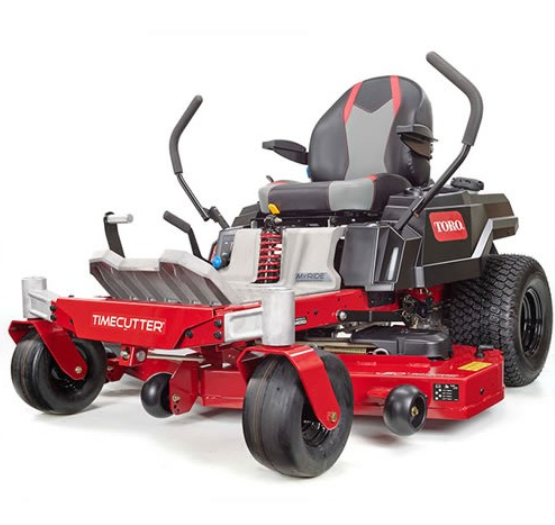 Key Points in Summary:
Toro 24.5HP V Twin engine 708cc
Zero turn mower for tight spaces
Includes MyRide suspension system
Smart speed control system
Dual hydrostatic transmission
Reduces mowing times by 40%
Mow heights 3.8cm to 11.4cm
Larger rear wheel for superior traction
Fuel tank capacity of 11.4 litres
Price Guide: £4.5k - £5k

2, Toro TimeCutter 81cm Zero Turn Ride on Mower ZS3200S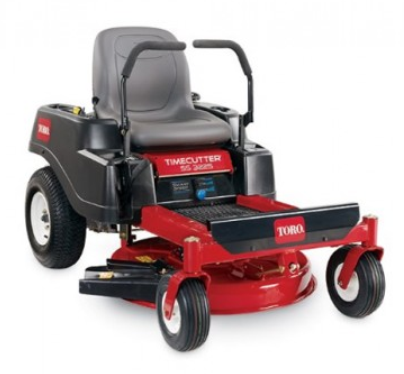 Key Points in Summary:
Toro Engine 452cc – 10 gauge steel
Hitch kit included for attachments
Mow heights 3.8cm to 11.4cm
Dual Hydrostatic transmission
Narrower cutting deck 81cm
Dual wrap around steering - single blade
Single-cylinder Toro engine
Fuel tank capacity 11.4 litres
Zero Turning radius - smart speed controls
Price Guide: £3k - £4k

Part 4: Comparison Table
To add further clarity on how each of these Toro TimeCutters compare against one another, then check out the comparison table outlined below which can help you make any particular comparisons you need to make yourself…
| Model: | Toro TimeCutter HD XS5450 | Toro TimeCutter 5075T | Toro TimeCutter ZS3200S |
| --- | --- | --- | --- |
| Engine: | Toro V-Twin | Toro V-Twin | Toro Single |
| Displacement: | 708cc | 708cc | 452cc |
| Deck Width: | 137cm / 54 inches | 127cm / 50 inches | 81cm / 31.9 inches |
| Cutting Heights: | 13 – 3.8cm to 11.4cm | 13 – 3.8cm to 11.4cm | 13 – 3.8cm to 11.4cm |
| Rear Wheels: | 22 inches / 56cm | 18.1 inches / 46cm | 18.1 inches / 46cm |
| Armrests: | Included | Included | N/A |
| Cup Holder: | Included | Included | Included |
| Speed: | Smart technology | Smart technology | Smart technology |
| Wash ports: | 2 | 2 | 2 |
| Fuel Tank: | 18.9 L capacity | 11.4 L capacity | 11.4 L capacity |
| Anti-Scalp Wheels: | 3 | 3 | 3 |
| Transmission: | Hydrostatic | Hydrostatic | Hydrostatic |
| Warranty: | 3 years domestic | 3 years domestic | 3 years domestic |
Read also: Our nominated list for the Best UK Tractor mowers
Part 5: Conclusion & Optional Feedback
Do we recommend the Toro TimeCutter HD XS5450 Zero turn mower? If you have the money, then yes all the way as we believe it is certainly worth the money. This machine is without a doubt built and designed with the highest quality components and the suspended operator platform that cushions you against rough terrain works exactly as it says it does. No matter how bumpy or rough the ground conditions are, the smooth MyRide suspension system is well able to absorb all the vibrations that you will come across.
Verdict
The speed at which this machine works is awesome, and it can reduce your mowing time on larger paddocks by 50% in our opinion which is a game changer if time is always against you. Overall, this machine is more than capable of tackling all types of ground conditions and grass heights and it is a joy to work with and a serious time saver allowing you to get other jobs done around the place more quickly. Further price updates are available below...

Optional Feedback – Educate Others
Have you ever used a Toro TimeCutter Zero Turn Ride on mower yourself in the recent past? Did you experience any problems that we should know about?
If possible, please share your experiences and feedback with the wider UK community by leaving a comment in the comment box section provided below – So that others across the UK can learn also!