Are you thinking about buying a Honda Riding Tractor Mower over the few days or weeks? Which one should you choose? To learn more about our recommendations, then check out our Honda Riding Mower review which outlines what we believe is the best Honda ride on mower in the UK today for the amount of money you need to spend. Our Honda riding mower review will outline all the key technical information you need to know along with the main features and functions that you can enjoy.
In addition, we will outline the mains pros and con which we came across that you can check out further down on this page along with a short selection of FAQ's that hopefully can answer some of the queries that you may have.
Read also: Our Toro TimeCutter HD XS5450 Zero turn mower review here
Tractor Mower Review Overview
| Model: | Honda HF2417 HT Lawn Tractor Mower |
| --- | --- |
| Engine: | Honda 4-stroke OHC V-twin |
| Engine Capacity: | 530cc |
| Power: | 17 HP, 9.9 kW @ 2800 rpm |
| Warranty: | 5 years - Available from Mowers Online UK in Gloucester |
| | Guide is approx. £4.5k - View Today's Price Here |
Frequently Asked Questions about the Honda HF2417 (10)
Q1. Is the grass dump collection electrically powered?
A. Yes, this mower provides and electric grass dump system
Q2. Does it also have a bumper at the back?
A. Yes, there are bumpers at the front and also the back
Q3. What is the lowest cutting mow height?
A. The lowest mow cutting height is 3cm
Q4. What type of engine is used?
A. It comes with a 4-stroke OHC V-twin Honda GCV530 engine with 530cc and 17 HP
Q5. Can it mow in reverse?
A. Yes, as long as you press a safety button on the dashboard first
Q6. Is there a wash port for cleaning the deck?
A. Yes, a hose cleaning nozzle is included in the wash port for deck cleaning
Q7. Does it provide mulching capabilities?
A. Yes, there is a Versamow selective mulching option included which can be used if you don't wish to use the grass collection unit.
Q8. How long does a commercial warranty last for?
A. It depends on your supplier but generally 12 months is available when used commercially.
Q9. How much fuel can it hold?
A. This tractor mower has a fuel tank capacity of 8.4 litres
Q10. What size lawns is it recommended for?
A. This Honda ride on mower is recommended for areas up to 8k square metres.
Best Honda Tractor Riding Mower – Top Recommendation
Honda HF2417 HT Premium Lawn Tractor Mower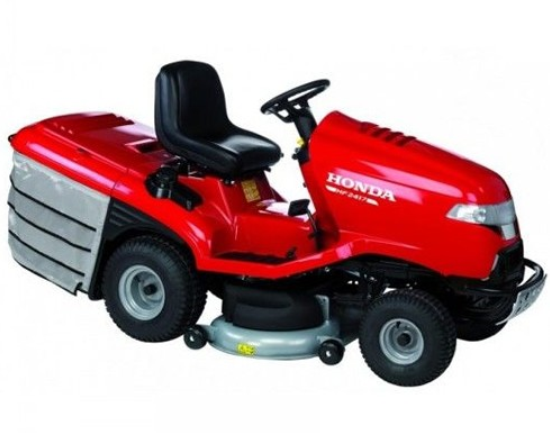 Key Features in Summary:
Honda V-twin 4-stroke 530cc
Auto hydrostatic transmission
Grass collection capacity 300L
Versamow mulching system
Electric key starting
Cutting width 40 inches or 102cm
7 Mow heights 3cm to 9cm
Electric grass dump system
User friendly dashboard
Front & rear bumpers
Fuel filler on the rear
Warranty is 5 years

Tractor Mower Description:
This premium tractor mower from Honda is definitely our top favourite model under this brand and it is the one you should choose if you are considering buying a Honda tractor mower in our opinion. It comes with a Honda 4-stroke OHC V-twin engine with a power output of 17 HP and capacity displacement of 530cc.
The access area to the battery is easy, the fuel is filled from the rear just like a car and the seat can be easily adjusted or extended with a lever for maximum driving comfort. The cutting deck provided is 30 inches wide or 102cm and the grass collection unit has a capacity of 300 litres.
One of the big attractions here along with the user friendly dashboard and hydrostatic transmission is the electric dump grass system where all the heavy lifting work is done for you electronically – all you have to do to empty is reverse to the designated spot and press a button which is a major plus.
Another feature that impressed us was the audible grass full indicator, so you know when the grass collector needs to be emptied in advance which is a nice feature to have.
The collection of clippings is supported with the Optiflow air grass system, so you never have any problems with wet grass getting clogged up or blockages in the rear.
If you don't want to use the grass collection unit, then you can choose to use the mulching Versamow system instead where the clippings are chopped up and laid down into the soil which act as a natural fertiliser for healthier lawns for the season ahead.
The headlights come on automatically, the dashboard is easy to use and helps to manage the machine and the controls are nicely placed for working the various different functions that come attached to it. There are bumpers at the front and the rear, it can mow in reverse and it is treated to prevent any corrosion or rust setting in.
The overall weight of this tractor mower is 250kg and the mowing heights range from 3cm to 9cm high over 7 mow height settings.
This tractor mower can be delivered read to mow and fully assembled  plus a 5 year warranty is provided to protect your investment. (12 months when used commercially) and it is available from

Mowers Online UK who are based in Gloucester (delivered fully assembled)
Price Guide: $4000 - £4500

Further images of the Honda HF2417 HT Premium Lawn Tractor Mower are outlined below (3)
Technical Information:
Specification Details Part 1:
Versamow mulching system
Optiflow air grass collection
102cm / 40 inch cutting deck
Grass collection capacity 300L
Electric grass dump system
Hydrostatic drive transmission
Extendable seat with lever
Headlights activated automatically
Hose cleaning nozzle
Fuel tank capacity 8.4 litres
Engine model: GCV 530
Power 9.9 kW @ 2800 rpm
Speed level 0.8 to 2 kph
Specification Details Part 2:
H126cm x W97cm x L244cm
Electric key starting
Rear fuel filler
Easy battery access
Size guide 3 acres
4-stroke OHC V-twin
17 HP 530cc engine displacement
7 cut heights from 3cm to 9cm
Weight total 250kg
Power sound Level 100 dB(A)
2 rotating blades
Wheels: Front 15 / Rear 18 inches
Turning radius is 1.8 m
Honda HF2417 Riding Mower – Pros and Cons to Note
Pros for the Honda HF2417:
The 5 year warranty is a major attraction as many other brands only offer 3 years and in some cases less – getting 5 years protection adds more confidence when making an investment of this size
Your get a really powerful high quality Honda 530cc engine with great 17 HP so you know and notice straight away when you start working the power you have underneath you
The mulching Versamow mulching and the Opti air flow system additional extras are certainly very impressive and work exactly as they say they do
There is a great smooth experience when riding this machine even when over rough terrain and the electric grass dump system works a treat and takes away all the heavy lifting and hard work in emptying the grass collector
Some tractor mowers have the grass collector as an optional extra which increases the price where the grass collector here is included in the overall package
The added safety feature of not being able to mow in reverse without making a switch on the dashboard is a great help to ensure you have added protection at all times
Cons for the Honda HF2417:
There are no arm rests or cup holder which we have seen available from other brands which are useful on longer mowing jobs.
The cutting deck of 40 inches is not as large as some of the other tractor mowers we have tested – there are wider cutting decks available elsewhere.
Prices can vary quite a bit depending where you look and will be seen as too expensive for many homes with limited budgets.
Stock availability can be somewhat unpredictable so you may have to wait longer than expected to get your hands on it – best to book early in our opinion
The lowest mow height of 3cm will not be low enough for everyone especially those who prefer a tighter cut.
Lacks the ability to give a really nice striped effect like what you see from other tractor mower brands.
Honda 28 Inch HF1211H Ride on Lawnmower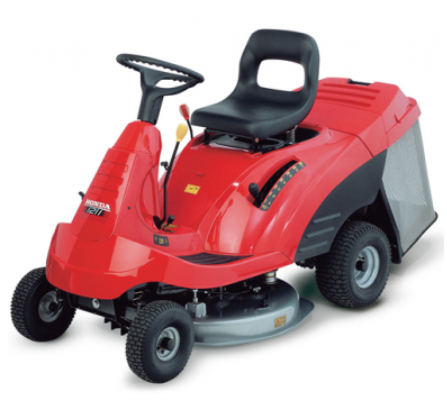 Main Features in Summary:
4 stroke 337cc Honda single cylinder engine
Smaller and lower priced alternative to consider
Hydrostatic automatic drive system - 28 inch or 71cm cutting deck width
Constant blade cutting speeds - 7 mowing heights 3cm to 8cm
Grass collection capacity is 170 litres - Domestic warranty is 5 years also
Price Guide: £2000 - £3000

Read also: Our review list for the Best UK Tractor mowers
Our Conclusion
Would we buy this tractor mower from Honda? Certainly yes in a big way as it is without a doubt our favourite tractor mower available from Honda at present. The price is a little on the high side but it is great quality for the amount of money you need to spend – plus you have the added protection of a 5 year warranty from Mowers Online UK based in Gloucester who are only a phone call away if you have any issues that need to be resolved.
What definitely impressed us was the full LED diagnostic electronic dashboard which is a great feature to help you manage the machine as bet you can along with the quality of the cutting power, grass collecting and of course the electric grass dumping system. This machine is built to last and it will serve you for many years to come, the cutter controls and pedals are easy to work with and the audible grass full indicator makes sure you know exactly when it needs to be emptied at all times.
If the ride on Honda lawnmower is out of your price range, then you should check out some of the lower priced self propelled Honda petrol lawnmowers from Amazon below which are on sale for less than £500

Educate Others in the UK
Have you ever used a Honda Tractor Ride on mower yourself in the recent past? Did you experience any problems that we should know about?
If possible, please share your experiences and feedback with the wider UK community by leaving a comment in the comment box section provided below – So that others across the UK can learn also!