Which Westwood Ride on Lawn Tractor mower should you choose? To find out more, then check out our Westwood Ride on Tractor mower review which will outline our top 3 suggestions based on our own personal experiences. We have looked at several tractor mowers under this brand and we have come up with 3 of the best options that we found which are available in the UK at present.
To cater for everyone's needs, we have selected a larger frame premium 50 inch V25-50HE tractor mower, then a middle of the road Westwood tractor mower with 42 inches width and then also a smaller lower priced option with 38 inches cutting width so at least you have more than one option when it comes to making any final decision. There are several places that sell these lawn tractors and the quality and prices can vary quite a lot from what we have seen so we have focussed on what we believe are the 3 best options to choose from at present.
Our review will outline all the features and functions that they have to offer along with the main pros and cons which we came across that you can view further down on this page. In addition, we will include some frequently asked questions along with a comparison table so you can see for yourself how each of them compares against one another.
Ride on Tractor Lawn Mower Review Content:
Part 1: Quick Overview & FAQ's
Part 2: Westwood 50-inch Tractor Lawn Mower V25-50HE review
Part 3: Lower Priced Alternatives – 42 Inch & 38 Inch
Part 4: Comparison table
Part 5: Conclusion & Feedback
Please note before you start that guide prices can only be shown as the time of this Westwood riding lawn tractor mower review, so please make sure to view the price checkers provided below to ensure you have the most accurate up to date price information.
Read also: Our nominated list for the Best UK Tractor mowers
Part 1: Quick Overview & FAQ's
| Brand: | Westwood |
| --- | --- |
| Model: | Westwood 50 Inch Tractor Lawn mower V25-50HE |
| Made in: | Oxfordshire |
| Engine Capacity: | 675cc |
| Power: | 16.6kW |
| Warranty: | 3 years - Available from Mowers Online UK in Gloucester |
| Price Level: | £5.5k to £6.5k region - View Today's Price Here |
Background Information about Westwood…
They are a British brand based near Oxford and they have over 30 years experience in this sector
They design these lawn mowers and lawn tractors specifically for the typical British climate so extra measures are put in place for preventing rust and corrosion and also for waterproofing all of the control and electrical parts.
The grass collecting system is designed specifically for wetter grasses so that the collection unit doesn't get clogged like what happens with many other mowing brands.
A unique feature to their designs is by using a spindle of brushes to push the grass clippings back into the collector unit rather than an air flow system used by other mowing types. So, the grass collections work completely different to what you normally see elsewhere which gives an excellent and tidier finish.
Certain models come equipped with a differential lock system for muddy conditions and rear rollers on the grass collectors built in to give that beautiful striped finish that look fantastic after all the work has been done.
Frequently Asked Questions for the V25-50HE (10)
Q1. What size areas is it suitable for?
A. As a guide, it can handle areas of up to 3 to 4 acres
Q2. Does the grass collector need to be manually emptied?
A. No, there is a push button electric lift to empty the grass collector automatically
Q3. Is the grass collector included?
A. It is available as an optional extra, so you need to add this separately to your order if needed
Q4. Does it outline any service time reminders?
A. Yes, the dashboard will outline when the mower needs to be serviced or if there are any other parts that need to be addressed.
Q5. What type of transmission is available?
A. It operates with a smooth hydrostatic transmission - one pedal for forward and one pedal for reverse
Q6. Can it handle slippery or muddy conditions?
A. Yes, these types of conditions are supported with the differential lock system
Q7. What type of engine is used?
A. This tractor mower is equipped with a Kawasaki twin cylinder air cooled 675cc engine
Q8. How does the blade deck function?
A. It operates with an IBS 3 bladed rear discharge deck
Q9. What are the mowing heights available?
A. This mower offers mowing heights of 1.2cm to 10cm across 9 different height settings
Q10. What blade operating system is in place?
A. This tractor mower from Westwood comes with a triple rotary blade cutting system
Part 2: Westwood 50-inch Tractor Lawn Mower V25-50HE review
Westwood 50 Inch Tractor Lawn Mower V25-50HE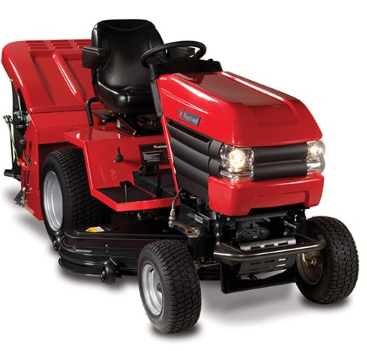 Key Features in Summary:
Kawasaki 675cc engine
Premium featured driven
IBS Rear Discharge Deck
Delivered fully assembled
Optional grass collector
Suitable up to 3-4 acres
Electric grass emptying
Differential lock system
User friendly OMS dashboard
PTO for other attachments
Hydrostatic Transmission
Warranty 3 years long
Tractor Mower Description
This premium tractor mower from Westwood also referred to as the V25-50HE is certainly our favourite under the Westwood brand and it would be considered as one of the most powerful options available under their brand. It would also be considered as their flagship tractor mower and it is handmade in Oxfordshire using the best and finest components which makes it hard-working enough to make light work of the toughest jobs.
The grass collection unit in the image is not included in the standard purchase but is available as an optional extra. This collector has a collection capacity of 390 L and it is power driven for easier emptying as the emptying is done automatically with the press of a button.
In terms of areas, it is recommended for areas up to 3 acres but it can handle areas larger than this also with more time. It comes with a hydrostatic transmission for more comfort, a user-friendly OMS dashboard to help to manage the machine and there is also a PTO that can be used for various other garden equipment tools. With the transmission, you have one pedal for reverse and one pedal for forward motions.
Another key feature is its ability to work on slopes or muddy areas as it comes equipped with a differential lock and it has a safety parking brake where it cannot be started unless the brake is in place.
It comes with a Kawasaki twin cylinder which is air cooled with a capacity of 675cc and a power level of 16.6kW. The cutting deck is 127cm or 50 inches and it includes an IBS 3 bladed rear discharge. The mow height settings operate over 9 levels from 1.2cm to 10cm and it comes with a 3 year warranty for added security
Price Guide: £5.5k to £6.5k

Pros to Note:
It can come delivered fully assembled and ready to mow straight away – plus the speed levels are excellent with the triple blade cutting system so you get a nice clean finish a lot faster – seriously cuts down of mowing time you need to do.
It can handle areas larger than 3 acres in our opinion and even up to 4 acres such is the power and speed you get from this machine. Another thing that really does help make the job easier is the push button electric lift on the optional grass collector so the grass collector gets emptied without you having to do any heavy lifting
You get a PTO that can work with various other pieces of equipment, it comes with the hydrostatic transmission as standard and the differential lock built in really does help when conditions are muddy or slippery or when you need to work on hills or steep slopes.
One thing that impressed us also is the OMS dashboard which makes managing the machine a whole lot easier such as flagging up repair work or services that are due. Also, the mowing lower heights can go as low as 1.2cm which wouldn't be available on many other tractor mowers.
Overall, you are getting a really powerful premium machine with an 675cc engine capacity which does exactly what it says it can do - a joy to work with, ride on and mow  - a great experience overall
Cons to Note:
The first thing that will worry you straight away is the much higher price associated with this tractor mower – generally it will set you back well over £5.5k so it is certainly not affordable for the majority of people
The second thing then is that the grass collector is only available as an optional extra – and because it is powered, it will set you back a further £700+ when seen at the time of this review. Again, this is too expensive for the average homeowner in my opinion.
Some places will offer lower prices but please be careful as they tend to offer limited service and lower warranty periods – you need to look at more than just the price when choosing where to buy as the lowest price doesn't always guarantee the same level of service
It doesn't include a toll ball which we have seen available on other premium spec tractor mower brands
The 3 year warranty is available on condition that the machine meets specific service requirements. Plus other brands we see offer 5 years where you only get 3 years typically with Westwood
1, Westwood 42 Inch Lawn Tractor Mower T60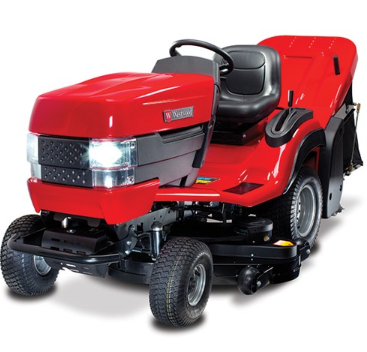 Main Points in Summary:
Delivered ready to mow & fully assembled
Kawasaki 603cc engine and heavy duty axle
Electric powered take off – push button controls
On board computer managing system
Vector Flow system & optional collector
3 contra-rotating blade mechanism
Parking brake, 9 mow heights 1.2cm-10cm
Price Guide: £4.5K region (3 year warranty)

2, Westwood 38 Inch Lawn Tractor Mower T50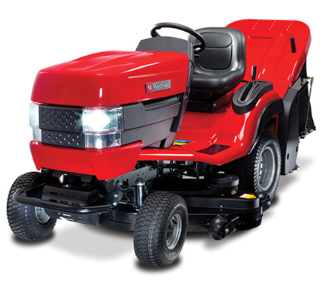 Main Points in Summary:
Smaller frame & more affordable option
Still includes many premium features
Briggs and Stratton engine 500cc
Narrower deck of 38 inches or 97cm
3 contra-rotating blades – 1 acre size
On board management system
Power 10.8Kw & XRD rear discharge
Price Guide: £3.5K region (3-year warranty)

Part 4: Comparison table
To help you compare each of the tractor lawn mowers in this review from Westwood, then check out the comparison table provided below.
| Model: | Westwood V25-50HE | Westwood T60 | Westwood T50 |
| --- | --- | --- | --- |
| Engine: | Kawasaki twin cylinder | Kawasaki twin cylinder | Briggs and Stratton single |
| Engine Capacity: | 675cc | 603cc | 500cc |
| Power: | 16.6kW | 9.9kW | 10.8kW |
| Cutting deck: | 50 inches / 127cm | 42 inches / 107cm | 38 inches / 96cm |
| Grass Collector: | Optional extra (powered) | Optional extra (powered) | Optional extra (powered) |
| Collector capacity: | 390L | 300L | 300L |
| PTO: | Included | N/A | N/A |
| Differential Lock: | Included | N/A | N/A |
| Seat: | Adjustable | Adjustable | Adjustable |
| Mow heights: | 9 – 1.2cm to 10cm | 9 – 1.2cm to 10cm | 9 – 1.2cm to 10cm |
| Area Guide: | Up to 3 acres | Up to 2 acres | Up to 1 acre |
| Warranty: | 3 years | 3 years | 3 years |
Part 5: Conclusion & Feedback
Would I buy this Tractor lawn mower? If I had the money YES, but I will have to wait another while and save some before I could afford to pay for a mower at this high price level to be honest. What really impressed me is the high quality components, the electronic grass collector, the 4 stroke FR730V 675cc Kawasaki engine and the variable speed control system and hydrostatic transmission. For the tougher, slippery and muddy conditions, this machine was well able to work with the differential lock mechanism, so it gives you all the support you need when you have to put it under more pressure.
The grass collection system here was also impressive as they don't tend to get clogged up at all and there is a great selection of mow heights to choose from depending on your own particular preferences. Overall, we found this also to be a beast of a machine and apart from the price, we found it difficult to find any faults with it. It also has some nice extra add-ons such as a cup holder, rear roller for stripes and arm rests which makes the job of mowing for long periods that much easier to do and a lot more enjoyable.

Feedback – Have Your Say
Have YOU ever used a Westwood Tractor Ride on mower yourself in the recent past? Any problems we should know about?
If possible, please share your experiences and feedback with the wider UK community by leaving a comment in the comment box section provided below – So that others across the UK can learn also!