Greetings and welcome to this compilation review on Troy-Bilt Lawn mowers which will cover many popular models that are currently available to buy across the market at present. Troy-Bilt lawn mowers are famous for their strong body and quick working. You can find a Troy Bilt lawn mower suitable for a lawn of any particular size and shape. All of the range of Troy Bilt lawn mowers exhibit a large variety of outstanding and innovative features like TriAction® cutting system and hydrostatic transmission.
View also: Our Best Lawn mower lists here
Price Guides
Throughout this compilation review a number of prices checkers are available to please make sure to check these out to ensure you are getting the best value for your money. In addition, you can check stock availability with the images provided at the end of this review
Troy-Bilt Lawn Mower Overview
These lawn mowers can be used for easy lawn management. You can choose any model of Troy-Bilt lawn mower for your personal use, keeping different factors in your mind. Troy Bilt lawn mowers feature a whole line-up of the famous walk-behind mowers.
Troy Bilt also includes a wide range of riding mowers. These lawn mowers are the best for lawns that are bigger and are several acres in their size. If you are looking for a suitable Troy Bilt lawn mower, then you should first determine the type of cutting that it offers. Moreover, you can also look at the types of different handles and the terrains needed to be cut.
Review Navigation
For easier navigation, our review will be split into 4 main parts so feel free to skip to the part that interests you the most…
Part 1: Troy-Bilt Self Propelled Gas Lawn mower recommendation
Part 2: Troy-Bilt Hand Push Gas Lawn mower recommendation
Part 3: Troy-Bilt Tractor Ride on Lawn mower recommendation
Part 4: Troy-Bilt Zero Turn Mower recommendation
Check out: Troy-Bilt Lawn mower operator manuals here
Troy-Bilt Lawn Mower Review 
Recommendations
Part 1: Best Troy-Bilt Self Propelled Gas Lawn mower
Troy-Bilt TBWC28B Self-Propelled Lawn Mower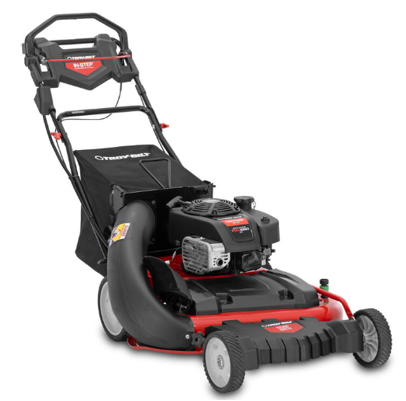 When it comes to gas self-propelled lawnmowers under the Troy-Bilt brand, our favourite would have to be the TBWC28B Self-Propelled Lawn mower that is a joy to work with and it is available directly on sale from Troy-Bilt. It's a 3 in 1 self-propelled lawnmower so that you can use the side discharge, the mulching kit or use the rear bag collection and it is designed with a powerful Briggs & Stratton PXi 1000 223cc engine to deal with all types of mowing conditions.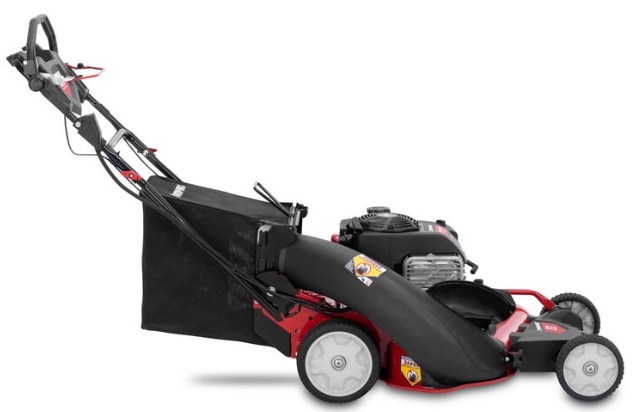 You get a great selection of mowing heights to choose from that start at 1.25 inch up to 3.75 inch so you can use the higher levels when dealing with the first mowing of the season or if you have left the grass grow for too long. The level of the self-propelled support speed is supported with their InStep technology and it offers a 28 inch wide mowing path for large lawns as well as the wash port for cleaning the undercarriage.
Pros
Superb level of power for dealing with difficult mowing conditions
The self-propelled InStep controlled support works great at a nice mowing pace
Reduces mowing time and helps to get the mowing jobs done with a lot less strain
You have the options to either mulch, rear collect or use the side discharge
Cons
While you do get a 3 year domestic warranty, there is no commercial warranties available
When you disengage the self-propelled support, it's a very heavy lawnmower to push around
There is no electric starter so you need to use the pull cord
Price Guide: $1000 - $1500 @ Troy-Bilt

Video - Unboxing Troy-Bilt Lawnmower self propelled
Part 2: Best Value Troy-Bilt Hand Push Gas Lawn mower
Troy-Bilt TB120B Push Gas Lawn Mower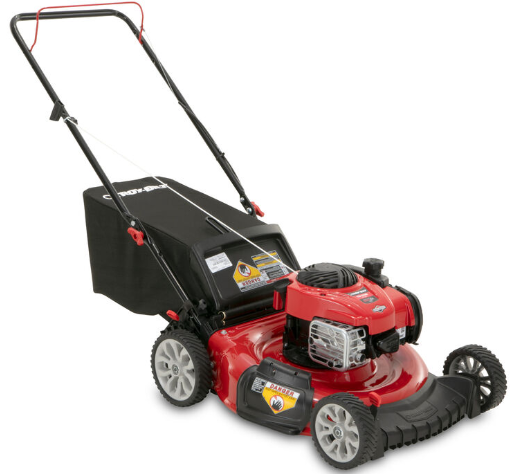 For a lower priced great value hand push gas lawn mower at Troy-Bilt, our preference would certainly have to be the TB120B Hand Push Lawn Mower and you should be able to get your hands on it for less than $400 when seen at the time of our review. You get plenty of power for dealing with various types of grasses and yards with its Briggs & Stratton 550ex140cc engine and  it's a 3 in 1 mower in that you can mulch, rear collect or use the side discharge for less informal areas or for longer grasses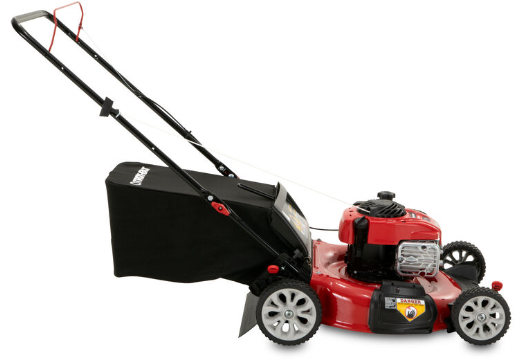 This lawn mower offers a 21 inch wide mowing path and there are 6 mowing height options that range from 1.25 inches up to 3.75 inches. It works great for smaller type yards and it comes with an 0.8L fuel tank capacity as well as a 15 oz engine oil capacity. Overall, this is a great value lawn mower for smaller yards and it comes backed with a 2 year warranty
Pros
You have the option to use the side discharge, mulch or rear collect
Reliable starting with the pull cord as there is no choke and no priming
Provides plenty of power for difficult mowing conditions and great value for the money
Cons
No self-propelled support so you need to do all the manual pushing yourself
You need to use a starter recoil cord as there is no electric starter
Price Guide: $300 – $400 @ Troy-Bilt

Part 3: Best Value Troy-Bilt Gas Tractor Ride on Mower
Troy-Bilt Pony 42 Tractor Riding Lawn Mower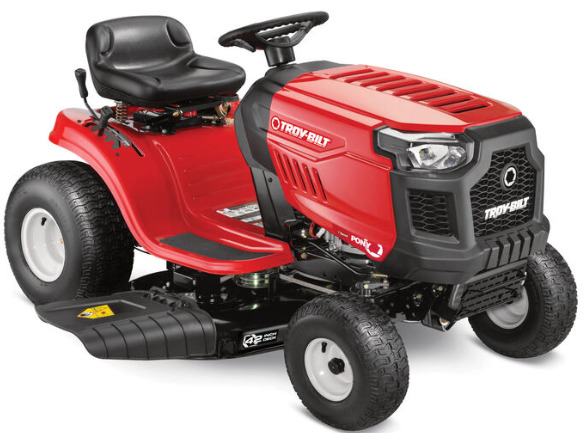 There are plenty of Tractor Ride on mowers available at Troy-Bilt, but the model that comes with the best price and more affordability is the Troy-Bilt Pony 42 inch Riding Lawn Mower which includes the twin blade and the 7 speed shifts transmission which operates on the go. It comes with the Briggs & Stratton Powerbuilt 15.5HP 500cc engine and it works great to get larger mowing yards done in a lot less time and certainly with a lot less strain.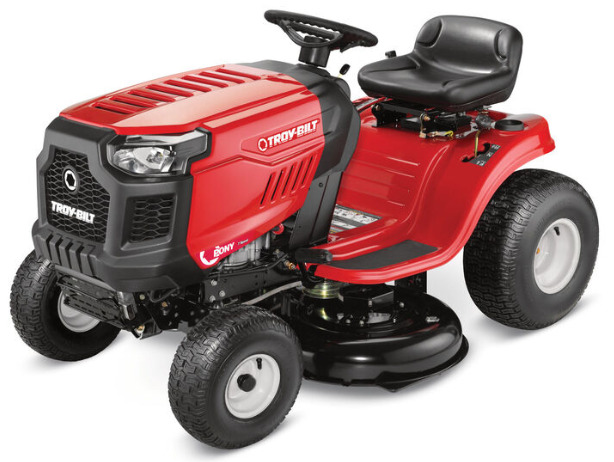 It is built with quality components based both in the USA and globally and it offers 5 mowing heights that range from 1.5 inches up to 4 inches as well as an 18 inch turning radius. The fuel tank capacity is 1.36 gal and the forward speed works at a maximum speed of 5.5mph while the reverse speed can operate at 2.5mph maximum. While it is not the highest spec Tractor mower in their range, it does offer great value for what you pay for in our opinion and they also offer a 2 year limited warranty cover.
Price Guide: $1800 - $2300 @ Troy-Bilt

Part 4: Best Troy-Bilt Gas Zero Turn Mower
Troy-Bilt Mustang Z46 Zero-Turn Rider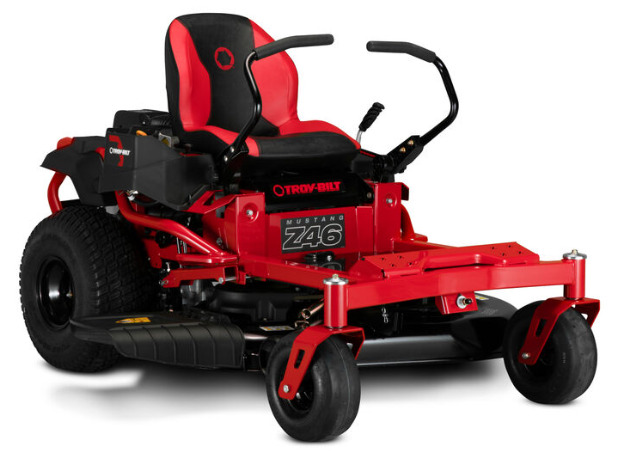 When it comes to Zero Turn Ride on Mowers at Troy-Bilt, we would recommend the Troy-Bilt Mustang Z46 Zero-Turn Rider mower that comes with the dual hydrostatic transmission as standard and the powerful 22 HP 725cc KOHLER twin cylinder engine to give superb mowing results time and time again. Some Zero turn mowers can be extremely expensive but this Troy-Bilt Zero Turn mower offers better affordability for the average home owner in our opinion
This Zero turn mower is a beast of a machine and it makes light work of larger yards no problem whatsoever. You get an awesome forward speed of 7mph or 11.3kmh and it can work in reverse up to 3.5mph. You get the 46 inch mowing path, 2 anti-scalp wheels as well as a nice comfortable seat to combat vibrations, armrests and nicely padded steering controls to get your mowing jobs completed.
Price Guide: $3000 - $3500 @ Troy-Bilt

Drive Systems
Troy Bilt lawn mowers exhibit a different and diverse variety of lawn mower drive systems that can be regulated according to your needs and requirements. By using these lawn mowers, you can mow across the grass beds and lawns at a suitable speed.
There are different lawn mowers by Troy Bilt that are suitable for the areas of different sizes. Some of these are larger and vast areas that require a quicker lawn mower. The Troy Bilt lawn mowers have been fairly popular amongst the consumers all around the world due to their compact design, convenient handle and light weight.
General Features
Many of them have sharp blades which cut grass into mulch, leading to a healthier and lush lawn. You can easily step away from the mower to empty the bag or other tasks. The Troy Bilt lawn mowers are therefore perfect for users who have large areas to mow and busy schedules. All the lawn mowers by Troy Bilt have been designed with adjustable and flexible handles so that it's convenient to store and transport. Troy Bilt also has a diverse range of all-wheel drive walk lawn mowers and these lawn mowers comes with immense speed and impressive power range.
3 in 1 Mowing
You can choose between the bagging, mulching or side discharge modes. Their feature-packed lawn mowers put you in control and let you decide what you need. Troy Bilt indeed offers a diverse variety of economical and strong lawn mowers for you, combined with style and comfort. There is no need to hire a gardener or borrow a lawn mower from your neighbor now as these lawn mowers are here to rescue you. Overall, Troy Bilt lawn mowers have a good reputation in the market in terms of user experience and affordability.
Conclusion
Overall, Troy Bilt lawn mowers have a good reputation in the market. They are widely used and are appreciated by the customers for not only their great working but also their good price. A lot of care is required for a lush lawn and since the equipment is expensive, it is important that you know the products that you purchase. This will not only keep you from making any choices that you will regret, but also ensures that you find what you are looking for in your budget.

Further Reading
If you are still on the fence and would like to look at other brands, then take a look at some other reviews as follows:
Snapper Lawn Mower review compilation – Check it out here
Murray Lawn Mower review compilation – Check it out here
Husqvarna Lawn Mower review compilation – Check it out here
Honda Lawn Mower review compilation – Check it out here
Toro Lawn Mower review compilation – Check it out here
Mowing Feedback
If you have used any of the Troy Bilt lawn mowers in the past and would like to share your experiences, it would be greatly appreciated by the community if you can leave a comment in the comment box section below...