Greetings once again to all the mowers in the US and welcome to compilation review of Yard Machines Lawn mowers which are also available to order online and get conveniently delivered to your front door hassle free.
My focus here will be to review a selection of the most popular mowers under the Yard Machines brand so that you can have a clear understanding on the capabilities for each of them before you decide to buy.
Prices also across the market can go up and down from what I can see so please make sure to check out the low "Price Checkers" provided below to ensure you get the best value for your money…
Lawn Mower Review Overview

Yard Machines Lawn Mower Overview:
Since 1958 when the first lawn mower rolled off the line, MTD has been designing easy-to-use outdoor power equipment and building a reputation for quality and dependability second to none. Today, a family of brands delivers award-winning solutions to residential and commercial customers around the world. Yard machine lawnmowers are one of the famous brands of MTD. MTD was founded over 80 years ago based on some basic values: Stewardship; Integrity; Hard Work; Reliance on and Respect for People; Innovation; Willingness to take Risks; Gratitude for Customers and Promotion from within. Headquartered in Valley City near Cleveland, Ohio, MTD became a worldwide leader of outdoor power equipment with facilities in Europe, North America, Asia and Australia producing equipment for both residential and commercial markets.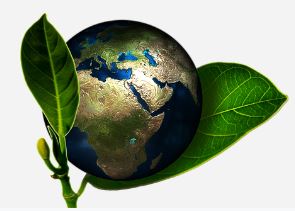 MTD's engineering expertise and state-of-the-art facilities have led to Yard Machines being known for innovation and award-winning products. MTD has earned a reputation around the world for excellence in quality and service. Yard Machines brand's focus is on uncompromising quality, service and value through advanced manufacturing. MTD's current family of this brand includes a complete range of products to suit every type of customer and every kind of lawn and garden. From the most hard-working and affordable models to those with professional-grade features at a value, MTD offers the widest product range available.
Yard Machines lawn mowers are also available in different classes: Riding Mowers, Push Lawn Mowers, Self Propelled Lawn Mowers, Trimmers and Edges.  With the spring lawn season here, it is vital people know how to use outdoor power equipment responsibly, especially riding lawn mowers. The Outdoor Power Equipment Institute (OPEI) advises consumers to remain alert and aware of where kids are when mowing. Assembling the Yard Machines lawn mower takes time. The accompanying manual for the mowers is normally long pages and most of it details how to set it up.
Yard Machines have taken the pain to elaborate each and every step with accompanying labelled images so you really won't get lost amidst all the nuts & bolts. Just remember to have a nice set of wrenches handy before you start. The operation of any lawn mower can result in foreign objects being thrown into the eyes, which can damage your eyes severely. Always wear safety glasses while operating the mower, or while performing any adjustments or repairs on it. When removing the cutting blade for sharpening or replacement, protect your hands with a pair of heavy gloves or use a heavy rag to hold the blade.
Some Frequently Asked Questions:
Q: What is a good foam pad to use for handle of Yard Machines 159cc 21-Inch Self-Propelled Mower?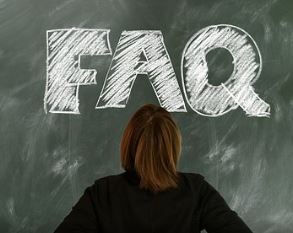 A: It's not a very big issue; you can use leather gardening gloves when you do work in the yard. 
Q: What can be cause when engine failing to start?
A: There can be several reasons of it. Spark plug may be disconnected or shorted. You may be out of fuel, or you there might be other serious issue with the engine.
Q: How to control excessive vibration/noise?
A: If the mower is producing excessive vibrations/noise then tighten blade and adapter, balance the blade carefully, an unbalanced blade will cause excessive vibration when rotating at high speeds. It may cause damage to mower and could break causing personal injury and see an authorized service dealer.
Q: What is the wide/height/depth of the box size of Yard Machines 24" 190cc Gas Riding Mower?
A: It comes in a crate like box. The box is 33" wide, 64" long, 27" tall. It needs to stay upright during move.
Q: What does "cc" mean?
A: Frequently, you'll see mower engines measured in "cc" instead of, or alongside, the horsepower. These letters stand for "cubic centimetres", so it basically measures the size of the engine. The higher the number before that "cc", the bigger and more powerful the engine will be. The most compact and very small riding mowers have around 200cc, a medium sized lawn tractor about 400-500cc and the most powerful machines are in the range of 600 to 900cc.
Q: How much do lawn mower cutting widths matter?
A: If you have a big yard, cutting widths are very important. This measurement determines how wide of a path the lawn mower can cut at once, so a higher number (like 40 inches and above) means you don't have to make as many passes. Bigger isn't always better though; if you have a lawn with narrow areas, a smaller cutting width might be better because the mower will actually fit and do a better job on the edges. Lawn mowers with narrow cutting widths are also easier to store, especially if you have limited space.
 
Yard Machine Lawn Mower Review Compilation (in no particular order)
1, Yard Machines 140cc 20-Inch Push Mower
Highlights:
Main attraction for this model is the low price that tends to be on offer in this range
Great performer for getting your lawn looking great with the Yard Machines Push Mower.
The Yard Machines 140cc 4-cycle push lawnmower is perfect for small to medium-sized residential yards and delivers solid, efficient power to tackle the job.
Equipped with a 140cc OHV engine and a compact 20-inch frame, you will be able to manoeuvre around tight corners and shrubs easily.
The manual height adjuster will allow you to adjust to three different mowing heights very easily. This push mower is lightweight, has a loop handle and durable 7-inch wheels.
This Yard Machines mower is backed by a 1-year limited warranty.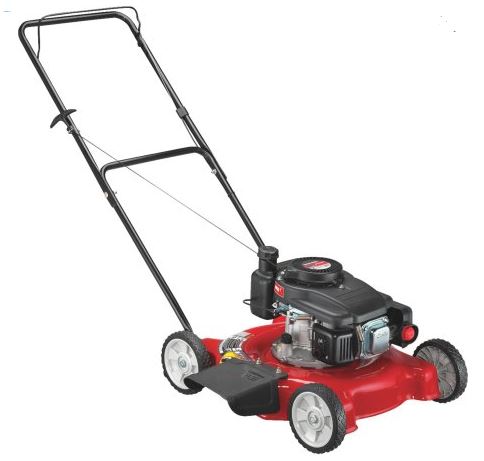 Pros:  This mower is perfect for you if you like putting things together, taking the time to learn how something operates and don't mind getting your hands dirty. Once you are done assembling this mower, you won't ever again have to take a wrench out unless it is to change the height of course. This model is one of the smallest in the range and therefore has one of the lowest prices which will be ideal if you are working on a tighter budget
Cons:  Although this lawnmower has height adjustments and assembling manual - it is a bit complicated and it will also struggle with taller and stronger grass. It is narrower also which means a little more extra work in terms of passes to complete. Also, there is no rear grass catcher included here and some buyers had difficulty in getting it started out of the box.

2, Yard Machines 140cc 21-Inch Push Mower
Highlights:
The Yard Machines push lawn mower has a powerful 140cc OHV gas engine and will accommodate small to medium size yards.
This has a 21-inch cutting width and dual-lever height adjustment.
The Mower is equipped with a side discharge and mulching capability for your every lawn mowing need.
This lawn mower is light in weight and has 7 x 11-inch wheels for easy manoeuvrability.
It is backed by a 2-year limited warranty.  
It has a reliable Engine that is powered by a durable 140cc OHV engine.  
Side Discharge Chute having deck features dual-lever height adjustment and 2 mulching capabilities - mulching and side discharge.
Durable Wheels with features 7" x 11"-wheel size for easy turns.
It comes with a sturdy loop handle for operator ease.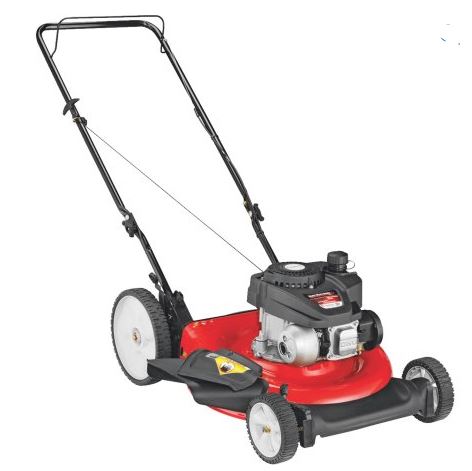 Pros: This lawnmower product comes with an efficient engine. The engine consumes lesser fuel during the process of running. It has a bigger cutting deck which cuts the entire grass within no time. It is very light in weight and needs a little effort to move it over. The product comes with 3 height adjustment positions which are helpful for a variety of users and of course you can either mulch or side discharge
Cons:  Would expect this to be more powerful, it does a decent job of cutting grass as long as it isn't too high but could be stronger nonetheless. Again, there is no rear grass catcher with this model either and you are limited to only side discharge or mulch.

3, Yard Machines 159cc 21-Inch Self-Propelled Mower
Highlights:
This is one of the favorite models in the Yard Machines mower range due to its overall functional ability and this Yard Machines self propelled lawn mower has a powerful 159cc OHV-Auto gas engine and will accommodate small to medium size yards.
The Yard Machines Mower comes with front wheel drive and one single forward speed to power through your outdoor yard tasks.
There is the 21-inch cutting width and dual-lever height adjustment also for your needs.
The Mower is also equipped with a side discharge and mulching capability to accommodate your yard needs.
This lawn mower is light in weight and has 8 x 8-inch wheels for easy manoeuvrability around the lawn and tighter spots.
Finally, please note that this machine is backed by 2-year limited warranty.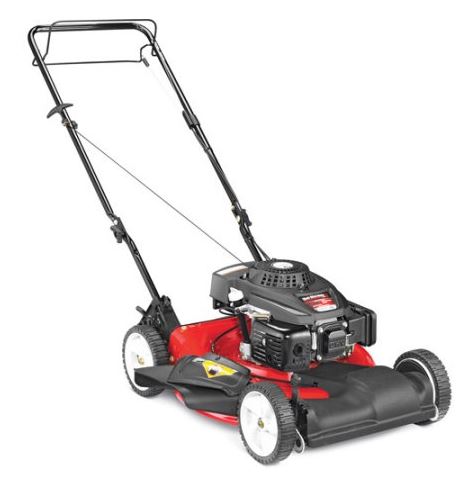 Pros: In this Yard Machine model there is no choke, no prime, just pull the cord two or three times and it starts. It has a large gas tank so you don't have to refill on a regular basis. High clearance, front and rear wheel sets are individually adjustable. Best thing of this mower is the drive engagement, you can engage or disengage the drive quickly with the control handle, this allows you to easily disengage when driving over concrete. Being self propelled is great also if you have steep hill to get around in your garden.
Cons:  It has no grass collector bag and chute is a bit smaller, so possibly wet grass will clog the chute. Some buyers had some issues with starting the machine in the past also.

4, Yard Machines 21" Gas Push Mower with Side Discharge, Mulching, & Rear Bag
Highlights:
This model has a 21 inch mow deck and has a 159cc Powermore OHV engine
There is also the EZ start guarantee included (starts with just 2 pulls) which gives you a great help and added confidence to get it working for you quickly and conveniently
This is a push mower and not self propelled – you need to do all the hard work!
You get 3 different options of rear bagger, mulching and also side discharge so there is great flexibility depending on your own individual needs.
There are 6 different mow grass height settings so you can start at the higher levels first if the grass has grown out of control and then work your way down to lower heights
Wheels are 8 inches at the rear and 7 inches at the front
Ideal for flat lawns with little inclines on the terrain.
Please note that is also a 2 year warranty included when you buy.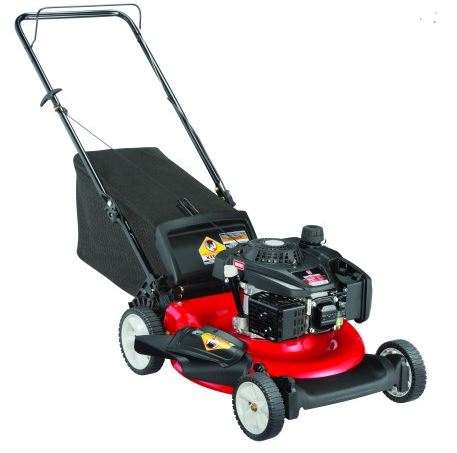 Pros: The flexibility of the 3 in 1 capability is a major bonus and gives you all that you need with the 3 separate options you can work with. This model with the 159cc engine also gives you more power when compared to the 140cc previously mentioned.
Cons: Not being self propelled means you need to do all the hard pushing so you will struggle if you have steep hills to deal with. Also, ideally should be used only for small to medium sized lawns.

5, Yard Machines 24" 190cc Gas Riding Mower
Highlights:
Taking on larger lawns can be a daunting task, but not with the Yard Machines 24-Inch 190cc Gas Riding Mower. An easy-to-use yet powerful riding lawn mower, it delivers incredible cutting performance to get the job done right.
Powered by a rugged Briggs and Stratton OHV Series motor, this mower provides substantial cutting power and driving performance. This Yard Machines riding lawn mower may be small, but it doesn't sacrifice on reliability and power.
With a Briggs & Stratton OHV engine, you get a mower that's fuel-efficient and sturdy. The 24-inch cutting deck is ideal for smaller lawns with narrow corners, and the 6-speed transmission makes it easy to control your mowing pace.
At first glance, 24 inches might seem like way too small of a cutting deck. However, the steel deck on the Yard Machines is perfect for getting into corners and around obstacles that a big mower wouldn't fit into. The deck uses a simple 1-blade design to cut your grass. A durable six-speed transmission lets you select the perfect speed for the task at hand.
Designed to offer the power of a lawn tractor in an efficient, compact frame, this 24-inch riding mower cuts not only the grass but the job times in half. 
Yard Machines 24" 190cc Gas Riding Mower: comes with 190cc Briggs & Stratton OHV engine, Its best for small to large yards up to 1 acre with flat terrain.
This is very convenient 6-speed shift-on-the-go transmission with tight 18" turning radius, 13" front and 16" rear turf-saver tires offer greater traction
Oil drain tube for easy yearly maintenance, Bagger and mulch kit available for purchase separately.
It is backed by 2-year limited warranty.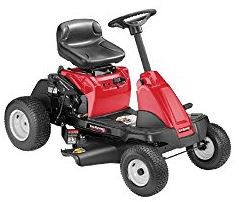 Pros: This mower has a low-back seat, you can move around easily when you're using the mower. Movements like turning around to look backwards aren't restricted by a high seat, and you are still supported and comfortable. Having so much control over the speed of the mower also helps keep the mowing experience hassle-free. The little lawn mower won't fall apart. It has a reliable engine and a steel cutting deck, so you can rest assured that you'll get years of use from this riding mower if you take care of it properly.
Cons: The gas tank is really small. It's only 3 gallons, so if your lawn is big, you'll have to refill the tank a lot. This mower was really designed for small lawns, both in terms of its gas tank size and overall size.

6, Yard Machines 420cc 42-Inch Riding Lawn Mower
Highlights:
The 42" 420cc MTD Powermore Yard Machines Riding Mower will make it easy for you to mow your lawns and hilly, grassy areas.
It features a 42" blade that can cut a wide area, as well as 420cc Powermore engine that includes a seven-speed gear shift to give you the power to drive the MTD riding mower up small hills and ridges.
The deck is made from stamped steel and uses 2 blades to cut the grass.
You can either choose to use the clippings for mulch, have them discharged from the side, or put into the rear bag.
Many smaller mowers don't offer mulching capabilities.
Other functions of the mower include mulching and bagging to help you improve and maintain the appearance of your yards.
 It will provide a comfortable and easy way to mow large yards. With the lever-operated automatic transmission, driving the Yard Machine 420cc is steady and effortless.
As an automatic transmission, the ride will feel smooth even on more uneven terrain.
You get 7-speed selections, and can go forward at 5 mph, and backwards at 2 mph.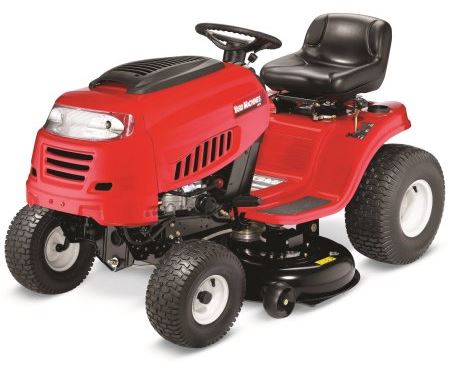 Pros: Because of its compact size, the MTD Yard Machines riding mower is easier to get close to obstacles like trees than if you had a big mower. You also get an 18-inch turning radius, so making turns and cutting in corners isn't too much of a pain. Another convenient feature that it has is headlights. You can safely mow during the evening as the sun sets, or in the morning on cloudy days. Being able to see is especially important if you have a bumpier lawn and are dealing with hills.
Cons: One of the downsides to this mower is that you can't mow in reverse. You have to turn around every time instead of backing up and mowing. Luckily, turning around isn't difficult thanks to the mower's size and turning radius.

If you would rather check out stock levels, then click on any of your preferred images outlined below to read more...
N add


Please be aware that other reviews that may be of interest to you are also outlined below.
.
In summary, Yard Machines is a popular and durable brand of mowers. The other major distinction that makes some models equally popular to those listed above is personal preference. Brand loyalty can go a long way, and for some it is the company that makes the mower, and for others it is the engine's manufacturer. No matter which model you buy from Yard Machines, keep in mind that all mowers need to have the above mentioned basic features. Yard Machines models are all carry trend setting features, such as excellent engines, easy to operate pedals, supportive seating, sturdy decks, and easy blade adjustment systems. If you want a high quality riding mower that will last you for many years and provide an extremely smooth ride, then consider a MTD's Yard Machine lawn mowers. MTD products can be found in all channels of distribution such as home improvement stores, hardware stores, mass retailers, independent dealers and farm supply stores.
Please also share your experiences of Yard Machines Lawnmowers with the community by leaving a comment in the comment box below – so that they can learn also…
Many thanks for taking the time to visit and best of luck with your decision
Regards
Paul