Greetings to you and thanks for taking the time to read this compilation review which will cover several Riding Lawn Mowers across several brands in the market place at present.
If you have a large lawn and you are looking for an easy and quick way to mow it then look no further as this review will explain all the details you need before you buy and each model of riding mowers will be covered individually in detail.
Price will also be an important deciding factor for you so make sure to click the price checkers provided below to make sure you get the best value for your money.
Overview - Riding Mower Review

| Riding Lawn Mower Review Overview | |
| --- | --- |
| Number Reviewed: | 10 Riding Lawn Mowers Reviewed |
| Brands: | Murray, Snapper, Husqvarna, Yard Machines, Troy Bilt, Poulan Pro |
| Mow Widths: | Range from 24 inches up as far as 46 inches |
| Cheapest Places to Buy: | Walmart – View their stock levels here |
| | Amazon - View their stock levels here |
Riding Lawn Mower Overview:
A riding mower or ride-on lawnmower is a type of lawn mower on which the operator is seated, unlike mowers which are pushed or towed. Riding mowers, which sometimes resemble small tractors, are larger than push mowers and are suitable for large lawns. Although commercial riding lawn mowers, such as zero-turn mowers can be "stand-on" types, and often bear little resemblance to residential lawn tractors, being designed to mow large areas at high speed in the shortest time possible. The largest multi-blade mowers are mounted on tractors and are designed for large expanses of grass such as golf courses and municipal parks, although they are ill suited for complex terrain requiring manoeuvrability.
Points to consider before you buy a Riding lawn mower:
Size: Without doubt, the size of both your mower as well as the largess of your yard is one of the keys that lead to a practical choice. First of all, you need to form a brief comparison between the acreage of your land, along with the type of terrain (flat, hilly, rough, etc). Then think of the best dimension of the vehicle so that it can be capable of working well on cutting your grass.
Transmission of the mower: Every riding mower has a different transmission with its own unique features as well as capacities. The manual transmission requires your manual control with the help of a clutch, while an automatic transmission is somehow similar to the one in a car. Finally, a hydrostatic transmission offers exactly the same ability as an automatic one, but it makes use of fluid to create the energy. Therefore, the users are promised with a smoother ride along with long-term usage.
Engine horsepower: This factor represents the power outcome of each riding lawn mower. It is usually measured by the use of the transmissions as well as the blades of the tractor. You should find a tractor which is entitled to your desired level of efficiency in order to provide you with the best work.
Type of riding mower: Of course, it would be a problem if you forget to take into account the type of your wishful mower. A rear-engine riding mower is the smallest type, which comes along with deck served the only purpose of cutting the grass in modest area. On the other hand, a front-engine lawn tractor provides its customers with larger, bigger deck, which makes it possible for you to reduce the time and effort needed.
.
Frequently Asked Questions about Riding Lawn Mowers:
Q: How many horse power (HP) should my riding lawn mower have?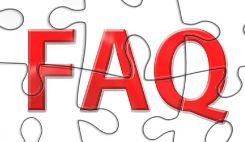 A: Riding lawn mowers (also called yard, lawn or garden tractors) are meant for yards too big for walk-behind mowers, so they need to be really powerful. The engines are typically measured in horsepower, and the more horsepower, the more aggressive the mower will be on tough grass and weeds. Engines like Briggs & Stratton and Troy-Bilt are especially well-regarded because they are very durable and reliable. For a big yard, a lawn tractor with a 15-20HP range should be sufficient and strong enough on rougher spots.
Q: How fast can be mowed a lawn with the riding mower?
A: Cutting width determines how many passes you need to make in your yard, but the actual speed of a lawn mower also factors into how much time you'll spend mowing. The average forward speed of most lawn mowers is 4-6 mph, and many have reverse drives, too. Backward driving tends to be much slower for safety reasons, so expect to go as slow as 2 mph.
Q: How important are the blades on a lawn tractor?
A: Riding lawn mowers don't all use the same type of blade, or the same number. Some mowers use just one blade, while others use as many as three. In general, to get a great cut, the number of blades isn't as important as cutting deck width or engine power. Though brands like to throw in a lot of terms, there are essentially only two types of blades: standard blades (also called 2-in-1) and mulching blades. Standard blades are designed to cut grass and discharge the clippings into a bag or out the side. Mulching blades are more curved with more cutting surfaces on the blades themselves in order to achieve a much finer cut for mulch. They are often called 3-in-1 blades, so if you want to be able to mulch with your lawn tractor, look for this type of blade.
Q: What discharge options should be looked for in a garden tractor?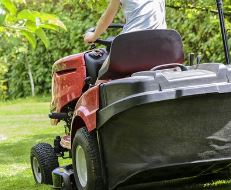 A: Before you purchase a riding mower, look at the clipping discharge options because they are not all the same. Many mowers do include all three discharge options – bagging, mulching, or side discharge – but there are a lot that don't allow bagging or mulching. Bagging is when the yard tractor literally has a "bag" attached to it so all the grass clippings go inside, while mulching very finely cuts the grass and leaves it on your yard. Side discharge just sends the grass clippings shooting out the side so you can rack it up later, or leave it, though leaving grass that isn't mulched won't be as beneficial to your yard.
Q: What kind of gear transmissions are the best?
A: Gear transmissions play a big role in how manoeuvrable your riding lawn mower is. With a lever shift, you get more control, which is important for really powerful, large mowers. Gear transmissions also vary by speed, with some being 4-speed or even 7-speed transmissions. Generally, the more speeds available, the more versatile and smooth the mower will be. This is crucial if your lawn is especially uneven or rocky.
Q: How much do riding lawn mowers cost?
A: Riding lawn mowers can be pretty pricey and some will cost upwards of $5,000 depending on your taste. Mowers meant for bigger yards tend to be more expensive because of their superior engines, and ones that include features like an advanced dashboard and attachment also cost a lot. There are also more compact mowers, which are a great option if you don't have as much storage space or your yard is just over the size where a walking mower would work. Compact lawn tractors are more affordable and are often even under $1,000. When thinking about cost, factor in the price of gas and oil, and if the riding lawn mower is known for its efficiency, or if it's a gas-guzzler.
 
Riding Lawn Mower Review Compilation

(10 in total)
1, Murray 24 inch Rear Engine Riding Mower with Mulch Kit
Features:
Gets the job done with the power of a riding lawn mower in the compact size of a walk behind mower with the Murray 24" Rear Engine Riding Mower.  
It features a High-performance Briggs & Stratton 190cc Professional Series Engine with a simple on and off switch for easy starting. Its 6-speed shift-on-the-go transmission lets you choose the pace without stopping and a tight 18" turning radius for easy maneuvering around landscaping.
Other features include an oil drain tube and mulch kit with a 2-year limited warranty. 
Murray 24" Rear Engine Riding Lawn Mower with Mulch Kit: Best for small-to-large sized yards up to 1 acre with flat terrain, High-performance Briggs & Stratton 190cc Professional Series Engine
Simple on and off switch for easy starting, Convenient 6-speed shift-on-the-go transmission, lets you choose the pace without stopping
Comfortable steering column with 18" turning radius for easy maneuvering around landscaping
Oil drain tube for easy yearly maintenance.
It is backed by 2-year limited warranty.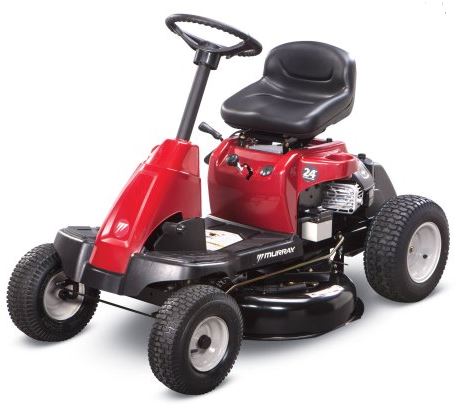 Pros: This model of Murray Riding mowers is very easy to assemble, started right up, well-suited for smaller yards. PTO (blade) engagement is as gentle as no bogging down. Same goes for the transit speeds: can shift-on-the-fly with clutch/brake pedal half-way down. Very comfy and user friendly. Light weight so you can push it easily without starting. The included mulch kit helps put nutrients back into the soil. The B & S OHV engine is around 8 h.p, it would be good to be able to do oil changes easier though, plus be able to throttle down. This one runs a constant 3,200 rpm until taxed, then it throttles-up.
Cons: Engine has no speed control and a very small fuel tank, it does not seem to have an oil drain-plug either or is extremely difficult to access it. A lot narrower than the larger tractor mowers also
2, Murray 42 inch 15.5 HP Riding Mower
Features:
This Murray lawn tractor will cut your lawn down to size in no time. Murray 42" 15.5 HP Riding Mower featuring a Briggs & Stratton 15.5 HP PowerBuilt Engine. It includes OHV (Overhead Valve) technology, offering better fuel economy and a longer engine life.
The convenient 7-speed shift-on-the-go transmission in this lawn riding mower lets you mow at your own pace without stopping and the added headlights bring greater visibility during operation.
It features a durable steel front axle and a tight 18" turning radius for easy maneuvering around landscaping letting you cut around trees and shrubs with precision and ease.
This Murray 42" 15.5 HP Riding Mower also has a cushioned low-back seat that provides added comfort and offers premium performance with high-quality results allowing you to sit easily while cutting your grass, making it an ideal addition to your yard and mowing needs.
Powered by a Briggs and Stratton 15.5 HP PowerBuilt Engine with OHV Technology, offering better fuel economy and longer engine life.
It is best for medium-to-large-sized yards greater than 1 acre with flat, hilly or uneven terrain
Convenient 7-speed shift-on-the-go transmission lets you mow at your own pace without stopping
Tight 18" turning radius for easy maneuvering around landscaping.
Murray riding mower features durable steel front axle, Adjustable, cushioned low-back seat provides added comfort.
It is backed by 2-year limited warranty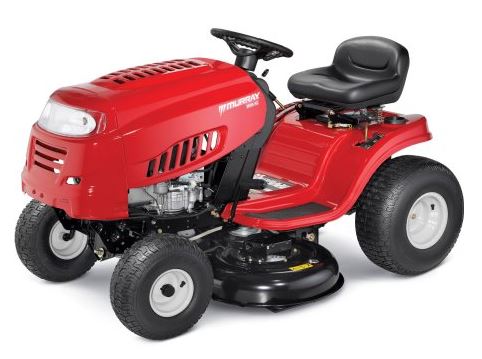 Pros: Murray Riding mower is a great value. Disassemble the shipping crate down to the bottom, connect the battery cables, seat and steering wheel, fill with gas and fire it up.  You can drive it right t off the crate.  You can be sure that Starts when you turn the key the first time, every time. Turning radius of this mower is awesome and tight. whenever you use it, it works perfectly.
Cons:  There have been some issues reported with blade drive belts from other buyers - The blade belt kept coming off and should have been more secure for the end user so please check this is this is your preference
3, Snapper 46 Inch Pro V-Twin Riding Lawn Tractor
Features:
The Snapper NXT2346 Rear Wheel Variable Speed Riding Lawn Tractor features a 46-inch 3-blade mower deck and it runs cooler and cleaner for more power and better fuel economy.
The Pro Series V-Twin OHV 20-HP 724cc Engine cuts through tall grass, weeds and brush and includes a full pressure lube system with spin-on filter.
The digital dashboard display is easy to read and monitors key mower functions such as fuel level, running hours, cutting height and more. The digital dashboard reminds you when to change oil, filters and mowing blades and there's even a clock so you know when the game starts.
Mesh fabric ergonomic seats keep your cooler on hot summer days so you can mow your grass in comfort and style. The revolutionary push button electric start system makes starting your Snapper quick and easy.
This unit has Snapper's famous "3-N-1" feature, which means it can be converted from side discharge to mulching to bagging for all applications. Other features include 100,000 Hour LED headlights, pneumatic wheels, electric height-of-cut to switch from 1.5-4-inches and variable speed up to 5.6-MPH forward and 3.5-MPH reverse.
Includes trailer hitch, hour meter and headlights. Whether your yard is large or small or has wide-open spaces with lots of landscaping and trees, there's a Snapper mower for you.
The Snapper NXT2346 Rear Wheel Variable Speed Riding Lawn Tractor comes with a 2-year limited consumer and a 90-day commercial warranty. Snapper is a builder of the industry's first self-propelled rotary lawn mower in 1951 and is a leader in making yard products that are easy-to-use and easy-to-own.
Today, Snapper offers one of the widest selections of outdoor power equipment like walk mowers, riding tractors, zero turn mowers, snow blowers, tillers, string trimmers and brush mowers.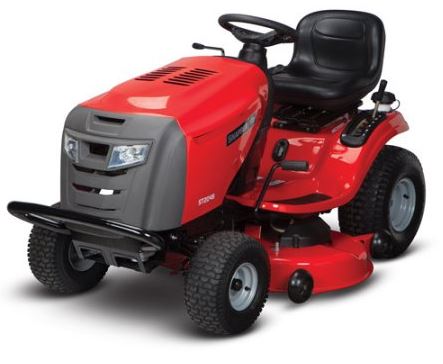 Pros: At 3.5 gallons, the Snapper's gas tank is bigger than other mowers that have similar features. You can easily mow a larger yard without worrying about running out of gas, and you don't have to fill up as frequently. With the Snapper NXT2346, you have variable speed as fast as 5.6 MPH going forward, and 3.5 MPH going backwards. You can mow very quickly and with the wide cutting deck, you don't have to make a lot of passes either. Sometimes you have to mow when the sun is setting or earlier in the morning when it's still darker outside. The Snapper NXT2346 riding lawn mower has 100,000 Hour LED headlights that are very bright and keep you safe. You'll be able to see any obstacles like toys or low bushes, and check to make sure you're cutting the lawn evenly.
Cons: This riding lawn mower is significantly more expensive than other similar mowers. However, those mowers don't have a digital dashboard, a bigger gas tank and headlights. If you don't really care about getting that information from the dash, or your yard isn't big enough to warrant a big gas tank, you're better off getting something more affordable. However, if you really want to know information about when to change the oil or check the blades, the dashboard is definitely worth the extra money.
4, Husqvarna 42 Inch 656cc 22 HP Gas Lawn Tractor Mower
Features:
The Husqvarna 960430173 656cc 22-HP lawn tractor is not only a powerful mower with a 42-inch cutting deck, it also is CARB-compliant, which means it has less emissions and is more environmentally-friendly than other mowers.
The hydrostatic transmission also gives the mower great manoeuvrability so you get a smooth ride as the cutting deck accurately and precisely cuts your grass. Briggs & Stratton engines are known for their reliability.
This particular Briggs is an Intek V-twin engine, which means it has two cylinders for more durability even on tougher lawns. The engine, which is 22 HP, also has full-pressure lubrication and an advanced debris management system.
At 42 inches, the cutting deck is both narrow enough for tighter spots in your lawn, and wide enough so you don't have to make a lot of passes and spend more time mowing. You can adjust the cutting height up to 6 different heights between 1.5 inch and 4 inches.
The deck also has anti-scalp wheels, so the mower doesn't pull up the grass. With the hydrostatic transmission that you operate by a pedal, you have the ability to keep both hands on the steering wheel while you control speed and direction.
The mower has a maximum forward speed of 5.2 MPH and a 16-inch turning radius, so you cut close to obstacles like trees and make sharper turns.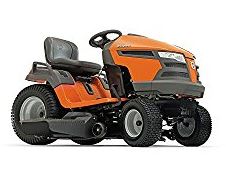 Pros: Thanks to the inclusion of air-induction technology, you get a superior cut with the Husqvarna cutting deck. Air induction tech pulls air from the deck's bottom and top, so the grass lifts up from the ground and gets cut more cleanly. This is especially beneficial with grass that's tougher to cut, like Bluegrass or Bermuda. The 2.5 gallon tank on this riding lawn mower is bigger compared to other mowers with similar features. This makes the mower optimal for bigger lawns where you need more gas to complete the job. The Husqvarna 960430173 is CARB-compliant, which means it meets the standards of the California Air Resources Board for lower-emission mowers. You won't be contributing to poor air quality as much as you would with a non-CARB mower, and you won't have to use as much fuel because of the mower's efficiency.
Cons:This mower is definitely for more medium-sized lawns. The wide cutting deck wouldn't get into narrow corners very well, and the mower probably has more horsepower than a smaller lawn would require. However, it does have a great turning radius for close cutting and sharp turns, so your lawn doesn't need to be huge.
5, Husqvarna 46-Inch Hydro Pedal Yard Tractor Mower
Features
The Husqvarna YTH22V46 Hydro Pedal yard tractor boasts both a powerful engine and cutting deck complete with air induction. This results  in consistent, precise cutting that won't take all day. You can also add towable accessories to this mower for all-season use with leaves or snow.
If you're looking for a compact mower that's big on power and smooth on driving, consider the Hydro Pedal. The engine on the Husqvarna Hydro Pedal is a 22 HP with an V-twin design. This type of engine has full-pressure lubrication and superior debris management, so the engine stays in better shape for longer.
It also is very easy to start and runs pretty quietly compared to other big engines. One common drawback to compact mowers is that their cutting decks are really narrow. The Hydro Pedal Yard Tractor has a 46-inch cutting deck, which is pretty wide for a small mower, and a cutting-height adjustment conveniently mounted on the fender.
This cutting deck also offers superior cutting thanks to its air induction mowing technology, which improves airflow. This results in cleaner, even cutting that's good for your grass. Having a smooth-riding lawn mower is very important. If it's jerky or uncomfortable, it will take a long time to mow, and it' easy to miss spots.
The Husqvarna YTH22V46 lawn tractor has hydrostatic pedal transmission, so the mower always drives smoothly both forward and backward.
It has a max speed of 5.2 mph when you're going forward, and cruise control.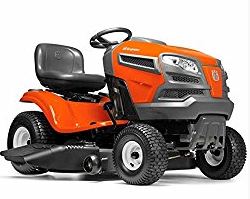 Pros: The Husqvarna YTH22V46 is very easy to use, even when it gets darker outside. It comes with headlights that you switch on as the evening progresses, and an adjustable seat for added comfort. When it's time to clean the mower, just use the deck wash port beneath the machine. The Hydro Pedal's compact size makes it easy to manoeuvre and store. Bigger mowers have trouble getting into tight corners, so you have to come back with a walking mower or weed-wacker to get the grass the mower missed. With a compact mower, you can get right into those spots, and when you're done, the YTH22V46 lawn tractor fits easily into a smaller garage or shed. Your mower can do a lot more than cut grass. The Hydro Pedal yard tractor is compatible with a wide range of towable accessories and a mulch kit, so you can transform your mower into an all-season machine that keeps your lawn looking great.
Cons: The main downside to the YTH22V46 is that it's not super durable. Parts like the steering wheel start to come loose pretty quickly, so it's not an ideal mower for a lawn that will rattle it around a lot. For a relatively flat lawn free from big obstacles like rocks, the Husqvarna should be fine.
6, Poulan Pro 30-Inch Riding Lawn Mower (Briggs)
Features:
Compact riding mowers are ideal for medium-sized lawns that aren't practical for big mowers. They also need to be smooth and effective. The Poulan Pro PB30 Briggs riding mower is all of these things. It has a Briggs & Stratton engine and a 30-inch cutting deck with three discharge options.
Because of its size, it's also easy to drive around and easy to store.
The PB30's engine is not only a Briggs & Stratton; it's an OHV engine. Overhead valve engines are designed to be more fuel-efficient and quieter, so you don't use up as much gas or bother everyone with a super loud engine.
The engine on the PB30 has 10.5 HP and an electric start, so you just use a key to turn the engine on. The Poulan Pro's cutting deck has 30 inches, which is in the middle range of compact mower cutting decks.
It uses a single blade and has three options for clipping discharge: side, mulch, or bag. You can also choose from 4 cutting heights.
The gear transmission for the PB30 is controlled by a lever shift, so you have more control over the 4-speed transmission.
This transmission allows a 14-inch turn radius, so you can get relatively close to lawn obstacles like flower beds or trees.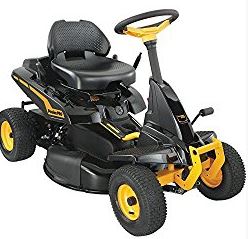 Pros: The Poulan Pro PB30 is very easy to drive around. In addition to its compact size, the smaller cutting deck allows you to get into tight spots that bigger mowers would have trouble with. If you have a medium-sized lawn, bigger isn't always better, in fact, it's worse. You want a smaller mower that can cut in the corners of your yard and get between gates. The PB30 can do that. The Poulan Pro PB30 is gas-powered and has a 1.5 gallon fuel tank. This is a pretty decent-sized tank and is sufficient for a medium-sized lawn. It's also nice to not have to fill up with a ton of gas every time the tank is empty. The PB30 is very durable. It's considered a heavy-duty lawn mower and the deck is made from 14-gauge stamped steel. Since mowers are such big purchases, you want yours to last a long time. With the reliability of the Brigg engine and durable construction, the PB30 will do just that.
Cons: The PB30 is not CARB-compliant. This means it does not measure up to the standards set by the California Air Resources Board and so can't be considered lower-emission. Basically, the mower isn't good for the environment, and is "dirtier." This may not be a problem for you, but if you live in an area with bad air quality, you might want to take this into consideration.
7, Poulan Pro 6-Speed 42-Inch Lawn Tractor Mower
Features
The Poulan Pro PB155G42 6-Speed lawn tractor was built for power.
It has a 15.5-HP Briggs & Stratton engine as well as a wide cutting deck with lot of cutting height options.
You get more control over this mower thanks to the lever-driven gear transmission, so using this mower is a breeze.
If you have a medium-sized lawn (that's more on the smaller end), this is a great mower to consider. At 15.5 HP, this Briggs & Stratton engine has more power than the PB30 Poulan Pro mower.
What isn't different is that reliability and durability that Briggs & Stratton is known for, you so know you're getting an engine that's fuel-efficient, durable, and quiet.
The Poulan Pro 6-Speed's cutting deck is 42 inches, which is pretty wide for a compact mower.
You also can choose between 6 cutting heights, which is a lot.
This means you can use the mower on a wide variety of grasses, some of which need to be left longer to stay healthy.
You get a lot of control with the lever-driven gear transmission.
With 6 speeds, you can choose the perfect pace for every mowing session without feeling stalled or rushed.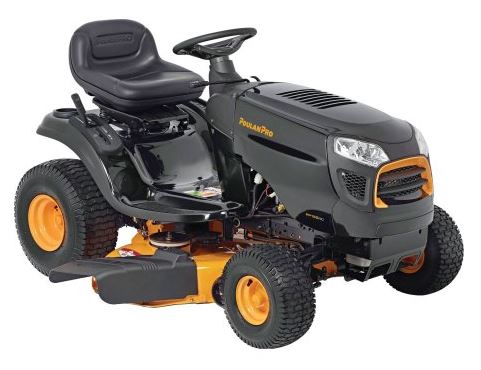 Pros: With a lot of riding mowers, your grass health is a concern. Tires can rip and pull up turf, making your lawn look like a battlefield. The Poulan Pro PB155G42 has tires designed with Turf-Saver wheels, so grass stays where it belongs and isn't aggressively torn up. It's easy to move around obstacles with this mower. It has an 18-inch turning radius, so going around trees, flowerbeds, and so on without leaving uncut grass is easy. Starting the mower is also very convenient as it's a key start. Most compact mowers come with around 4 cutting-height options. You get 6 with this Poulan Pro lawn tractor. You can either trim your grass very short like a golf course, or leave it longer to get a more luxurious, lush feel.
Cons: It's a compact riding lawn mower, but with a 42-inch deck, it's bigger than other similar mowers. If your lawn is on the smaller end, you might have some trouble getting into corners or along edges. It's also harder to store. However, it's definitely still a compact mower, so if your lawn is firmly planted in the medium-sized range, you won't have trouble.
8, Yard Machines 24 Inch 190cc Gas Riding Mower
Features:
Taking on larger lawns can be a daunting task, but not with the Yard Machines 24-Inch 190cc Gas Riding Mower. An easy-to-use yet powerful riding lawn mower, it delivers incredible cutting performance to get the job done right. Powered by a rugged Briggs and Stratton OHV Series motor, this mower provides substantial cutting power and driving performance.
This Yard Machines riding lawn mower may be small, but it doesn't sacrifice on reliability and power
With a Briggs & Stratton OHV engine, you get a mower that's fuel-efficient and sturdy. The 24-inch cutting deck is ideal for smaller lawns with narrow corners, and the 6-speed transmission makes it easy to control your mowing pace.
At first glance, 24 inches might seem like way too small of a cutting deck. However, the steel deck on the Yard Machines is perfect for getting into corners and around obstacles that a big mower wouldn't fit into.
The deck uses a simple 1-blade design to cut your grass. A durable six-speed transmission lets you select the perfect speed for the task at hand.
Designed to offer the power of a lawn tractor in an efficient, compact frame, this 24-inch riding mower cuts not only the grass but the job times in half. Yard Machines 24" 190cc Gas Riding Mower: comes with 190cc Briggs & Stratton OHV engine, Its best for small to large yards up to 1 acre with flat terrain.
This is very convenient 6-speed shift-on-the-go transmission with tight 18" turning radius, 13" front and 16" rear turf-saver tires offer greater traction
Oil drain tube for easy yearly maintenance, Bagger and mulch kit available for purchase separately.
It is backed by 2-year limited warranty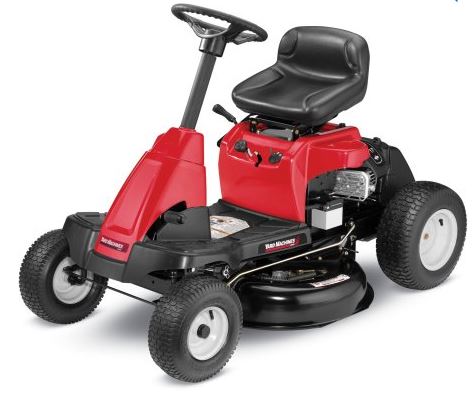 Pros: This mower has a low-back seat, you can move around easily when you're using the mower. Movements like turning around to look backwards aren't restricted by a high seat, and you are still supported and comfortable. Having so much control over the speed of the mower also helps keep the mowing experience hassle-free. The little lawn mower won't fall apart. It has a reliable engine and a steel cutting deck, so you can rest assured that you'll get years of use from this riding mower if you take care of it properly.
Cons: The gas tank is really small. It's only 3 gallons, so if your lawn is big, you'll have to refill the tank a lot. This mower was really designed for small lawns, both in terms of its gas tank size and overall size.
9, Yard Machines 420cc 42-Inch Riding Lawn Mower
Features:
The 42" 420cc MTD Powermore Yard Machines Riding Mower will make it easy for you to mow your lawns and hilly, grassy areas. It features a 42" blade that can cut a wide area, as well as 420cc Powermore engine that includes a seven-speed gear shift to give you the power to drive the MTD riding mower up small hills and ridges.
The deck is made from stamped steel and uses 2 blades to cut the grass.
You can either choose to use the clippings for mulch, have them discharged from the side, or put into the rear bag. Many smaller mowers don't offer mulching capabilities.
Other functions of the mower include mulching and bagging to help you improve and maintain the appearance of your yards. It will provide a comfortable and easy way to mow large yards.
The Yard Machines Lawn Mower with Shift on the Go Drive System is not available for residents of California.
With the lever-operated automatic transmission, driving the Yard Machine 420cc is steady and effortless.
As an automatic transmission, the ride will feel smooth even on more uneven terrain.
You get 7-speed selections, and can go forward at 5 mph, and backwards at 2 mph.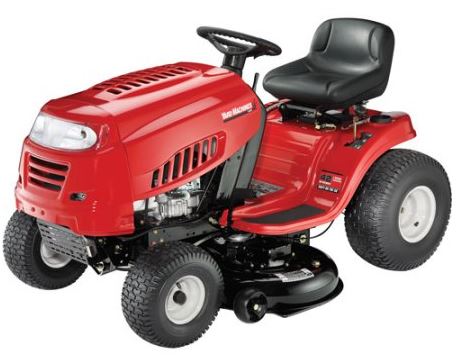 Pros: Because of its compact size, the MTD Yard Machines riding mower is easier to get close to obstacles like trees than if you had a big mower. You also get an 18-inch turning radius, so making turns and cutting in corners isn't too much of a pain. Another convenient feature that it has is headlights. You can safely mow during the evening as the sun sets, or in the morning on cloudy days. Being able to see is especially important if you have a bumpier lawn and are dealing with hills.
Cons: One of the downsides to this mower is that you can't mow in reverse. You have to turn around every time instead of backing up and mowing. Luckily, turning around isn't difficult thanks to the mower's size and turning radius.
10, Troy-Bilt Premium 30 Inch Riding Lawn Mower
Features:
The Troy-Bilt 13B226JD066 420cc Premium riding lawn mower is ideal for medium-sized lawns where a large (and expensive) lawn tractor wouldn't be every efficient.
Despite its compact size, the Troy-Bilt boasts a solid engine and smooth ride, so you can mow frequently without wearing down the mower or feeling uncomfortable.
You can even add on FastAttach accessories for use in the winter if you choose.
The Troy-Bilt engine is a single cylinder with 420cc.
As a smaller engine, it's also quieter, and has a max forward speed of 4.25 MPH.
The transmission is a 6-speed, so you have total control over your mower.
In terms of turning radius, the Troy-Bilt is an 18-inch, so you can cut close to trees and bushes.
Having a good cutting deck is vital to your lawn's health and fast mowing.
This mower has a 30-inch cutting deck with 5 adjustable height settings. This is a perfect deck for medium lawns where you don't have to make a lot of passes to complete the cutting, and it's narrow enough to get into small corners that large mowers wouldn't be able to fit into.
The Troy-Bilt is a gas mower. It holds just over a gallon of gas and has a fuel sight window, so you can always know when it's time to fill up.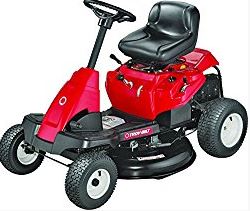 Pros: One of the Troy Bilt' greatest strengths is that it's versatile. Since it compatible with Fast Attach accessories, you can easily add more bags or even snow tools so you can clear your lawn in the winter. Attaching the accessory is simple and you don't even need tools to do it. Sitting on a riding lawn mower for a long time can get very uncomfortable. The Troy-Bilt has a seat that you can raise for more support, and the steering wheel has a soft grip and adjustable height so you always feel comfortable driving. Having a compact mower is very convenient if you have a medium-sized lawn, but not much garage space. You can easily manoeuvre around your lawn into tight spots and narrow edges, and then put the mower away in your garage or shed without having to organize your entire storage area.
Cons: The main downside to the Troy-Bilt Premium riding lawn mower is that the gas tank is very small. It only holds 1.3 gallons, so you have to fill it a lot more frequently if your lawn is on the larger side of medium-sized. This mower was not intended for use on large lawns
A Quick Comparison Table is outlined below:

| Model | Size (Inches) | Weight (Pounds) | Engine Power |
| --- | --- | --- | --- |
| Murray 24" Rear Engine Riding Mower with Mulch Kit | 24 | 340 | 190cc |
| Murray 42" 15.5 HP Riding Mower | 42 | ~400 | 15.5 HP |
| Snapper 46-Inch Pro V-Twin Riding Lawn Tractor | 46 | 611 | 23 HP 724cc |
| Husqvarna 656cc 22 HP Gas Lawn Tractor | 42 | 438 | 656cc 22 HP |
| Husqvarna 46-Inch Hydro Pedal Yard Tractor | 46 | 440 | 22 HP |
| Poulan Pro PB30 Briggs 30-Inch Riding Lawn Mower | 30 | 370 | 10.5 HP |
| Poulan Pro 6-Speed 42-Inch Lawn Tractor | 42 | 390 | 15.5 HP |
| Yard Machines 24" 190cc Gas Riding Mower | 24 | ~350 | 190 cc |
| Yard Machines 420cc 42-Inch Riding Lawn Mower | 42 | 439 | 420 cc |
| Troy-Bilt Premium 30″ Riding Lawn Mower | 30 | 336 | 420 cc |
If you would rather check stock levels, then click on any of the mower images provided below…


You can also take a quick look at some of the lower priced Mower reviews as follows:
.
On a final note -  Riding Lawnmower are a big investment but very satisfying once you choose the right model for you.  Although it appears to be a hard-to-handle task, all you have to do is to put your attention as well as a little effort to figure out the best machine for your yard. Check all the potential features belonged to each product to pick up your most acceptable one. Once you have chosen your desired tool, it will be an easy work to cut through all your grass without using a lot of time and energy. You can make the most of the mower during any time of year with the proper accessories, and it's always easy to drive around even in tight spots. Whether your lawn is medium-sized or you're not in good enough shape (for age or health reasons) to mow with a walking mower, the above list of riding mowers are the great options for you, you just need to pick one of them.
At the end of all this - I really hope you found this review useful for your selection. If you do buy a riding lawnmower be sure to write in your own experiences good or bad in the comment box below so that others can learn from your experiences...
Thanks for taking the time to visit
Regards
Paul