Hello once again and if you are considering buying a Bosch Rotak 37 Lawnmower in the coming days or weeks, then please make sure to check out this brief review that will explain all you need to know before you make any buying decisions. The focus of this review will be to outline all the key and important features that it has to offer you plus all the main positives (pros) and negatives (cons) that you need to know also. Our review will be to focus on the Bosch Rotak 37cm Corded Rotary Lawnmower and you can make comparisons with the Bosch Rotak 37cm Cordless Rotary Lawnmower through the options provided below.
We will also outline a comparison table so you can see for yourself how it compares against other lawn mowers under the Bosch brand and we have also included 2 videos that you can check out also at the end of this page to add further clarity. In addition to all this, we will point out several frequently asked questions that have come up in the recent past that should answer most of the queries that you may have which we hope will be of benefit to you.
Before we start, please be aware that guide prices can only be shown at the time of this review as prices can change slightly from month to month or even week to week depending on local promotional activities so please make sure to view the price checkers outlined below to ensure you have the most accurate up to date price information. To break down this review, it will be outlined in 5 main parts as follows:
Part 1 – Quick Overview & Frequently Asked Questions
Part 2 – Review of the Features, Pros and Cons
Part 3 – Comparison Table vs other Bosch Lawnmowers
Part 4 – Price comparison options: Bosch Corded vs Bosch Cordless
Part 5 – Video demo displays for further clarity
Part 1: Overview & FAQ's
| Brand: | Bosch |
| --- | --- |
| Model: | Bosch Rotak 37cm Corded Rotary Lawnmower 1400W |
| Warranty: | 2 years - can be extended to 3 years if registered online (mybosch .com) |
| Orders Online: | Yes, with hassle free home delivery |
| Price Range: | £120 to £160 (at the time of this review) |
| Cheap Place to Buy: | Argos UK – View Today's Price Here |
| Support: | Service or repairs on 03447360109 |
Frequently Asked Questions for the Bosch 37cm Corded Lawn mower:
Q. Where are these Bosch lawn mowers made?
A. These lawn mowers are made in China managed and designed by Bosch enterprises
Q. Does this lawnmower include a rear roller and if so can it be detached?
A. Yes, this lawnmower includes a rear roller to generate stripes but cannot be detached
Q. How long is the cord provided?
A. The length of the cord here is 10m long
Q. Can it be used as a self propelled lawnmower for hills / slopes?
A. No, this can only be used as a push lawn mower (only available in the Professional range, not the DIY range)
Q. How good does it work around borders and flower beds?
A. By using the grass combs, it will cut extremely tight to borders and flowers giving a nice precise finish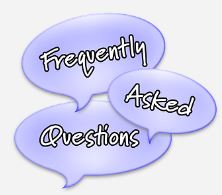 Q. Can the handles be folded?
A. Yes, they can be folded but is trickier than one would imagine – requires some effort
Q. Does it have the mulching capability?
A. No, there is no mulching capability with this lawn mower
Q. Are these handles height adjustable for tall people?
A. Yes, the height of the handles can be adjusted to suit whatever size you are
Q. How do you adjust the mow heights?
A. You can easily adjust the mow heights by adjusting the single height lever on the side
Q. Can it used with one hand or does it need both hands to operate?
A. It needs both hands on the handles to operate
Q. How do you fold the handles?
A. You need to twist the red plastic levers gently on the handle
Q. Can you get a self propelled model instead?
A. They are not available in the DIY range, only the professional range of mowers
Q. What are the storage dimensions for sheds?
A. The storage dimensions are 80cm L by 40cm D by 45cm H
Q. Does it have a plastic deck or a metal deck?
A. The deck here is made from plastic (with a steel blade)
Q. Do you need to register online to get the 2 year warranty?
A. No, you do not need to register for the 2 year warranty, just keep the transaction receipt
Q. What coded replacement blade is available?
A. The code for the replacement blade from the lawn mower is F 016 800 272
Q. Does it provide you with a cable tidy system?
A. No, there is no cable tidy system built in, you need to wrap it around the handle
Part 2 – Bosch Rotak 37 Review of the Features, Pros and Cons
Bosch Rotak 37cm Corded Rotary Lawnmower 1400W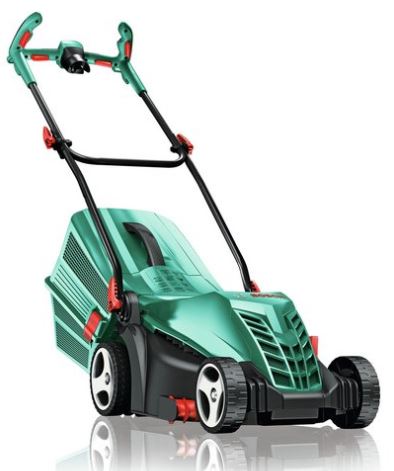 Main Features Available:
Corded lawn mower with a cutting mow path width of 37cm and has 8 different grip positions available (eg. right/left/single/double etc)
Includes a powerful 1400W Powerdrive motor that gives higher torque for better cutting performances
Designed with a wider path for medium and medium to large sized lawns
Innovative and unique grass combs on the side are included to deal with edges along with the inset wheels
Operates with the ergoflex handles, which allow for better control, steering and all-round functionality and they are height adjustable
Handles can be folded down for compact storage and it weighs only 11.2 kg
Rear rollers are included for stripes and to prevent scalping and also has the stackable grass box
Provides a tool-free assembly with the quickclick handle system
Includes the 40L grass box and a mow height range from 2cm to 7cm across 6 different mow height settings
A safety switch is included as standard and the cable cord is 10m long
In terms of prices, the price when last seen on sale with Argos UK was in the £120 to £160 region which of course can be double checked below if needed

Further images for the Bosch 37cm Corded Lawn mower are outlined below:
Main Pros Available:
The price you pay for the Corded model is significantly lower than the Cordless so big savings can be made here
Additional Powerdrive motor of 1400W which gives extra power and makes mowing a whole lot easier
Noise level is significantly less than some of the loud petrol lawn mowers
No charging of batteries to worry about or additional back up expensive batteries either.
No fuel or oil costs to deal with and little to no ongoing maintenance costs are required.
You get the rear rollers as standard which are great for making attractive looking stripes on your paths
Performs very well around the edges by using the grass combs and inset wheels – little to no strimming is required afterwards.
Steering and operating the lawn mower with the comfortable and easy to use ergoflex handles and can reduce the strain on your lower back
You get the automatic free 2 year guarantee which can be extended to 3 years if you register online within 28 days or purchase
Handles are height adjustable which is a major plus for tall people to use
There is also a 5-day repair service available from Bosch where they will sort out any issues you may have within a 5 day period.
This mower can be operated left or right sided, one or two handed, horizontally or vertically, giving you 8 different grip positions to control the mower with the main focus to give you maximum comfort which also reduces your hand fatigue
Main Cons Outlined:
There is always the danger of having a cord across your lawn as you work – you need to exercise a lot of caution and develop a technique to avoid the cord on your mow paths
Limited to a distance of 10m with the cable cord – extension cables may be needed which is an added expense (generally affordable)
Other models and brands also offer a longer cable cord than 10m – some offer 12m and some 15m
Folding down the handles should be a whole lot easier and requires a good deal of effort
At times, the grass box seemed a bit flimsy and should be attached a whole better to prevent grass clippings from falling out.
Struggles with larger type lawns with heavy thick grass, lacks the stronger power associated to high powered petrol lawn mowers
The 5 day repair service is not available to the UK Highlands or the Islands
Better instructions should be given on how to fold down the handles (twist the red plastic handle levers)
Housing of the frame is made of plastic which won't meet everyone's robustness expectations
No mulching ability which some gardeners expect to have which are available from other models/brands
Doesn't include the cable tidy system attachment that we have seen available on other lawn mowers for the tidier storing of the cord.
Some will find the assembly instructions difficult to complete - could be slightly better
Can clog up quite a bit with wet grass which should be avoided – stick to dryer grasses instead
Selection of Consumer Positive Comments:
Easy to steer and operate around borders, flower beds and patios due to lightweight design and ergoflex system
Finished a great job around the fence and boundary edges as well as the flower bed edges
Gave a cut clean cut across the lawn with no clippings left behind and worked well with wet grass
It was able to deal with tall grass by using the higher settings and then did a second pass with the lower settings
Much lighter than expected for a machine that has superior power and did exactly what was needed to do
The handles were comfortable to work with and gave lots of options to hold it and operate it and the grass box was big enough to meet their needs
Selection of Consumer Negative Comments:
Cord was far too short than expected – others in the past had longer cords
Attaching the handles could have been easier- didn't line up as expected and the assembly was more difficult than anticipated
The grass box was far too flimsy and didn't attach all that well which resulting in some grass not being collected
Folding down the handles for storing was a lot more difficult than it should be – requires extra work
Motor did not last as long as expected which was very annoying
The stackable grass box was somewhat flimsy and wasn't as good as what had been expected and the instructions for assembly could be better laid out
Part 3 – Comparison Table of Bosch Corded Lawn Mowers
A comparison table is outlined below which compares the Bosch Rotak 37cm to various other corded lawn mowers under the Bosch brand…
| Feature: | Rotak 37cm Corded | Rotak 36cm Corded | Rotak 34cm Corded |
| --- | --- | --- | --- |
| Mow Width: | 37cm | 36cm | 34cm |
| Lawn Size: | 600m2 | 300m2/400m2 | 300m2 |
| Power Level: | 1400W | 1350W | 1300W |
| Grass bag Size: | 50L capacity | 40L capacity | 40L capacity |
| Height Settings: | 6 | 6 | 6 |
| Mow Heights: | 2cm to 7cm | 2cm to 7cm | 2cm to 7cm |
| Warranty: | 2 to 3 years | 2 to 3 years | 2 to 3 years |
| Handles: | Foldable | Foldable | Foldable |
| Rear Roller: | Available | Available | Available |
| Safety Switch: | Included | Included | Included |
| Weight: | 11.2kg | 11kg | 10.8kg |
| Cable Size: | 10m long | 10m long | 10m long |
Repair Service Available:
So that you know - Bosch offer the 5-day repair service which can be quickly summarised as follows:
Day 1 = Call 03447360109 to arrange the collection (or fill out the details online)
Day 2 = Collection takes place before 5pm
Day 3 = If under warranty it will be serviced straight away. If not, they will give you a quote for repairing
Day 4 = Repaired or Serviced and despatch is organized
Day 5 = Lawn mower returned back to your location
Please note though that this excludes the UK highlands and also the islands
Part 4 – Price comparison Bosch 37 Corded vs Bosch 37 Cordless
Before deciding on the corded lawn mower, the Cordless also has several advantages  - the main one that you do not have to worry about a cord on your lawn as you work, however you will need to dig a lot deeper into your pockets to fund it so make sure to compare the prices of both options provided below as follows…
Part 5 – Video demo displays for the Bosch Cordless Models
If you wish to view further information on the Bosch 37 Cordless lawn mower instead, then check out the 2 videos outline below that will provide further clarity on the assembly and the features available.
Video 1 - Bosch Rotak 37cm 36V Li Ergo Cordless Lawnmower Review
Video 2 - Bosch Rotak 37 Ergoflex Lawnmower Assembly and Review
Further Reading
If at the end of this review you are still undecided, then feel free also to take a look at further reviews which have been completed outlined as follows:
Have you any previous experience of using a Bosch 37cm Corded or Cordless Lawnmower in the past? If so, please educate the local community by leaving your feedback good or bad in the comment section provided below – So that they can learn also!