While browsing through the range of Troy-Bilt Gas Lawn mowers, we also wanted to complete our own Troy-Bilt Pony Riding Lawn mower review to see how much power it can offer you and how well it can work on larger sized yards, slopes and uneven terrain.
First things first, we were impressed by the rugged built quality, appearance and the components of this Riding Lawn mower and we were also impressed with the price tag as it was on sale for a lower price that what we expected.
View also: Our best Lawn mower lists here
Comparisons
To give you an idea of how it compares to various other Troy-Bilt Riding Lawn mowers, we have included 2 alternatives further down on this page namely the Troy-Bilt Compact Lawn mower and also the Troy-Bilt 42l Bronco Riding mower.
You can also check out the detailed comparison table below where you can see the features, capabilities and more side by side. That way, you have more than just 1 option when it comes to making any final decision.
Troy Bilt Pony 42 Riding Lawn Mower Review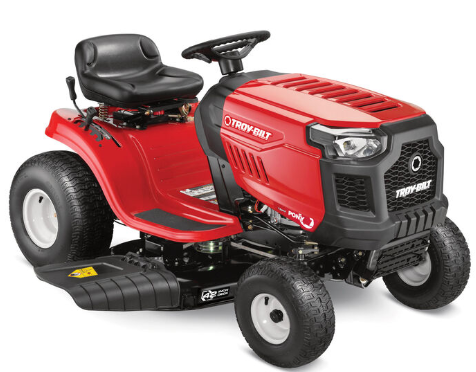 This Troy-Bilt Pony Riding Lawn mower comes designed with a 42 inch wide mowing deck and it comes with an attractive price level as you should be able to get your hands on it for less than $2200 when seen at the time of our review. Instead of the Hydrostatic autodrive transmission, you have the 7 speed shift gear lever on the go and it comes equipped with a Briggs and Stratton 15.5 HP 500cc engine to give you lots of power for dealing with various types of mowing conditions and terrain season after season.
It is started with the starter ignition key which has a lower level of noise than expected and the fuel tank has a capacity of 1.36 gallon or 5.5 litres of fuel. For the speed levels, it can work at a forward speed maximum of 5.5mph or 8.6kmh and the reverse speed then operates at a max speed of 2.5mph or 4kmh.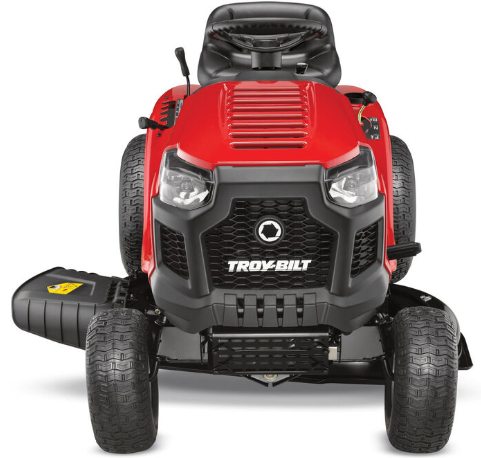 To support starting, it comes with a AGM battery absorbent glass mat type and there is the dual element oil filter as well as the standard oil filter plus the robust deck is made using a 13 gauge steel which is treated to prevent corrosion. There are 5 mowing height options to choose from that range from 1.5 inch to 4 inches and it comes backed with a 2 year warranty.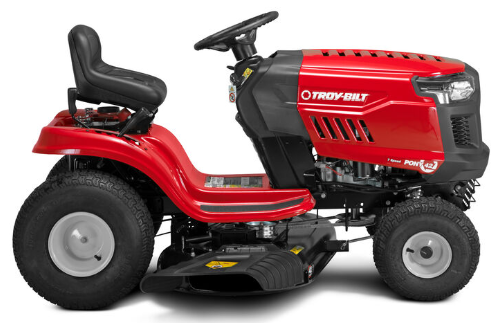 Pros
It comes with a seriously attractive price level making it more affordable for home owners
The built quality is excellent and it has gained a positive reputation in recent years
Noise and vibration levels are on the lower side scale
It gives a nice clean cut finish and more power than expected for tougher longer grasses
Comfortable and powerful to work with plus the steering controls was impressive
Cons
There is no auto-drive transmission so you need to work the 7 speed shift on the go instead
You don't have any fuel gauge so you need to regularly check the fuel levels manually yourself
There is no cruise control system in place plus there is no front bumper included in the design
It doesn't include any anti-scalp wheels for dealing with rough terrain or uneven areas of the yard
You need to clear out the undercarriage yourself as there is no access wash port feature available
Price Guide: $2000 - $2200 @ Troy-Bilt

View also: Troy-Bilt Hand Push Lawn mower reviews here
Alternative Troy-Bilt Riding Lawn Mowers
If you need to look beyond the Troy-Bilt Pony Riding Lawnmower, then check out the lower priced Troy-Bilt Compact Riding Mower and slightly more expensive Troy-Bilt Bronco 42l Riding mower summarised briefly as follows…
1, Troy-Bilt TB30B Compact Riding Lawn Mower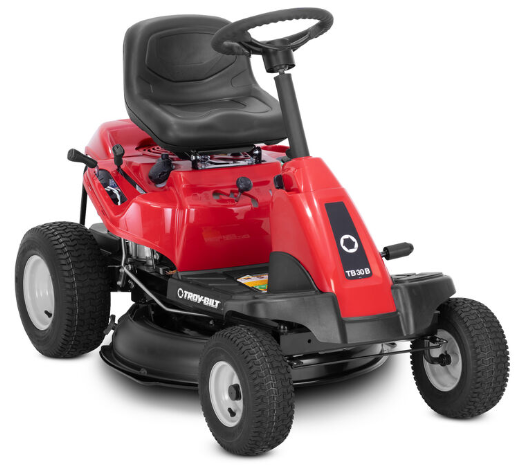 Main Features
Lower priced and smaller framed alternative
Smaller deck width of 30 inches
6 speed transmission lever shift on the go
Briggs & Stratton 10.5 HP 344cc engine
For smaller compact yard sizes
Forward speed 4.25 mph or 6.7 kmh
Price Guide: $1800 - $2000

Troy-Bilt Riding Mower Comparisons
To ensure you have all the necessary information, please make sure to check out the detailed comparison table below where you can see each of these Riding lawn mowers side by side when it comes to features, speed controls, deck widths and engine power levels
| Troy-Bilt Riding | Pony | Compact | Bronco 42I |
| --- | --- | --- | --- |
| Deck Width | 42 inches | 30 inches | 42 inches |
| Transmission | 7 speed lever | 6 speed lever | Auto-drive |
| Horse Power | 15.5 HP | 10.5 HP | 19 HP |
| Engine | B&S 500cc | B&S 344cc | B&S 540cc |
| Fuel tank | 1.36 gal | 1.3 gal | 1.36 gal |
| Oil Tank | 1.3 qt | 1.5 qt | 1.8 qt |
| Battery | 210 CCA | 135 CCA | 210 CCA |
| Forward Speed | 5.5mph / 8.6kmh | 4.25mph / 6.7kmh | 5.5mph / 8.6kmh |
| Reverse Speed | 2.5mph / 4kmh | 2mph / 3.2kmh | 2.5mph / 4kmh |
| Fuel gauge | None | None | None |
| Wash port | None | None | None |
| Mowing heights | 1.5 – 4 inch | 1.5 – 4 inch | 1.5 – 3.75 inch |
| Anti-scalping | None | None | Yes x 2 |
| Turning radius | 18 inches | 18 inches | 18 inches |
| Tow Hitch | Yes | Yes | Yes |
| Front bumper | None | None | None |
| Cruise control | None | None | None |
| Warranty | 2 years | 2 years | 2 years |
View also: Our popular Lawn mower lists here
Conclusion
After reviewing this Troy-Bilt Pony Riding Lawnmower, we hope our work here can give you a better idea of what to expect from this Riding Mower and what you need to look out for if you decide to buy it. While it is not the best Riding Lawn mower in their range, it is still a great lower priced Entry Level Riding Lawn mower and overall we would have no hesitation in recommending it to the wider public.
That being said, we preferred the Troy-Bilt Bronco 42l over the Troy Bilt Pony Riding Mower as the Troy Bilt Bronco 42l Ride on Mower has the anti-scalp wheels and the auto-drive transmission included which was a major advantage and further information along with any pricing updates can be double checked at Troy-Bilt below

Troy-Bilt Riding Mower Feedback
Have you ever used a Troy-Bilt Riding Lawn mower in the recent past? If so, please share your own feedback and opinions with the wider mowing community by leaving a comment in the comment box section provided below – so that others can learn also…