Hello once again and many thanks for taking the time to visit this Greenworks 25112  corded 13 Amp Lawn Mower Review which you should definitely check out if you are thinking about buying it in the coming days or weeks. After testing and researching this lawn mower, we will outline all the main features that you can expect to get plus all the main pros and cons associated to this particular Corded Electric lawn mower.
Comparison Table
We will also outline some frequently asked questions that has come up in the recent past that should hopefully take care of any queries that you may have plus a comparison table versus other Greenworks Lawn mowers to add further clarity on how it compares to other Lawn mowers under the Greenworks brand.
Before you begin, please note that guide prices can only be outlined here at the time of this review as prices can change slightly from week to week depending on local promotional or discount activities so please make sure to view the price checkers provided below to ensure you have the most accurate up to date price information.
Lawn Mower Review Overview
| Brand: | Greenworks |
| --- | --- |
| Model: | Greenworks 25112 21-Inch 13 Amp Corded Lawn Mower |
| Orders online: | Accepted with hassle free home delivery |
| Guide Price: | $150 to $200 (at the time of this review) |
| Cheap Place to Buy: | Amazon – View current stock availability here |
| Warranty: | 4-year warranty duration |
| Support: | Customer support is available at Greenworks toll free helpline 1-888-909-6757 |
Frequently Asked Questions for the Greenworks 25112 (10)
Q1, Does it include Mulching ability?
A, Yes, a mulching option is included
Q2, Does it have a side discharge?
A, Yes, a side discharge option is provided
Q3, Does it include an extension cord?
A, No, it needs to be bought separately
Q4, What sizes are the wheels?
A, They are 7 inches on the front and 10 inches on the rear
Q5, How many mow height settings does it have?
A, There are 7 different mow height settings from a single lever
Q6, Can it be folded away?
A, Yes, the handles can be folded down after use
Q7, What is the weight of it?
A, The weight of the 25112 lawn mower is approx. 60 Ibs only
Q8. Who manufacturers them?
A, The company who manufactures them is called Sunrise Global Marketing, LLC
Q9, What are the mowing cut heights?
A, The mowing heights range from 1-3/4 inch to 3-3/4 inch
Q10, Do I need to pull the cord to start it?
A, No, all you need to do is press the quick start button to get it started
View also while you are here – Related Posts
Greenworks Lawn mower Cordless 40V 19-inch 25223 Review – Take a look here
Greenworks Lawn mower Corded 16 inch 25142 Review – Take a look here
Greenworks 25112 Lawn Mower Review – Features / Pros / Cons
Greenworks 25112 21-Inch 13 Amp Corded Lawn Mower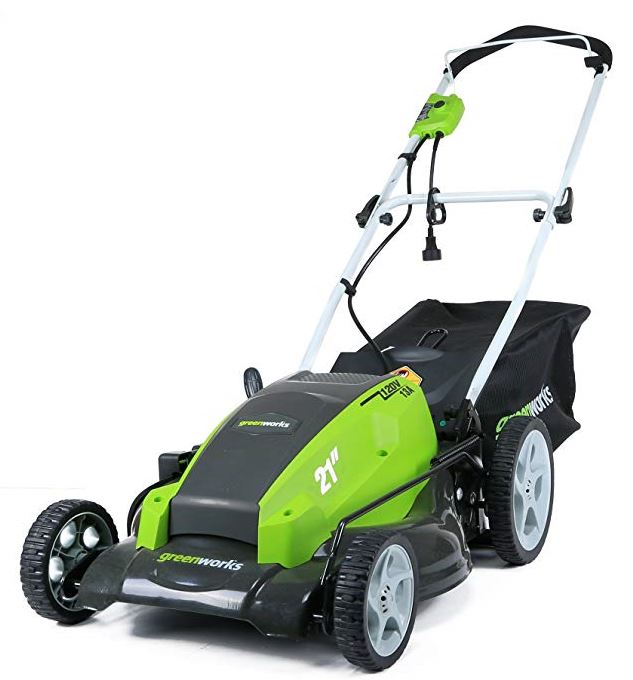 Main Features to Note:
Designed for small /medium yards
Steel deck of 21 inches wide
Operates with a 13 Amp motor
Handles are foldable
7 Mow heights with a single lever
Mow heights are 1-3/4" to 3-3/4"
Front wheels are 7 inches diameter
Rear wheels are 10 inches diameter
Durable and robust steel deck
3 in 1 function – mulch / side / rear
Size is 31.5 by 17.2 by 23.2 inches
No tools needed for assembly
4 year warranty applies
Advantages or Pros
One of the big attractions here for the 25112 is the fact that the handles can be folded down with the cam lock after use which is perfect for people with small sheds or limited storage space at home
The second key point is the fact that this lawn mower offers a 3 in 1 cutting ability operation in that you can use the mulching, use the side discharge or if you prefer you can use the rear grass catcher instead so it offers quite a lot in terms of flexibility. Many other electric lawn mowers don't have the side discharge option available so this is a big advantage here.
Another key feature that attracts many buyers is the fact that there is a long 4 year warranty provided which will gives you a lot of confidence when buying in the event that you have problems with it. Also, there are no tools needed for assembly which is one less thing to worry about when it gets delivered.
There is no limit on an operation mow runtime as there is no battery charging or rechargeable batteries to worry about. The main point is that you have a continuous power supply to finish the job as you need it.
The 7 different mow heights can be adjusted using the single lever and you can tackle tall grasses initially with the highest setting and then work your way downwards once it becomes more manageable
You don't have to worry about pull cords and the difficulties associated with them as you are provided instead with a simple to use push button start system. Th noise level also is so much lower when compared to petrol lawn mowers and of course there are no toxic fumes to worry about and no on-going fuel, oil or maintenance costs associated to petrol lawn mowers
Limitations or Cons
This cutting deck is quite narrow at just 21 inches which ultimately means more time and more passes are needed to get the job done
There is no extension cord included so this will be an additional expense for you to look after. Otherwise you are limited to the length of the lawn mower cord and you will need to source a heavy duty cord recommended in their manual which needs to be added to the overall shopping basket cost.
It lacks the higher power needed for thick, heavy and damp grasses. Not as good either with dealing with heavy over grown weeds
The motor provided is not a brushless motor unit and some minor assembly is needed upon delivery but nothing too excessive.
Corded lawn mowers are difficult to handle especially when there lots of trees around the garden where a cordless lawn mower would work much better.
Some difficulties have been reported on the side discharge getting clogged too often and the grass catcher not attaching properly which can be annoying. The wheel alignments on the odd occasion were offline also which is something you should keep an eye on.
Price Guide: $150 to $200 @ Amazon

Further Images of the Greenworks 25112 21-Inch 13 Amp Corded Lawn Mower are outlined below
Comparison Table – Greenworks Lawn mowers
If you need further clarity on the dimensions, weights and key features and how the 25112 compares to other models under the Greenworks brand, the feel free to make your own comparisons using the comparison table provided below
| Feature: | Greenworks Corded 13 Amp 21 inch | Greenworks Corded 12 Amp 20 inch | Greenworks Cordless 40V 21 inch |
| --- | --- | --- | --- |
| Power: | 13 Amp motor | 12 Amp motor | 40V Battery |
| Deck Width: | 21 inches | 20 inches | 21 inches |
| Connection: | Corded Power | Corded Power | Rechargable battery |
| Weight: | 60 Ibs | 56 Ibs | 62 Ibs |
| Handles: | Foldable | Foldable | Foldable |
| Mow Heights: | 7 available | 7 available | 7 available |
| Push Button Start: | Included | Included | Included |
| Cutting Functions: | Rear / Side / Mulching | Rear / Side / Mulching | Rear / Side |
| Runtime: | Unlimited | Unlimited | Average 60 mins |
Conclusion
Although it is not as powerful as some petrol lawn mowers, there is certainly a lot more power than one would expect from a lawn mower of this size and if you only have a small sized garden lawn, then a lawn mower like this will certainly do the job as you need. You get a really great warranty also and at the price level seen on sale, it is certainly great value for the amount of money you need to pay.
In addition, the handles are easy to fold down unlike many others that we have come across and adjusting the mow heights can be done simply by adjusting one single lever.

Further Comparisons
If you are still undecided about the Greenworks 25112 Corded lawn mower at this stage and wish to explore additional options, then feel free also to check out 2 further options that may be of interest to you outlined as follows...
Mowing Feedback
Finally, have you any previous experience yourself of using a Greenworks Corded Lawn mower in the past or even a Greenworks 25112 Corded Lawn Mower?
If so, then please share your thoughts and feedback good or bad with the wider community by leaving a feedback comment in the comment box section below – So that people across the wider community can learn also!!!