Hello once again from Paul at Lawn mower reviews and this time I have reviewed a number of Poulan Pro Riding Tractor Lawn Mowers which you definitely should check out if you are considering buying one in the coming days. The objective of this review will be to outline all the main features that you need to be aware of plus all the pros and cons and also how they all compare to each other in terms of quality, ratings, functionality and price.
If price is one of your main reasons for coming here, I will also outline a low price option that I came across which are very hard to beat which can also save you a lot of money in the process, so without any further delay, let's get stuck into this review…
Riding Lawn Mower Overview - Poulan Pro 4 Options
Option 1 Poulan Pro 42 inch Riding Mower Overview
Allows a 16 inch turning radius to help around tight corners or flower beds
Has the ability to mow in reverse which allows continuous mowing
More suited for lawns up to approximately 1 acre in size
Cutting deck is 42 inches and weighs 393 Ibs
17.5HP 6 speed Gas front engine ride on mower 500 cc
Can handle hilly, flat or uneven terrain
6 different speed levels
Maximum speed level 5.1 mph
The deck lift is spring assisted with 6 separate mow heights
Headlights are included to allow mowing in darker conditions.
Holder for cups is included with a high back seat
Limited warranty of 2 years
2 bin bagger and mulch blades can to be bought separately
Size dimensions are 72.9 by 34.5 by 45.5 inches


Option 2, Poulan Pro 46 Inch Riding Mower Overview
Simple pedal operation for reverse or forward
Has the ability to mow in reverse which allows continuous mowing
Anti scalp deck wheels to prevent scalping your lawn when operating uneven terrain
Includes the air induction cutting deck allowing air to enter from the top
A pedal operated automatic hydrostatic transmission
Cutting deck is 46 inches and is made from 13 gauge reinforced steel
17.5 HP pedal controlled auto front engine
Briggs and Stratton single cylinder engine with easy to service filter
6 different speed levels and the front axle is made from cast iron
Maximum speed level 5.1 mph
The deck lift is spring assisted to help changing mow heights
Headlights are included
Limited warranty of 2 years
Mulch blades / 2 bin bagger can to be bought separately
Size dimensions are 42 by 55 by 67.88 inches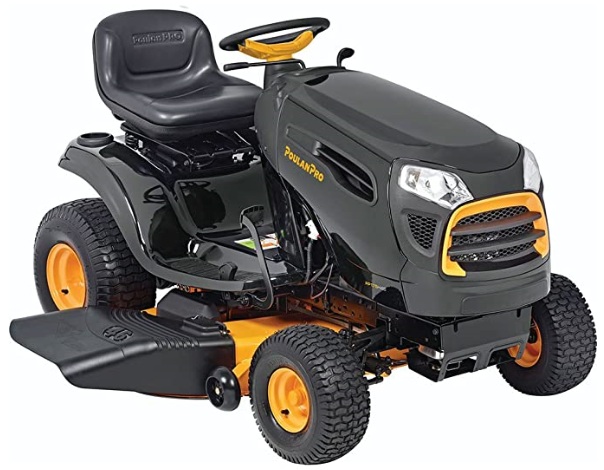 Option 3, Poulan Pro 24 inch Riding Mower Automatic Drive
This is an automatic drive gas front engine Mower
Easy mounting and dismounting from the mower with its wide step
Has the ability to mow in reverse so the blades are continuously engaged.
Twin cylinder Briggs and Stratton engine 20 HP
Includes the anti scalp deck wheels to prevent scalping the lawn with uneven surfaces.
Ready start auto choke system
Simple pedal operation CVT automatic transmission means there's no need to stop to change your speed
Speed level can go to 8 mph
Cutting deck is 42 inches wide and is made from reinforced steel
The front axle is made from cast iron for added durability
Air induction cutting deck permits air to enter the deck from the top to give a better cut quality.
Deck lift is spring assisted to help adjust the different mow heights that you need.
The mulch blade and 2 bin bagger can be bought separately (not included)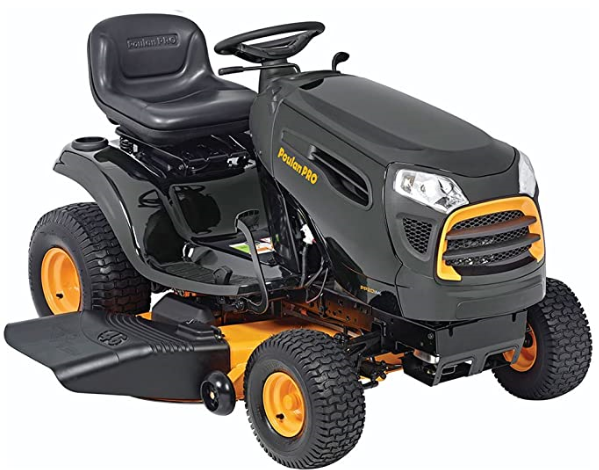 Frequently Asked Questions about the Poulan Pro Riding Mowers…
Q. Is the rear grass catcher included?
A. No, but can be bought separately under model number 960730023
Q. How much assembly is required when delivered?
A. Depending on where you buy, you most likely will need to adjust/ attach the steering wheel, attach the chute, connect the seat safety and add fuel and gas.
Q. Do I need to stop to change gears?
A. Yes, you will need to stop to change gears but can increase the speed with the throttle lever
Q. Can accessories be added to the front or rear of this riding mower?
A. Yes, you can add snow blades, spreaders, graders, small trailers etc…
Q. Is the steering wheel difficult to use?
A. No, it is very much like operating the steering wheel of your car.
Q. Can the deck be raised when travelling over gravel?
A. Yes, it can be raised and also disengaged when going over gravel
Q. What is the warranty available?
A. Poulan Pro provide a 2 year limited warranty
Q. Who makes this riding lawn mower?
A. It is made by Husqvarna
Pros / Advantages for the Poulan Pro Riding Mowers…
Some of these prices compares very well against other Riding mowers and you get a professional Riding Mower under a brand that can be trusted.
There is a lot of power available with these ride on mowers and makes mowing larger yards a breeze
If your grass has got out of control with the length or thickness, these mowers will run through it like melted butter.
The feature of adjusting the speed to go faster or slower on the move provides lots of flexibility.
Bonus feature of mowing in reverse also is a significant advantage
Although not as quick as the zero turn mower, it can still get large lawns mowed quickly saving you lots of time.
These ride on mowers are a seriously tough machine with lots of endurance and give you the sense of satisfaction for a job well done.
Great value for the amount of money you spend – Poulan Pro do all that they can to provide you with a top of the range riding mower without the high expense associated to some riding mowers available in the market.
This machine will mow thick tall grass with ease leaving you with a perfect looking manicured lawn.
Easy to get repaired and get parts for if needed as they are established right across the country.
Cons / Disadvantages for the Poulan Pro Riding Mowers…
Average performance around tighter spots when you compare to the Zero turn mowers and stock availability can be lower than expected
No grass catcher is included and needs to be bought separately which is an added expense.
Some minor issues have been raised with the belt, oil gasket, rear axle seal and the plastic transmission being replaced but which have now been resolved.
The gas pedal could be made slightly larger to accommodate larger people.
Will struggle to climb steep hills when the lawn has become muddy or the grass is very wet and slippy
Having to keep your foot on the pedal all the time can be tiring depending on the model.
The maintenance costs which are ongoing can be a little on the high side and requires additional work on your end.
Getting specific parts if needed can be expensive depending on the nature of the problem and then there is also the added expense of labor which can be costly as well.
Finally, I would like to sincerely thank you for visiting my website – I hope you have an awesome week ahead and please let me know your own experiences with tractor riding mowers by leaving a comment below
Compare Other Brands?
If you need to look at other branded Tractor mowers, then make sure to check out the 2 popular options outlined below before you make your final decision as follows...