There is a wide range of lawn mowers available from the McGregor brand in the UK, however the McGregor Petrol Lawn mowers seems to be discontinued at this time. It appears that the McGregor Electric Corded and Cordless lawnmowers were better sellers within their portfolio and there was less hassle, issues and problems associated with these electric Lawn mowers.
Certain parts of the McGregor Petrol lawnmowers were becoming too difficult to manage from a supply chain point of view but we have 3 alternative Petrol Lawnmowers recommendations for you to consider instead while you are here.
View also: Popular Petrol lawnmowers
McGregor Petrol Lawnmowers Overview
There were 2 options to choose from under the brand of McGregor namely the McGregor 129cc Self-propelled Petrol Lawn mower and the McGregor 129cc Hand push Petrol Rotary Lawn mower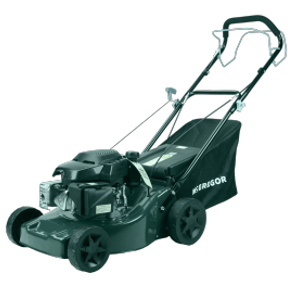 These McGregor Petrol lawnmowers operated with a 4 stroke SMV engine with an engine displacement of 129cc and an engine power of 1.9kW. Their grass collection bags had an average size of 45 litre storage capacity and a mowing path width of 41cm. While the oil tank capacity is 0.4 litres, the capacity of the fuel tank is 0.9 litres and they both performed quite well when they were on sale (if memory serves me correctly)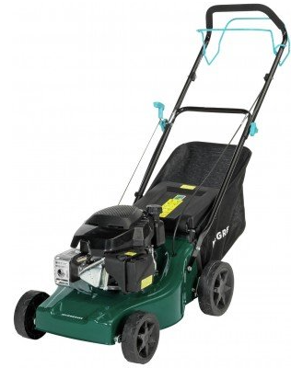 At this point, we are unsure if these Petrol lawn mowers from McGregor will be available in the future but in the meantime, please feel free to check out the similar alternatives below instead that we can recommend to the wider public as follows…
View also: Our Hayter Harrier 56 Petrol Lawnmower review
Alternative McGregor Petrol Lawnmowers – 3 Recommendations
Option 1: Mountfield Self Propelled Petrol Lawnmower SP41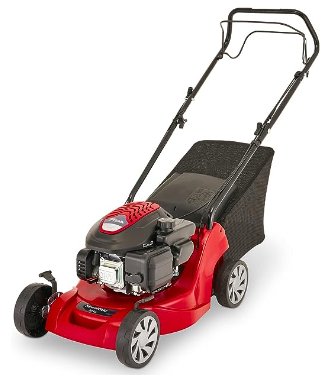 Petrol Lawnmower Overview
This is a self-propelled Petrol lawnmower from Mountfield with a 39cm wide mowing path and a 123cc ST120 Auto-choke petrol engine. It is designed for lawn sizes 250 to 300m2 and there are 5 mowing height options to choose from that range from 2.2cm up to 8cm.
It has a rust proof polypropylene chassis which is one less thing to worry about and the grass collection box has a capacity of 40 litres. It's a lightweight lawnmower at just 23kg weight and you have the self-propelled support with a single speed to get you around the garden quicker, easier and with a lot less fatigue.
Price Guide: £200 - £250 @ Amazon

Option 2: Webb 46cm Self Propelled Petrol Lawnmower WER460SP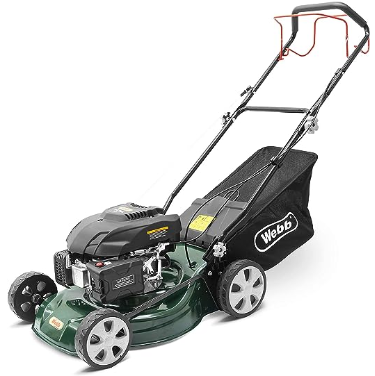 Petrol Lawnmower Overview
Webb is a British brand and their WER460SP Webb 46cm Self Propelled Petrol Lawnmower is quite impressive with reliable starting and cutting and it offers more power with its 141cc engine for dealing with tougher and more difficult mowing conditions such as damp, longer, lush and thicker grasses.
There are 7 mowing heights to choose from and the grass collection is larger at 55 litre capacity. It's a heavier more robust lawnmower at 33kg but you have the self-propelled speed support to get the job done. You have the option to rear collect, mulch or use the side discharge and it comes backed with their 2 year warranty.
Price Guide: £250 - £300 @ Amazon

Option 3: Cobra 46cm Petrol Self Propelled Lawnmower M46SPC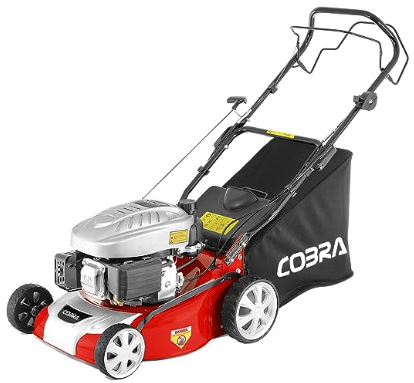 Petrol Lawnmower Overview
This self-propelled petrol lawnmower from Cobra has become highly popular and it has received multiple positive reviews in recent times. It has a mowing path width of 46cm and a Cobra DG450 135cc overhead valve engine which performs better than expected.
There is a higher number of 10 mowing heights to choose from that range from 2.5cm up to 7.5cm and the grass collection bag is also larger at 60 litre storage capacity. This lawnmower is designed for lawn areas up to 600m2 in size, the speed of the self-propelled support is 3.2km per hour and it comes backed with a 2 year warranty
Price Guide: £250 - £300 @ Amazon

View also: Our Best Lawnmower Lists here
McGregor Petrol Lawnmower Feedback
Have you ever used a McGregor push or self-propelled Petrol Lawnmower in the past? If possible, please share your own feedback with the wider community by leaving a comment in the comment box section provided below….