Which Black & Decker Grass trimmers are the best? To learn more, then check out our Black & Decker Grass trimmer review which will include our top picks under the Black & Decker brand be it cordless grass trimmers or corded grass trimmers. We have reviewed, tested and researched several Black & Decker grass trimmers and we have narrowed it down to our top 3 options which will give you more than just 1 option when it comes to making your own final decision.
Our review will cover the main features that they have to offer along with the main positives that you need to be aware off before you buy. For easier navigation, our review is split into 5 part so feel free to skip to whatever part interest you the most…
Black & Decker Grass Trimmer Review Content
Part 1: Quick Overview & Video Demo
Part 2: Our Top-Rated Budget Option
Part 3: Our Top-Rated Cordless Option
Part 4: Our Top-Rated Corded Option
Part 5: Final Conclusion
Before you begin, please note that guide price levels can only be published at the time of this Black & Decker Grass trimmer review, so please make sure to view the price checkers provided below to ensure you have the most accurate up to date price information.
Read also: Our Worx Grass Trimmer Review Here (with 2 batteries)
Part 1: Quick Overview & Video Demo
| Models: | Black & Decker Grass Trimmers – Corded & Cordless |
| --- | --- |
| Power: | 250W / 900W / 36V Battery |
| Cheap Place to Buy: | Amazon UK – View Prices Here |
| Warranty: | 2 years (seller dependant) |
Part 2: Our Top-Rated Black & Decker Budget Grass Trimmer
Black & Decker 23cm 250W Corded Grass Trimmer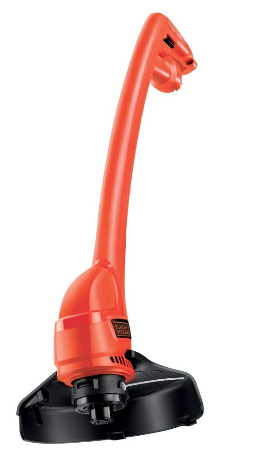 Key Features in Summary:
Low priced budget solution
Ideal for bargain hunters
250W corded motor power
Narrow 23cm trimming width
A6226-XJ spool line code
Bump feed line system
Simple & basic trimming tool
Main Pros to Note
If you want a cheap and basic grass trimmer at the lowest possible price, then you don't need to look much further than this 250W corded grass trimmer from Black & Decker as the price here is generally available for less than £40 and in some cases less than £30 which is a bargain for what you are getting.
It is designed really for small gardens that just need to be tidied up after a lawn mower or even for small grass patches that are reachable within a short distance of your home power socket. If the grass is longer than 8m or 10m away, then you may need to invest in a small basic extension cord which are usually available at low prices also.
This simple, basic yet effective grass trimmer doesn't have any of the premium features like an adjustable handle or an adjustable shaft or a auto feed line system but it still can perform the basic duties for lighter type trimming duties around flower beds, patios, edges and borders.
When needed, you can also get the A6226-XJ replacement spool line which works with this trimmer, it is a single handed grass trimmer and it is seriously lightweight coming in at only 1.3kg (one of the lightest we have ever come across)
Instead of the auto feed system, it still works off a bump feed line system and you will be surprised how well this machine works even at the low price – great value overall for the amount of money you need to spend.
Price Guide: £30 to £50

Part 3: Our Top-Rated Black & Decker Cordless Grass Trimmer
Black & Decker 36V Cordless Grass Trimmer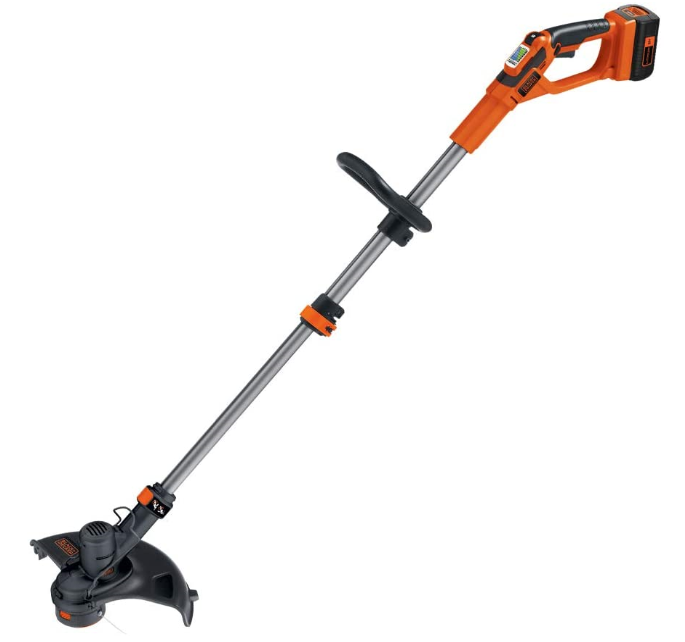 Key Features in Summary:
Top rated cordless solution
2.0Ah lithium ion battery 36V
Includes E-drive technology
30cm trimming width
Auto single line fed system
Eco mode & Turbo mode options
Main Pros to Note
Superior cordless battery power solution and you have the option of working with either the Eco mode or the Turbo mode for heavier duty work which includes the E-Drive technology unlike many other grass trimmers out there.
Thicker grasses and weeds are much easier to trim and work through on the turbo mode which was very impressive overall – great levels of cutting power is provided right across the board.
Unlike many petrol mowers, this tool is lightweight to work with as it weighs around 3.5kg which supports longer trimming jobs and reduces the level of fatigue that may set in.
The shaft here can be extended for taller or shorter people so it offers a lot of flexibility and the handle can also be adjusted to provide more comfort when working. Unlike the Ryobi bare tool, the battery and the charger are actually included in the box delivery.
The line here works off an Auto line feed system, so you don't have to manually feed the line out yourself. If it cable cord free which again is ideal for people who need to work with a tool that is not limited to cables, cords or extension cables.
Price Guide: £150 to £200

Further 5 images of the Cordless 36V Grass Trimmer from Black & Decker are outlined below
Part 4: Our Top-Rated Black & Decker Corded Grass Trimmer
Black & Decker Corded 35cm Electric 900W Grass Trimmer (GL9035GB)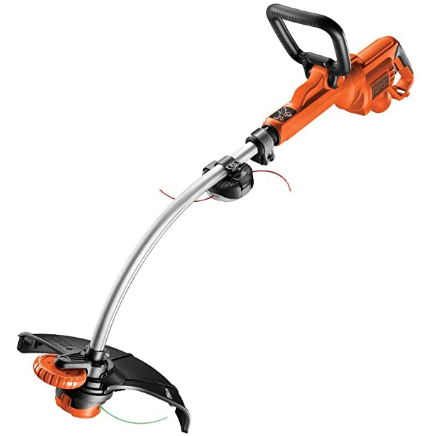 Key Features in Summary:
High powered corded solution
900W motor power, 35cm width
Adjustable second handle
For larger & medium gardens
Designed for thicker grasses
Superior on thick weeds & grass
Main Pros to Note
If you don't want the hassle of charging batteries of buying additional batteries, then you should take a serious look at the GL9035GB Black & Decker 900W grass trimmer which has a significantly higher level of power than many other grass trimmer brands in the market. It is more expensive, but this machine is well ahead of its rivals when it comes to cutting power and performance and of course you have a constant power supply from the cord cable provided
Many other trimmers have weaker or thinner cutting nylon lines, but the trimming line is a much thicker and more robust line and it has the ability to rip through thicker and denser grasses no problem whatsoever and it can also handle brambles to a certain degree and larger thicker weeds with ease.
You can get smaller and lower powered grass trimmers at a lower prices than this but if you need a stronger machine for larger jobs or tougher cutting jobs, then this machine is far better than its cheaper rivals as the power level certainly impressed us as it will impress you.
The trimming width is wider also at up to 35cm, the assembly is quick and easy to do, working the tool is easy and not too heavy and it also has a nice sleek stylish design that is well balanced and comfortable to use.
You also get the wheel edge trimming design guide which helps to give a neater finish, it has the plant guards in place as standard and it comes with the auto feed line system that worked exactly as expected.
Price Guide: £100 to £150

Read also: Our Ryobi Grass Trimmer Review Here
Part 5: Final Conclusion
After completing all of our work, we hope that this review has been helpful to you in some small way and that it can point you in the right direction when it comes to selecting your own Black & Decker Grass trimmer. We gave our top picks when it comes to choosing a budget grass trimmer plus our top pick when it comes to choosing a cordless solution and also our top pick when it comes to choosing a more powerful corded grass trimmer for heavier duty work.
If you need to check out further reviews about the Cordless Black & Decker grass trimmer, then check out the link provided below.

Feedback
Did you find our review useful or have you ever used a Black & Decker cordless or corded grass trimmer yourself in the recent past?
If possible, please educate others in the UK community by leaving your feedback or comment in the comment box section provided below.