Do you need to learn about the Flymo Cordless Grass trimmer? If so, then check out our detailed review which will provide as much information as we possibly can about this grass trimmer including pros & cons, key features, technical information, trouble shooting possible issues and also some assembly tips that you can take a quick look through before you decide to buy.
Testing
We have tested and reviewed several lawnmowers and trimmers already and we wanted to see also how the Flymo grass trimmer lives up to its reputation and expectations.
If you need to look at lower priced Flymo grass trimmers, then we have also outlined in brief 2 popular corded Flymo grass trimmers at the end of this page that are targeted really for people who are seeking the lowest possible price.
View also: Our Best Lawnmower Lists here
5 Maintenance & Safety Tips
Check to make sure all the bolts are locked tight before each use
Replace any worn parts as they arise and only use the recommended cutting line for this tool
Only use replacement parts as recommended by Husqvarna UK Ltd.
Keep the tool in an upright position before starting, never start it with the head facing up
Never put your fingers or hands near the cutting line, guards or the head edge while turned on and this trimmer can be cleaned regularly underneath with a damp cloth (remove the battery first to make sure it cannot be started)
View also: Flymo Grass Trimmers @ Argos here
Storage Tips (3)
The first thing that you should never do is store this trimmer in the outdoors – it must be stored indoors in your garage, shed or house and the charging of the battery should be done indoors also. The second thing is that you should allow it to cool down prior to storage and store in a place out of reach for children (fully recharge the battery before Winter storage). The 3rd and final storage tip is to keep the battery and charger in a cool dry place when not in use. If they battery starts to deplete very quickly after a 2.5 hours recharge time, then the time has come for the battery to get replaced. This review is split into 6 parts for easier navigation so feel free to skip to whatever part interests you the most
Cordless Grass Trimmer Review Content
Part 1: Brief overview with FAQ's Selection
Part 2: Flymo Cordless 20V Grass Trimmer review (features, pros & cons)
Part 3: Technical data, Trouble Shooting issues, What's in the Box?
Part 4: Assembly Tips (mostly images)
Part 5: Alternative Flymo Grass trimmers (lower prices)
Part 6: Conclusion & Optional Feedback
As guide price levels can only be presented at the time of this Flymo Cordless Grass trimmer review, please make sure to view the price checkers provided below to ensure you have the most accurate up to date price information.
Read also: Our Flymo Robotic Lawnmower Review Here
Part 1: Brief Overview with FAQ's Selection
| Model: | Flymo Contour Cordless 20V Grass Trimmer |
| --- | --- |
| Power: | 20V Lithium-Ion 2.5Ah Battery |
| Trim Width: | 25cm wide |
| Cheap Place to Buy: | Amazon UK – View Stock Availability Here |
| Warranty: | 2 years |
| Support: | Customer support at 0344 844 4558 or customer.services@husqvarna.co.uk |
FAQ's for the Flymo Contour Cordless Grass Trimmer (12)
Q1. Can the telescopic shaft be extended here for taller people?
A. Yes, this trimmer has a shaft that can be adjusted to suit people's heights.
Q2. How heavy is this tool to work this?
A. The weight that applies here is 2.6kg with the battery (other brands we have seen weigh less than 2kg)
Q3. Is the battery interchangeable with other Flymo cordless tools?
A. Yes, as long as the tool uses a 20V battery also, it can be interchanged. Examples are SabreCut 20V, EasiCut 20V & Contour Cordless 20V
Q4. What type of cutting line is included here?
A. This trimmer uses a 1.5mm nylon trimming line
Q5. What are the boxes dimensions?
A. The box dimensions that apply here are 42cm by 30cm by 120cm
Q6. Is both the charger and the battery included in the pack?
A. Yes, it is included but you can also get a bare tool option also (if you already have a battery and charger in stock)
Q7. Where can I get additional spool lines?
A. Additional spool lines are readily available to order online from Amazon UK – check out examples here
Q8. Can you get a wider Flymo cordless trimmer than this?
A. Yes, you can get a 5cm wider cordless trimmer from Flymo namely the Flymo C-Link 20V trimmer
Q9. Is it a single or a double line feed?
A. This trimmer is a single line feed system
Q10. Where can you buy additional spare secondary batteries?
A. Again, these can be ordered online from Amazon UK – check out availability here
Q11. Which spool line code does it take?
A. The spool line reference code to use for this cordless contour 20V trimmer is FLY047 spool line
Q12. How long does it take to recharge the battery?
A. On average, it takes around 150 - 180 minutes to have it fully recharged again
View also: Our Best Lawnmower Lists here
Part 2: Flymo Cordless 20V Grass Trimmer review
Flymo Contour Cordless 20V 25cm Grass Trimmer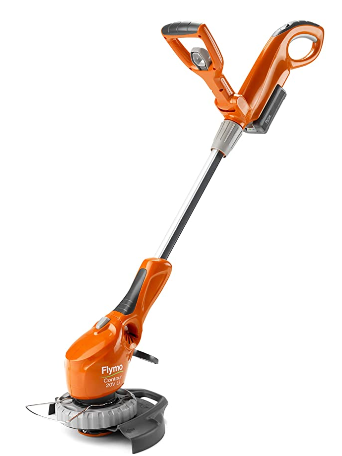 Main Features in Summary:
2.5Ah 20V battery powered - Lithium-ion powered battery
Adjustable shaft & handle - Soft grip for more comfort
Plant guard, foot pedal adjustor
Wheel support for neater edges
Head can be rotated for benches
Shrubbing mode & weight 2.6kg
Battery runtime 25-33 mins - Recharge time 2.5-3 hours
Interchangeable battery - Warranty 2 years
Pros for the Flymo Cordless Grass Trimmer:
Cord free and cable free grass trimming solution that can tidy up after the lawnmower work or even be used for small mini gardens or small grass patches on its own
Slightly longer trimming runtime on the battery which can last from 25 to 33 minutes depending on trimming conditions and the level of work being carried out.
The length of the shaft can be extended for taller people unlike many of the cheaper lower priced trimmers seen on the market.
You get a reliable 2 year warranty as back up which protects your investment well into the future.
It includes the lawn edge facility and plant guard which is not available on the Flymo C link model or many other trimmers elsewhere
Assembly instructions do take a bit of work but the diagrams in the manual are laid out well which can be followed easily step by step
The wheeled edge support works great for clean, neat and tidy finishes around the patio edges and flower beds.
Cons for the Flymo Cordless Grass Trimmer:
Some brands like Spear & Jackson offer a second spare spool in the delivery where you only get 1 spool line here
Heavier duty work or tougher thicker conditions will deplete the battery charge a lot quicker (less than 20 mins) so be prepared in advance for this.
Arm fatigue will set in after 10 or 15 minutes so you may need to take regular breaks instead of trying to get it all done in the one go.
Lacks the superior power for cutting thicker taller meadow type grasses and lacks the power to cut large thistles and brambles (suitable for lighter type work only)
Price Guide: £90 to £130

Further images of the Flymo Cordless Grass trimmer are outlined below (7). Swipe left to right if on mobile.
Part 3: Technical data & Trouble Shooting
Technical Information:
Part 1:
Dimensions are 42 by 30 by 120cm
Weight with battery is 3.2kg
Lithium ion 20V 2.5Ah battery included
Cutting width 25cm
1.5mm single line feed
Rotation speed 9000 RPM
Line code FLY047 spool line
Part 2:
20V DC 2.5 AmpHour battery
Battery model reference is B16-2025
Fully recharge before Winter storage
Weight without battery is 2.5kg
Fully charge the battery for 2.5 to 3 hours
Battery must be charged indoors
Includes a safety lock off system
Key Features
Many of the key features associated to this Grass trimmer are outlined in the diagram below which include the adjustable handle, the edging mode, the battery and also the shrubbing mode to mention just a few.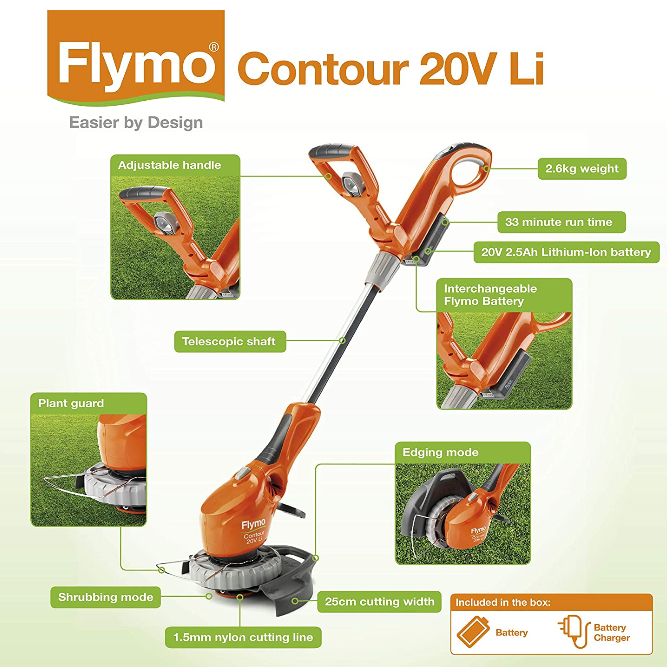 Auto Feed Line System
When you switch on the trimmer, a small amount of line is fed out automatically and you will hear a little noise. Don't be alarmed when you hear this as this is normal as the line hits the line cutter sides and it comes to normality after around 5 seconds. This is the line being cut to the correct size for normal trimming functions. To feed out more line, you can stop the machine and restart again which in turn feeds out more cutting line. Releasing more line manually can also be done by pressing the manual feed button on the head and pulling the line at the same time.
Trouble Shooting:
If you come across any issues such as the line not feeding correctly or if there are excessive vibrations or if the line snaps continuously, the solutions outlined below can help you get these potential problems that may arise resolved.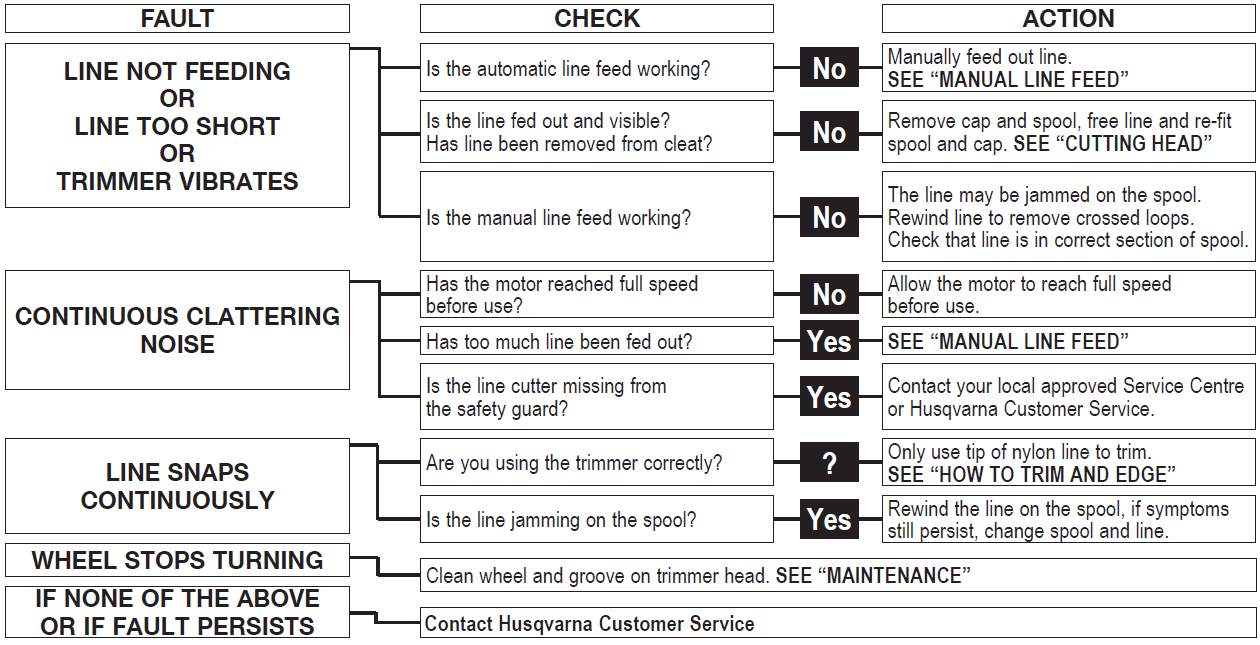 What's in the Box?
There are 10 main parts included with this grass trimmer which are all outlined and labelled below. Examples of what you can expect to see are the battery pack & charger, the upper and lower shafts, the guards and also the safety lock off switch. Each of these are numbered below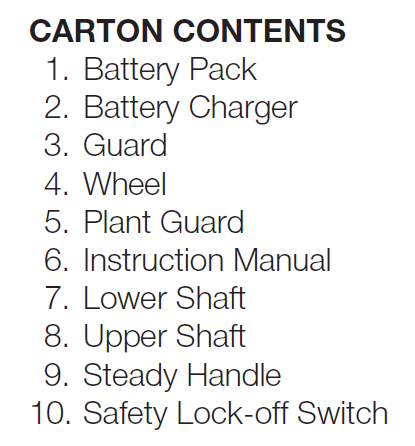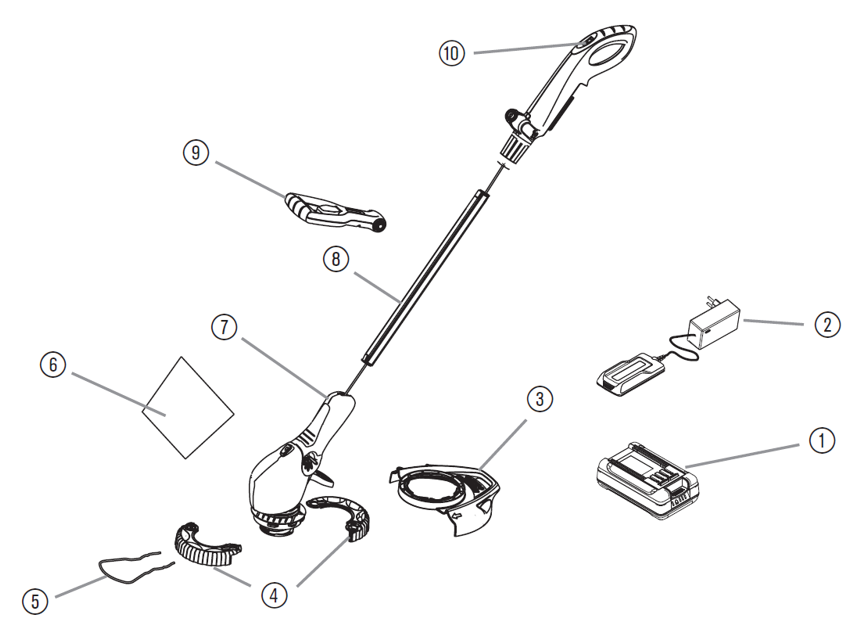 Read also: Our Flymo Hover Lawnmower Review Here
Part 4: Assembly Tips
Assembly will be trickier for some while others will have no problems whatsoever but if you want to take a sneak preview of the steps that you will need to follow, then check out the various 10 images outlined below (swipe left or right if on mobile). Further instructions are included in the manual, but this will give you a good overview of what exactly is involved.
Part 5: Alternative Flymo Grass trimmers
This cordless grass trimmer is a reliable tool but it is not the cheapest to buy and if you need to buy a lower priced trimmer from Flymo, they offer 2 corded lower priced alternatives which are more designed for people who don't mind using a cord or cable while they work and also for people who are seeking the lowest possible price.
2, Flymo Contour 650W 30cm Corded Grass Trimmer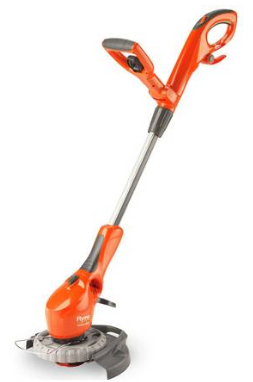 Key Features in Summary:
More expensive & powerful corded solution
3 in 1 grass trimmer, head rotates under benches
Adjustable shaft for taller people
Quick release cable tidy system
Longer cable cord of 10m & plant guard
Stronger cutting line diameter of 2mm
Price Guide: Less than £100 @ Argos

Part 6: Conclusion & Optional Feedback
Would we recommend the Flymo Cordless trimmer? While it is not the best we have ever used, it is hard to fault it in any major way. The battery does last 25 minutes plus but it does get depleted a lot quicker with heavier duty work, so you need to keep it to normal or standard type edge trimming work to get the most of the battery.
The manual is decent with all the information one would need, and the auto feed line system worked exactly as expected with no issues experienced whatsoever. Time will tell if it continues as good as it does but for now, it did a fairly decent job to be fair.

Feedback – Educate Others
Have you ever used a Flymo Cordless grass trimmer yourself in the recent past? Anything positive or negative to say about it?
If possible, please educate others in the UK community by leaving your feedback or comment in the comment box section provided below.