Do you need to know more about the Worx Cordless Grass trimmer or are you thinking about buying one over the next few days? If so, then please make sure to check out our Worx Grass Trimmer review which is based on our own feedback, results and research that we hope can benefit you in some small way.
Assembly Tips
Our review for this trimmer will also include some assembly tips or operational steps that you can follow along with some FAQ's that hopefully can answer some of the queries that you may have about this trimmer.
We will also point out the main features and capabilities that you need to know along with the main pros and cons that we came across that you can check out further down on this page. For easier navigation, our review is split into 5 parts so feel free to skip to whatever part interests you the most…
Cordless Grass Trimmer Review Content
Part 1: Brief Overview & FAQ's
Part 2: Worx Cordless Grass Trimmer Review (features, pros & cons)
Part 3: What's in the Box?
Part 4: Assembly Tips
Part 5: Conclusion & Optional Feedback
Please note before you begin that guide prices can only be shown at the time of this Worx Cordless Grass trimmer review, so please make sure to view the price checkers provided below to ensure you have the most accurate up to date price information.
Read also: Our Worx Lawnmower Review Here
Part 1: Brief Overview & FAQ's
| Model: | Worx 18V WG163E Cordless Grass Trimmer (2 batteries) |
| --- | --- |
| Power: | Max 20V battery |
| Trim Width: | 30cm (2 in 1 trimmer) |
| Best Place to Buy: | Argos UK – View Stock Availability Here |
| Warranty: | Free for 2 years (3rd year can be added if registered online with Worx) |
| Support: | Customer service @ 0345 202 9679 or customerservice@worxtools.com |
FAQ's for the Worx Cordless Grass Trimmer WG163E:
Q1. Does it include the 2 batteries and the charger?
A. Yes, you get the charger along with 2 batteries in the box delivery
Q2. How does the command line feed work?
A. All you need to do is press a button on the handle to feed out more line
Q3. Does it have enough power to cut brambles?
A. No, from what we see, this trimmer is for lighter duty work only and doesn't have the power to cut brambles
Q4. What type of line is used with the trimmer?
A. This trimmer uses a Nylon type trimming line
Q5. Can this battery be used for other Worx cordless tools?
A. Yes, as long as it uses a 20V battery. Examples are hedge trimmers, impact drivers and blowers
Q6. Can the head be rotated to trim under benches and garden furniture?
A. Yes, the head can be rotated to a 90-degree angle.
Q7, Can the length of the holding shaft be extended?
A. Yes, this shaft can be extended for taller people to reduce potential backaches
Q8. How can you get the 3rd year warranty?
A. You need to register the purchase directly online with Worx to get the 3rd year warranty
Q9. How long does it take to charge up the battery?
A. On average, it will take 3 hours to have the battery fully recharged once again
Q10. How long does a fully charged battery last for?
A. It depends on trimming conditions but should last between 20 and 30 minutes per battery from our experience
Q11. Where can I get additional spool lines for this trimmer?
A. Additional spool lines (spool model WA0004) can easily be ordered online from Amazon UK here
Q12. What are the box dimensions?
A. The box dimensions applicable here are 20cm by 16cm by 95cm
Q13. What is the full weight of this trimmer?
A. The trimmer with the 2 batteries and charger is 3.8kg but the operational trimmer using one battery is 2.4kg
Part 2: Worx Cordless Grass Trimmer Review
Worx 18V WG163E 30cm Cordless Grass Trimmer (2 batteries)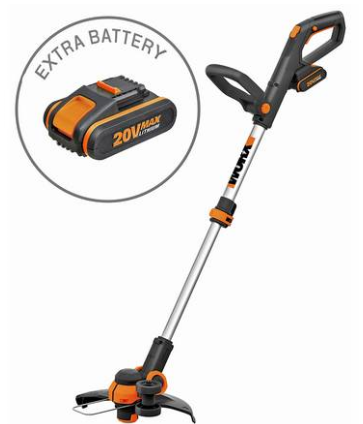 Main Features in Summary:
18V 2.0Ah batteries x 2
Charger included in the pack
Trimming line diameter 1.65mm
Command fees line system
Runtime is 20-30 mins per battery
Recharging time is 3 hours
Cordless battery solution
Auto line feed, soft grip handle
Rotating head & plant guard
Weight 2.4kg, adjustable shaft
Standard warranty 2 years
Cordless Trimmer Description
This lightweight grass trimmer is a cordless trimming solution and weighs less than 2.5kg which goes a long way to help reduce arm fatigue over longer trimming jobs. Unlike many other grass trimmers, this model comes with 2 lithium ion batteries so you can start using the second once the first battery has been depleted.
Having a second battery here is a significant advantage especially when you need to work for more than 30 minutes and the batteries supplied are 18V (20V max) 2.0Ah batteries. Another thing to note here is that this battery is compatible with various other Worx tools such as the lawnmower, hedge trimmer, blower & impact driver – basically anything that uses a 20V battery.
The trimming width is 30cm, it has a wheeled edging support and the head can be rotated to trim under garden furniture such as benches or play equipment. The one thing here that you won't see on other cheaper trimmers is the command feed line feed which works great to ensure you don't have the hassle of manually feeding the line.
For taller people, the telescopic shaft can be extended to reduce potential backaches, it comes with a standard 2 year free warranty and a 3rd year warranty can be added if you register your purchase online with Worx within 30 days of purchase.
The batteries runtime is 20 to 30 minutes per battery depending on work conditions, it takes 3 hours to fully recharge the battery once again and the flower plant guard is included as standard.
Price Guide: £100 to £150 @ Argos

Further images of the Worx 18V WG163E Cordless Grass Trimmer with 2 batteries are outlined below (4)
Pros and Cons to Note
Pros for the Worx Cordless Grass Trimmer
Having the 2nd additional spare battery is a great bonus to have especially when your trimming jobs are over 30 minutes long. The 2nd charged battery allows longer trimming work of up to 50 to 60 minutes
Some of the trimmers can be too heavy to work with but this tool from Worx is less than 2.5kg which certainly goes a long way in reducing arm and hand fatigue
Getting the 2nd battery means that other cordless tools from Worx can be bought as a bare tool option which are sold at lower prices saving you money in the long run (such as lawnmowers or hedge trimmers that use a 20V battery)
Additional spool lines reference WA0004 are readily available to order online also - check out availability here
Looks well made, robust and a lot more sturdier that some of the cheaper trimmers we have come across elsewhere – a much better build, design and material composition and works really effectively at tidying up the place after the lawnmower has done all it can do.
Assembly is fairly quick and easy to do which is supported with a well detailed manual for you to follow – step by step (sneak preview is available below)
Works really well in tall grass edging and weeds such as ragwort, nettles and thistles
Cons for the Worx Cordless Grass Trimmer
The length of time needed to charge the batteries is very long. It will take 3 hours to have the battery charged while other branded batteries we see take only 90 minutes and in some cases 60 minutes.
Lacks the superior power needed for cutting denser overgrown grasses and for cutting brambles. If you need a trimmer for cutting brambles, then you should skip this one and start looking elsewhere.
There are no battery life light LED indicators to tell you when the battery life is near depletion like what other batteries offer so the battery will go dead without you knowing in advance. It's not the end of the world but disappointing all the same
The price here is higher than expected as you can expect to pay over £80 here while we have seen other brands cost a lot less than this. If the cheapest cordless trimmer is what you are after, then check out our McGregor review here instead.
Getting the 3rd year warranty online with Worx is not as easy as one would think – too much hassle involved and hardly worth the effort
Great for borders and tidying up after the lawn mower but don't expect it to clear lawns all by itself or meadows for that matter.
Battery power depletes a lot quicker with heavy duty work so trimming time can be reduced significantly

Part 3: What's in the Box?
There are 14 main parts included with this grass trimmer and each of these parts are outlined and numbered in the diagram below such as the upper shaft, locking collar, command feed button and the edger wheel.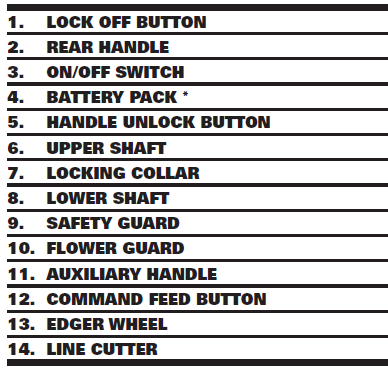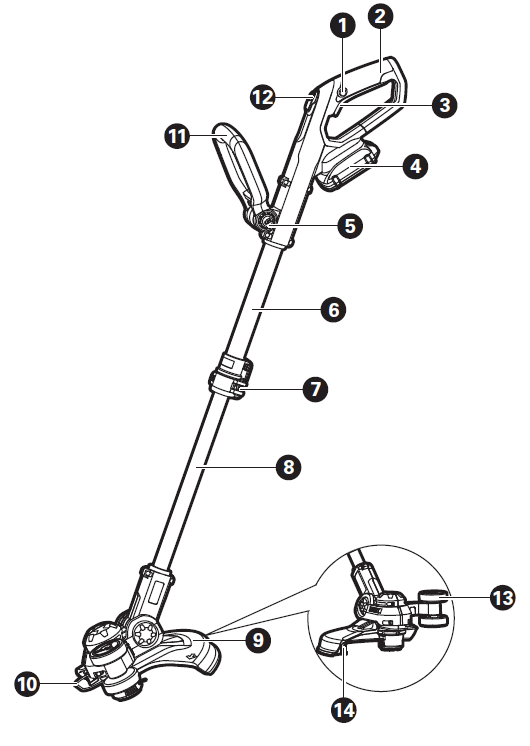 Battery Compatibility
One question that is asked regularly and that is if this battery can be used with other Worx tools and the answer is yes. As long as the tool uses a 20V battery, then it will be compatible. Examples of other Worx tools where this battery can be used is the Worx 20V Jigsaw, Impact driver, Drill driver, Air blower, hedge trimmer and blower just to mention a few. Buying this trimmer with the 2 batteries means that many of these other tools can be bought as a bare tool option which are sold at a significantly lower prices.
Part 4: Assembly Tips
All the assembly steps are outlined in detail in the manual but if you want to have a sneak preview of the steps involved before you buy, then check out some of the steps involved below that you will need to follow. These steps and tips include assembly and operational tips and again further information is included in the manual that comes with this grass trimmer (9 images – swipe left or right on mobile)
Part 5: Conclusion & Optional Feedback
While this trimmer works great for the job intended of trimming edge grasses, it has limited abilities in terms of trimming full lawns or meadows. People may be disappointed where they expect a trimmer to do the job of a petrol or electric lawnmower – this is a grass trimmer – not a grass lawnmower! For the tasks intended of trimming the edges around patios, flower beds and boundaries, I have to say this trimmer did the job as good as we had expected and we would find it hard to fault in any major way.
The line quality was fine as long as it is grass and light weeds you are cutting and not brambles and we didn't experience any line breakages for moderate grass trimming conditions. The batteries lasted 25 minutes each on average so all combined we managed to get 50 minutes work done without having to stop and recharge.
Would we recommend it? While it does cost a good deal more than other trimmers we have seen, it still provides superior cutting power, comfort and the command line feed worked exactly as expected. The only thing that annoyed us really was the longer than expected recharging time where you need to wait up to 3 hours before you can get going again, apart from that we would give this trimmer the big thumbs up.

Optional Feedback – Educate Others
Have you ever used a Worx cordless grass trimmer yourself in the recent past? Anything good or bad to say about it?
If possible, please educate others in the UK community by leaving your feedback or comment in the comment box section provided below.