If you are thinking about buying a Stanley Fatmax Electric Lawn mower in the coming days, then make sure to take a quick look through our Stanley Fatmax Lawnmower review which will outline everything you need to know plus how it compares to various other branded electric lawnmowers in the market.
We will also outline the main pros and cons that we came across during our review plus a detailed comparison table at the of this page where you can see how it compares side by side to other popular branded lawnmowers in the UK.
Read also: Popular UK Cordless Lawnmowers
Lawnmower Focus
The focus for this review will be on the wider Stanley Fatmax 51cm deck cordless lawnmower which comes with 2 batteries in the pack and we will compare it to the Spear and Jackson Cordless lawnmower that also offers 2 batteries and the McGregor lower priced cordless lawnmower which offers just 1 battery. Lawnmower selection will depend on lawn size areas so you should have a rough idea on your own lawn size dimensions before making any final decision.
Stanley Fatmax Lawn mower Review
Stanley Fatmax 51cm Deck 18V Cordless Rotary Lawnmower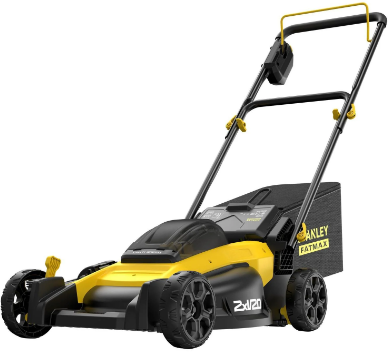 This cordless lawnmower from the brand of Stanley Fatmax (SFMCMW2651M-GB) offers you a wider mowing path of 49cm with its 51cm steel deck and multiple mowing options such as the mulching plug, rear collecting and side discharge. There are two V20 4Ah batteries included in the package and both batteries need to be used at the same time to power the machine.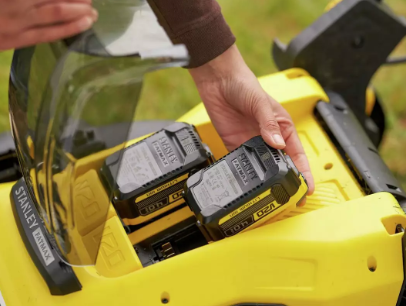 The dimensions of this lawnmower are 40cm high by 52cm wide by 88cm deep and it is heavier than you average lawnmower as the weight comes in at approx. 22kg (there is no self-propelled support). The handles can be adjusted to suit you height, you have the safety switch included as standard and in addition the handles can be folded down for tighter storage spaces.
It is designed for larger lawns up to 500/600m2 due to the wider deck and the double combined 4Ah battery usage and the grass collection box is quite good with a storage capacity of 40 litres and a hard top to deal with general wear and tear.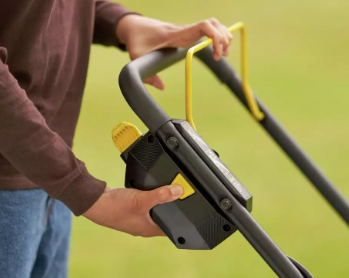 The charger is also included in the pack which normally takes 1.5 hours and you can expect to get 25 to 40 minutes mowing time depending on grass conditions (difficult conditions deplete the battery charge quicker)
There are 5 mowing height options that range from 2.8cm up to 5.7cm, it has an integrated carry handle to support portability and it comes backed with a 12 month warranty.
Price Guide: £370 - £400 @ Argos

Read also: Popular UK Robotic lawnmowers
Video: How to assemble the Stanley Fatmax Cordless Lawnmower (apologies in advance for the music selection!)
Pros for the Stanley Fatmax Cordless lawnmower
You get the wider mowing width of 49cm which means less mowing paths and faster mowing times – some cordless lawnmowers are only 32cm where this model is 49cm wide
There are the options to use the mulch and the side discharge which are features not available in many other electric lawnmowers (in particular the side discharge which is good for less informal areas)
Assembly is quick and easy with well laid out instructions that are easy to follow (check out the video also)
There are no oils, fuels, emissions, maintenance costs, power cords or extension cords to worry about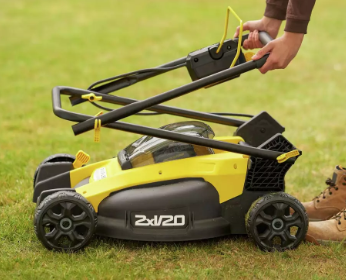 Cons for the Stanley Fatmax Cordless lawnmower
While it can manage lighter grass mowing jobs, it struggles to deal with dense lush grasses and long grasses like what petrol lawnmowers can offer you. You need to mow more frequently rather than letting the grass grow out of control
The lowest cutting height of 2.8cm won't be low enough for everyone, especially those looking for a tighter cleaner cut down to 2cm
Recharging of the battery is on the slower side – a more powerful charger would be better to give you faster recharging times
The weight of this electric lawnmower is on the heavier end (steel deck) at 22kg so some people may struggle to push it around the lawn as there is no self-propelled support (McGregor 34cm is approx. half the weight)
View also: Our Cobra Corded Electric lawnmower review
Cordless Lawnmower Price Comparisons
Alternative Cordless Lawnmowers
If you need to look beyond the Stanley Fatmax cordless lawnmower and check out lower prices, then take a closer look at the 2 cordless lawnmowers below especially if your lawn sizes are smaller in size
1, Spear & Jackson 42cm 40V Cordless Rotary Lawnmower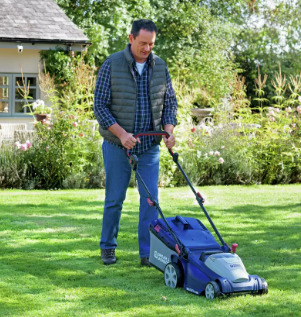 Overview
Mowing path width of 42cm - Includes two 4Ah batteries  40V
Use 1 battery and the 2nd battery is a spare
6 mowing heights 2.2cm to 7.2cm - Built in rear roller for lawn stripes
Grass box collection capacity 40 litres
Mulch function and 3 year warranty
Price Guide: £300 - £350

2, McGregor 34cm Cordless Rotary Electric 21V Lawnmower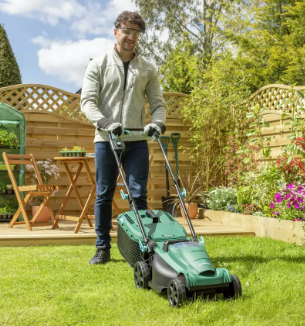 Overview
Lower priced 34cm wide cordless alternative
For smaller lawns up to 150m2 - Mowing path width of 34cm
Includes one 4Ah battery  21V - 6 mowing heights available 2.2cm up to 7.2cm
Grass box collection capacity is 35 litres
Rear roller included & 2 year warranty
Price Guide: £170 - £200

View also: Our Hayter Hawk Premium Electric Lawnmower review
Stanley Fatmax Lawnmower Comparison Table
To add further clarity on each of these cordless lawnmowers, please make sure to check out the comparison table below where you can see the battery information, lawn area size guides, battery mowing runtimes, weights and more side by side. You should also have a good idea on your own lawn size dimensions before you make any final decision
| Cordless Mower | Stanley Fatmax V20 | Spear & Jackson S4042X2CR | McGregor CLMF2434A |
| --- | --- | --- | --- |
| Battery | 4Ah x 2 18V | 4Ah x 2 40V | 4Ah x 1 21V |
| Battery Usage | 2 combined | 1 only (1 spare) | 1 only |
| Deck | Steel | Polymer | Polymer |
| Blade width | 49cm | 42cm | 34cm |
| Lawn size guide | Up to 500-600m2 | Up to 400-500m2 | Up to 130-150m2 |
| Mulching ability | Yes | Yes | No |
| Rear Roller | No | Yes | Yes |
| Side Discharge | Yes | No | No |
| Grass box | 40L capacity | 40L capacity | 35L capacity |
| Battery Runtime | 25-40 mins | 45-60 mins | 25-30 mins |
| Recharging time | 1.5 hours | 1 hour | 1 hour |
| Mow Heights | 5, 2.8cm-5.7cm | 6, 2.2cm-7.2cm | 6, 2.2cm-7.2cm |
| Handles | Foldable | Foldable | Foldable |
| Weight | 22kg | 15kg | 11kg |
| Warranty | 1 year | 3 years | 2 years |
Read also: Best Electric Corded Lawnmowers
Conclusion
After completing this Stanley Fatmax Electric lawnmower review, we hope our work here can help you out in some small way and give you some direction on what you should do next. Would we buy it? To be honest we would only be 50/50 on it. It offers similar features to the petrol lawnmower such as the side discharge, mulch plug, steel deck and mowing width but it doesn't offer the same level of power that petrol lawnmowers can offer for ploughing through thicker grasses (similar to other electric lawnmowers).
Its fine for lighter mowing jobs but it would struggle with heavy duty mowing requirements in our opinion so you need to mow regularly every week during the peak growing season or every 2 weeks minimum.
Verdict
If your lawn is only up to 150m2, then the McGregor 34cm will do the job just fine in our opinion and it costs less than half the price of the Stanley Fatmax lawnmower so plenty of savings can be made here. Our preference though is the Spear and Jackson 42cm cordless mower as it offers a second spare battery, sufficient mowing battery run time and a longer warranty period of 3 years - further information along with more reviews and updated prices can be double checked at Argos below…

Stanley Fatmax Lawnmower Feedback
Have you ever used a Stanley Fatmax cordless lawnmower in the past? If so, please share your own feedback and experiences with the wider mowing community by leaving a comment in the comment box section provided below….