After completing several reviews on both the Troy-Bilt hand push and self-propelled lawnmowers, we also wanted to complete another quick review for the lower priced Troy-Bilt TB210B self-propelled Gas Lawn mower to see how good it really is.
The lower priced option doesn't always mean the best performance when it comes to mowing results and engine power so we will outline all the key features that it has to offer plus the main pros and cons that we came across for this Lawn mower during the course of our review.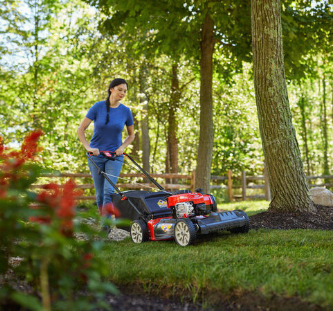 View also: More Troy-Bilt self-propelled lawnmower reviews
Company Overview
This company of Troy-Bilt have their headquarter offices based in Valley City located in Ohio and they are owned by MTD Products Inc who would be considered a global leader when it comes to outdoor power tools and equipment. Troy-Bilt was bought over by MTD back in 2001 who have experience in this sector going back as far as 1932 in Cleveland USA. They pride themselves as being built in America and while many of the parts they use are based in the USA, some of the parts they use are also sourced globally.
Troy-Bilt Lawn Mower Parts
With an established brand such as Troy-Bilt, it is good know that they also offer plenty of spare parts available in their portfolio for each of their lawnmowers be it walk behind Lawn mowers or Ride on Mowers. Plus they offer free shipping on many of their spare parts if the value of the spare parts is over $45.
If needed, you can order directly from them as they stock mulching blades, grass bag frames, assembly grass bags, discharge chute deflectors, drive belts, spark plugs, Briggs and Stratton air filters and lots more.

View also: Troy-Bilt TB125B Lawn Mower review
Troy-Bilt TB210B Self Propelled Lawn Mower Review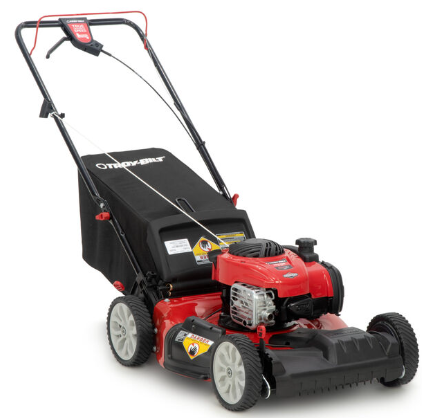 This Troy-Bilt TB210B SP Lawn mower comes designed with a 21 inch mowing deck and a variable speed self-propelled support plus it is typically one of the lower priced options to buy within the Troy-Bilt walk behind gas self-propelled Lawn mower category. It comes with a Briggs and Stratton 550ex 140cc engine which means it has the ReadyStart system so there is no need to worry about chokes or priming for that matter.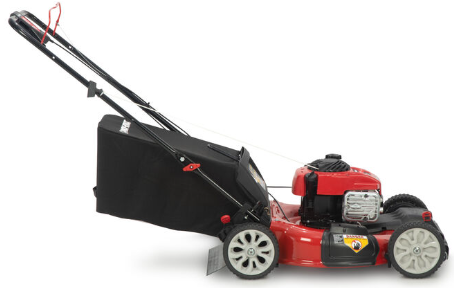 It operates with the forward wheel drive system rather than the RWD system and it offers the 3 in 1 mowing in that you can choose to mulch, use the side discharge or use the rear grass collection bag. You get 6 mowing height settings that range from 1.25 inch to 3.75 inches for longer grasses and these are controlled with the dual lever either side.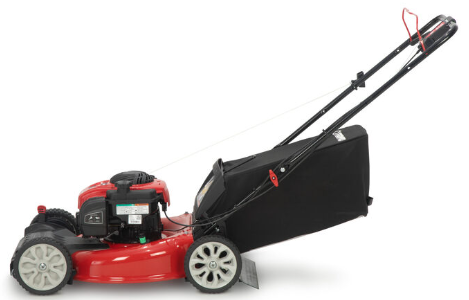 Another feature it offers is the wash port to help clear out the undercarriage and both the front and rear wheels are 8 inches in diameter. While it's not the best SP Troy-Bilt lawn mower we have seen, it does offer a lower price point so savings can be made here plus it comes covered with their 2 year warranty.
Pros
It offers a lower price tag than many other SP Troy-Bilt lawn mowers
Assembly is quick and easy and the variable speed self-propelled support helps to get the mowing jobs done a lot quicker saving you time and effort
You have multiple options in your mowing work be it mulching, rear collecting or using the side discharge
As it is smaller, it is lighter to work with and load into your vehicle when needed
Cons
You get a shorter 2 year warranty here where other SP Troy-Bilt lawn mowers have a longer 3 year warranty
We have seen several negative reviews elsewhere across the market which was disappointing – approx. 80% of buyers recommend it while 20% of buyers don't recommend it
The engine power of 140cc is a good deal lower than others in the wider range that offer 163cc, 190cc and 223cc so its ability to deal with tougher mowing conditions is a lot less
The front cover could be better and more robust to deal with rough conditions
Price Guide: $400 - $450 @ Troy-Bilt

View also: Our best Lawn mower lists here
Troy-Bilt SP Gas Lawn mower Comparisons
To ensure you have all the necessary information on this TB210B Troy-Bilt Lawn mower, please make sure to check out the comparison table below where you can see the deck widths, engine powers, drive systems and engine models side by side versus the Troy-Bilt TBWC23B and the TBWC28B self-propelled Gas Lawn mowers
| Troy-Bilt SP | TB210B | TBWC23B | TBWC28B |
| --- | --- | --- | --- |
| Deck width | 21 inches | 23 inches | 28 inches |
| Engine model | 550ex | 875 Pro | 1000PXi |
| Engine Power | B&S 140cc | B&S 190cc | B&S 223cc |
| Drive system | FWD | RWD | RWD |
| Mow positions | 6 | 6 | 6 |
| Mow heights | 1.25" - 3.75" | 1.25" - 3.75" | 1.25" - 3.75" |
| Speeds | Variable | InStep variable | InStep variable |
| Wash port | Yes | No | Yes |
| Grass bag | 1.9 bushel | 2.5 bushel | 2 bushel |
| Fuel tank | 0.8L | 1.0L | 1.08L |
| Oil capacity | 15 oz | 20 oz | 18 oz |
| Mulch Plug | Yes | Yes | Yes |
| Side discharge | Yes | None | Yes |
| Front wheels | 8 inch | 9 inch | 8 inch |
| Rear wheel | 8 inch | 9 inch | 10 inch |
| Warranty | 2 years | 3 years | 3 years |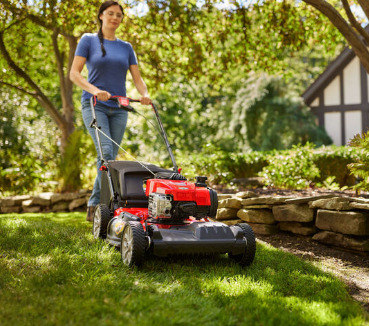 View also: Troy-Bilt Hand Push Lawn mower reviews here
Conclusion
Would we buy the TB210B Troy-Bilt self-propelled lawnmower? To be honest we are only 50/50 on it. While we didn't come across any major issues during our review, we did see several negative comments and reviews from other buyers in the market which is a little worrying.
Yes, it does offer the lower price tag which will save money for people seeking the lowest possible price but our preference would be to recommend the more powerful TBWC23B Troy-Bilt lawn mower instead. The main reasons are it has the RWD, a wider 23 inch cutting deck and the more impressive B&S 875 Pro 190cc engine for dealing with difficult mowing conditions. Further information, prices and reviews can be viewed at Troy-Bilt direct below…

Mowing Feedback – Have your Say
Have you ever used a self-propelled Troy-Bilt Lawnmower in the recent past? If so, please share your own feedback and opinions with the wider mowing community by leaving a comment in the comment box section provided below – so that others can learn also…