If you are thinking about buying a Fiskars Reel lawn mower in the coming days or weeks, then make sure to check out this Fiskars 18 Inch Reel Lawn Mower Review which will cover our own feedback plus the feedback from multiple other users across the industry so at least you will get a more balanced and broader review which won't be biased by our own opinions alone.
This review will analyse all the main features that you can expect when delivered plus it will outline all the main pros, cons, difficulties and limitations that you can expect if you do decide to go ahead and purchase one. In addition, we will also outline some frequently asked questions that has come up in the recent past that will hopefully answer most of the queries that you may have. In addition, we have provided 2 price comparison options at the end of this page so at least you have the opportunity to compare some prices across the market which possibly could end up saving you some money in the process.
Please note before you begin that guide prices can only be outlined here at the time of this review as prices can change slightly from week to week or month to month depending on local discount activities so please make sure to view the price checkers provided below to ensure you have the most accurate up to date price information.
Reel Mower Review Outline:
Part 1: Overview with some FAQ's
Part 2: Fiskars 18 Inch StaySharp Max Lawn Mower Review – Features, Pros and Cons
Part 3: Price Comparison Options
Part 4: Conclusion
Part 1: Brief Overview and FAQ's
| Brand: | Fiskars |
| --- | --- |
| Model: | Fiskars 18 Inch StaySharp Max Reel Lawn Mower |
| Orders online: | Accepted with hassle free home delivery |
| Guide Price: | $170 to $230 (at the time of this review) |
| Reliable Place to Buy: | Amazon – View current stock availability here |
| Warranty: | 2-year warranty duration |
Overview of the some of the Key Features available

: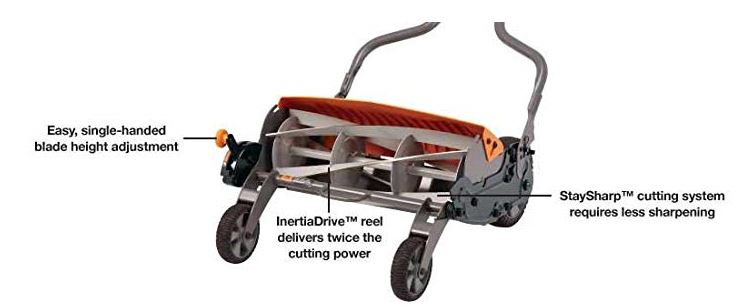 Frequently Asked Questions for the Fiskars StaySharp Max Reel Lawn Mower:
Q1. What does the StaySharp system offer?
A1. This is the cutting system design that will allow the blades to stay sharper for longer so it requires a lot less sharpening from you
Q2. What are the dimensions and weight for this reel lawn mower?
A2. The dimensions for this reel lawn mower is 24 by 23.5 by 14.2 inches and it weighs approx. 52 Ibs
Q3. Can it work on grass types such as St. Augustine, Zoysia, Bahia and Bermuda?
A3. Yes, it can perform well on grass varieties such as St. Augustine, Zoysia, Bahia and Bermuda
Q4. Does it include the grass catcher for the clippings?
A4. No, there is no grass catcher box container for collecting the grass clippings
Q5. Can it cut wet grass?
A5. It struggles with wet grass and performs a whole lot better when dry
Q6. Where are these reel lawn mowers made?
A6. They are made in Finland by the Fiskars Group which was founded in 1649
Q7. Can the grass catcher be added?
A7. Yes, it is available as an accessory so there will be an added cost involved if needed
View also while you are here…
Part 2: Fiskars 18 Inch StaySharp Max Lawn Mower Review
Fiskars 18 Inch StaySharp Max Reel Lawn Mower

Key Features:
StaySharp cutting system
Single lever height adjustment
Less sharpening required
InertiaDrive reel included
50% plus easier to push
Reversible grass chute
Inset wheels for maximum cut
Great around Edging / borders
Mow heights from 1 to 4 inches
Size is 24 by 23.5 by 14.2 inches
Weight of the unit is 51.7 Ibs
Warranty is 2 years
Main Pros / Advantages:
This reel mower would be considered as a premium and more advanced reel lawn mower than is over 50% easier to push than standard lower priced reel mowers which is always a major plus
It includes the StaySharp cutting system where the contact is minimal which in turn allows the blades to stay sharper for longer and therefore needs less blade sharpening on your end which is one less thing to have to worry about.
You have better control of the grass clippings as they can be directed either forward, backward or downward with the reversible grass chute which you won't find on cheaper reel mowers
Included here is the InertiaDrive reel which will give you so much more cutting power especially in thicker and tougher grass growth areas with the large-diameter cutting reel and thicker blades
The design has the inset wheels which is awesome which maximises the cutting width of 18 inches available and reduces the level of grass around borders and edges left behind
Unlike many other reel mowers, you get a single lever height adjustable cutting mechanism than ranges from 1 inch up to 4 inches
The noise level is very low unlike many gas or electric lawn mowers and you are making an environmentally friendly choice as there is no electricity, gas or oil used and there are no ongoing associated costs either.
There is no need to worry about rechargeable batteries or motors burning out or clogged side chutes when you choose to go down the reel mower route. It is also well able to handle moderate weeds levels
It can be operated on various grass types such as southern varieties of St. Augustine, Bermuda and Bahia and you are getting a solid piece of equipment as it comes in at a weight of over 50 Ibs
You get a great opportunity to exercise and burn more calories by manually using the reel mower and cutting the grass all by yourself
Main Cons / Limitations:
For a Reel lawn mower, the price will be seen as quite high as you can get several other electric lawn mowers under various brands at lower prices than this such as the Sun Joe and GreenWorks electric models
No grass box catcher is provided so there will always be clippings left across the lawn. Further work will also be needed when raking the grass clippings from the lawn after the mowing is complete
Poor around wet or even damp grass so it is best to stick to dryer type grass conditions and cutting around tight corners can be quite difficult.
Struggles with long grass over 6 inches long as it can push over instead of cutting so you will need to keep it low enough at all times but this could be a problem if you have prolonged rainy wet weather
Gauging the mow lines can be hard to see and it does require a good deal of effort but gets easier once you get the hang of it. As the weight of it is over 50 Ibs so it can be difficult to turn due to the heavy weight and would require a good deal of upper body strength to operate.
Consumer Price Guide:
The consumer price guide range when last seen at the time of this review was in the $170 to $230 cost range with Amazon which can be double checked below for a more accurate reading

Further Images for the Fiskars 18 Inch StaySharp Max Reel Lawn Mower are outlined below
Part 3: Price Comparison Options
If you need to check or compare prices elsewhere across the market, then make sure to compare the 2 options provided below that will certainly be of interest to you before you make your final decision and can possibly save you some money in the long run while you are here…
Part 4: Conclusion
As far as reel lawn mowers go, this is definitely one of the best we have ever come across and the fact that the heights can be adjusted and the blades need little to no sharpening is a major plus. Would I buy it? Certainly, yes I would but I would probably have a backup electric corded or smaller gas lawn mower also just to give me additional assistance when needed especially for taller grasses and to also give me the option of both cutting the grass manually and also motor assistance.
For dealing with very long grass or if you get rainy weather for a prolonged period, I would then be able to use the electric or gas lawn mower for these times and then maximise the use the Fiskars Reel lawn mower when I could which overall reduces the need for a motor assisted lawn mower for every single mowing session.

Finally, have you any previous experience yourself of using a Fiskars Reel Lawn mower in the past?
If so, then perhaps you can share your own thoughts and feedback good or bad with the wider community by leaving your feedback in the comment box section below – So that people across the wider community can learn also!!!