Hello and welcome to this Scotts Reel 20 Inch Lawn Mower review which will outline all the good and bad points you need know if you are considering buying it in the coming days or weeks. This reel lawn mower is certainly one of the most popular out there across the market so we have put it to the test and we hope by the time you end up reading this review, that you will have a much better idea if indeed this is the right reel mower for you or not.
Review Format
In addition, we will also outline some frequently asked questions that have come up in the recent past that should take care of most of the queries that you may have. There is also 3 low priced reel lawn mower alternatives provided at the end of this page that are worth checking out and comparing also before you make your final decision.
Please note before you begin that guide prices can only be outlined here at the time of this review as prices can change slightly from week to week or month to month depending on local discount activities so please make sure to view the price checkers provided below to ensure you have the most accurate up to date price information.
Scotts Reel Lawn Mower Review Outline
Part 1: Overview with some FAQ's
Part 2: Scotts 20 Inch Reel Lawn Mower Review – Features, Pros, Cons and Images
Part 3: Low Priced Alternatives to Consider
Part 4: Conclusion
Part 1: Brief Overview and FAQ's
| Brand: | Scotts |
| --- | --- |
| Model: | Scotts 20 Inch Classic Push Reel Lawn Mower |
| Orders online: | Accepted with hassle free home delivery |
| Guide Price: | $100 to $150 (at the time of this review) |
| Reliable Place to Buy: | Amazon – View current stock availability here |
| Warranty: | 2 years provided (seller dependant) |
Overview of the some of the Key Features for the Scotts 20 Inch Reel Mower are outlined below

Frequently Asked Questions for the Scotts 20 Inch Reel Lawn Mower
Q1. What are the dimensions for this reel lawn mower?
A. The dimensions are 28 by 18 by 10 inches
Q2. What warranty is available?
A. The warranty available is 2 years
Q3. What is the weight of this reel mower?
A. The weight of this reel lawn mower is approx. 34 Ibs
Q4. How do you get rid of the squeaky creak noises?
A. If this happens, you can add a vegetable oil lubricant around the affected parts.
Q5. What are the blades made from?
A. The blades are made from heat treated alloy steel
Q6. Does this reel mower have a grass catcher?
A. No, this reel mower model does not include a rear catcher (available on other reel models though)
View also while you are here:
Fiskars Reel Lawn Mower reviews - Take a look here
Sun Joe Corded Electric Lawn mower reviews – Take a look here
Greenworks Corded Electric Lawn mower reviews – Take a look here
Part 2: Scotts 20 Inch Reel Lawn Mower Review
Scotts 20 Inch Classic Push Reel Lawn Mower 2000-20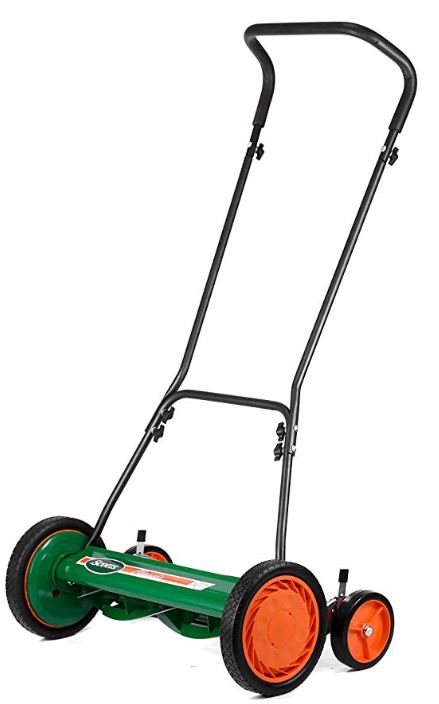 Main Points to Note:
20 inch wide reel
5 blade steel reel mower
Cuts clean and stays sharp
1 to 3 inch height adjustment
9 adjustment heights
10 inch dual tracking wheels
Rear wheels are 6 inches
Quick assembly – no tools
Cushioned ergonomic grip
Rigid steel handle & foam grip
Lightweight to operate
Blades from alloy steel
Pollution free
Environmentally friendly
Unit weight is 34 Ibs
Warranty is 2 years
Main Pros or Advantages
The first to take note of is the quality of the blade here which is heat treated and is made from high quality alloy steel which means it will stay sharper for a lot longer and will require less sharpening on an ongoing basis. The second one is the fact that you are choosing an environmentally friendly option as there is no harmful emissions, no motor, no gas or fuel and no batteries whatsoever which is better for the environment overall.
Operating this reel mower does requires a good deal of energy and burning of calories so you get the opportunity to complete a great workout session and at the same time getting all your grass cut. There are the dual tracking wheels which helps get a better cut, there are no tools needed for the assembly process and there is a good selection of mowing height adjustments available which start at 1 inch to a max height of 3 inches.
From an operation point of view, it is lightweight at less than 35 Ibs, it has a solid steel handle and you get a cushioned ergonomic grip to help reduce hand fatigue and help provide extra comfort.
There are the quick-snap height adjusters for better control of required mowing heights and the noise level overall is significantly lower than gas or electric type lawn mowers which is great if you have lots of neighbors living close by.
The last good thing to know is the fact that there is a 2 year warranty provided which certainly gives more peace of mind before you buy and again it is a great way to reduce your own carbon footprint
Main Cons or Limitations
Performs poorly with long grass and weeds so it requires more frequent mowing to keep the grass height at lower manageable levels.
Will struggle with the first cut of the season and you are better of getting the initial cut completed with a regular lawn mower
The quality of the foam grip could be a lot better and it would only be a matter of time before it is exposed to wear and tear.
It can get squeaky and noisy after a while so a lubricant oil can be needed to make it operate more smoothly and squeak free
Instead of getting it cut on the single pass, several passes can be required to get the desired cutting finish required so it can take a lot longer than expected to get the entire job completed. Pushing through tall and thick grass is also more difficult than expected
You need to frequently check that the wing nuts and all the bolts are tightly fastened as they can get loose after a period of time and you need to be prepared for a work out when using it and it performs poorly on uneven ground and also on slopes
Price Guide:
The retail price guide range when last seen at the time of this review was in the $100 to $150 cost range with Amazon which of course can be double checked below if you wish to take a closer look

Further images of the Scotts 20 Inch Classic Push Reel Lawn Mower are outlined below
Part 3: Low Priced Alternatives to Consider
If you are still undecided about the Scotts 20 Inch Classic Push Reel Lawn Mower and would like to check out more competitively priced options, then make sure to compare the 2 alternative options provided below that will also be of interest to you before you make your final decision...
Part 4: Conclusion
In summary, this Reel lawn mower is definitely not for everyone. Many people with ideal lawn and grass conditions love it while so many others experience far too many difficulties with it.
If I was to buy this reel lawn mower, it would only be there as a secondary option in addition to a gas or electric lawn mower as I would need the gas or electric lawn mower to mow the grass when it gets out of control or gets too tall or thick due to circumstances out of my control such as prolonged rainy weather conditions. I would then only use the reel mower when favourable conditions were in place which reduces the overall usage of the gas or electric lawn mower.

Community Feedback
Finally, have you any previous experience yourself of using a Scotts Reel Lawn mower in the past?
If so, then perhaps you can share your own thoughts and feedback good or bad with the wider community by leaving your feedback in the comment box section below – So that people across the wider community can learn also!!!