Hello and many thanks for taking the time to visit our Gtech Cordless Grass Trimmer review which will explain all you need to know before you make that all-important final decision. Here we will outline its capabilities and we have also included some assembly tips that you can check out further down on this page which gives you an idea on the level of work involved.
Plastic Blades
Unlike many other grass trimmers, this Gtech cordless grass trimmer includes an easy to fit plastic blade and it has a great lightweight design which reduces arm fatigue when it comes to longer type trimming sessions.
Our Gtech grass trimmer review will also outline some frequently asked questions that should take care of most of the queries that you may have and we will also outline exactly what is included in the box and diagrams are provided with all the parts labelled and numbered.
Review Format
After working with this trimmer for a few hours, we will outline what we believe are the main features you need to know plus the main pros and cons that we came across so you can decide for yourself if indeed this is the grass trimmer for you or not. For easier navigation, this Gtech cordless grass trimmer review will be split into 5 parts so feel free to skip to whatever part interests you the most…
Cordless Electric Grass Trimmer Review Content
Part 1: Quick overview plus FAQ's
Part 2: Gtech Cordless Grass Trimmer Review
Part 3: What's in the Box?
Part 4: Assembly Tips
Part 5: Our Conclusion
As guide price levels can only be published at the time of this Gtech Cordless Grass trimmer review, please make sure to view the price checkers provided below to ensure you have the most accurate up to date price information.
Read also: Our Spear & Jackson Grass Trimmer Review Here
Part 1: Quick overview plus FAQ's
| Model: | Gtech 18V Cordless Grass Trimmer |
| --- | --- |
| Power: | 18V Lithium-Ion Battery |
| Trim Width: | 23cm wide |
| Cheap Place to Buy: | Amazon - View Prices Here |
| Warranty: | 2 years long |
| Support: | Gtech Customer support - 0800 484 0215 Monday – Friday 8am to 8pm |
FAQ's for the Gtech Cordless Grass Trimmer (11)
Q1. How long does it take to recharge the battery?
A. It normally takes 4 hours on average to get the battery fully recharged once again
Q2. How heavy is this trimmer to work with?
A. The weight of this grass trimmer is seriously lightweight at only 1.85kg
Q3. Can the length of the telescopic shaft be extended?
A. No, the shaft cannot be extended here for taller people which was disappointing
Q4. Are both the battery and the charger included in the pack?
A. Yes, both the charger and battery are included in the box delivery
Q5. How long does the battery last for when charged?
A. It depends on trimming conditions, but you can expect it to last on average 25 to 30 minutes
Q6. Does it use a cutting nylon line?
A. No, this trimmer uses easy to change plastic blades instead – more can be viewed here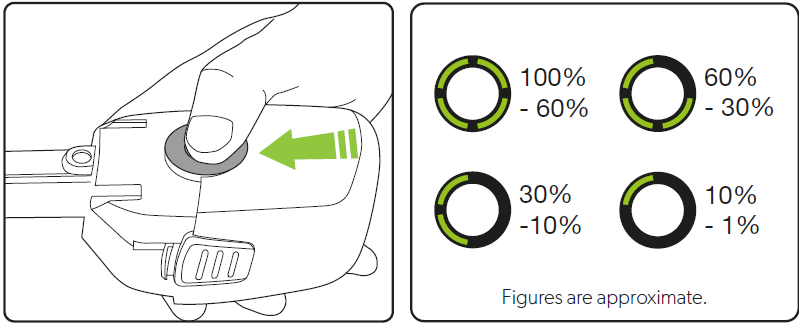 Q7. How long should one wait to store it after use?
A. Ideally, you should allow 30 minutes for the tool to cool down prior to storage.
Q8. Should the battery be full charged prior to Winter storage?
A. Yes, when the season is over, fully recharge the battery before putting it into Winter storage
Q9. What protective gear should be used?
A. Ideally, you should have gloves, stout shoes and eye protection goggles.
Q10. Can this tool be used for commercial purposes?
A. No, this tool is designed only for use in domestic purposes
Q11. Where can I get spare plastic blades for this trimmer?
A. Spare plastic blades (bags of 20) can be ordered online from Amazon UK – view examples here
Part 2: Gtech Cordless Grass Trimmer Review
Cordless Grass Trimmer Description:
This cordless grass trimmer from Gtech uses an 18V rechargeable battery (90 watts power) which generally takes approx. 4 hours to get fully recharged once again. The battery is a Lithium-ion battery which will give you 25 to 30 minutes trimming work time on average which depends a lot on the trimming conditions you are in.
The adjustable handle allows more flexibility with positioning and it has a comfortable feel to it which are kind on your hands and the edging facility works great to give a tidy clean finish around border areas where the cutting head can be twisted around
The handle on the shaft can be adjusted, the head can be rotated to work under benches and garden furniture, or trampolines and it offers a narrow cutting width of 23cm wide. This tool is lightweight in design at just 1.85kg which reduces arm and hand fatigue setting in and it works with plastic cutting blades instead of a typical nylon cutting line (spares are included in the box)
It comes with a 2-year warranty from the manufacturer, it has the safety guard in place as standard and it also has an anti-vibration effect which again are kinder to your arms and hands.
Price Guide: £120 to £170 @ G Tech

Further images of the Gtech Cordless Grass trimmer are outlined below (4)
Pros & Cons to Note
Pros for the GTech Grass Trimmer
This is a cordless grass trimming solution so there is no hassle with cables or cords to manage while you work – plus there is a lot more freedom to the areas you can work
Other cordless grass trimmers can be over 3kg in weight which can be difficult to manage after 10 or 15 minutes work while this trimmer has a great lightweight design at less than 2kg.
There are no toxic fumes, fuel or messy oils to deal with or pay for, so it is an environmentally friendly alternative when compared to petrol powered grass trimmers.
Quick deliveries are available from Argos UK who are good at responding to any queries you may have, and we liked the push button system for assembly and head adjustments which made it more flexible with a lot less hassle.
It comes with many spare blades in the pack with are very easy to change and the instructions are laid out well in the manual
Assembly is quick and easy – only 5 minutes work and you are ready to go (once the battery has fully charged up)
The anti-vibration system is a nice touch to reduce the level of fatigue in your hands and arms and overall it gives a nice and tidy clean trimming finish
Cons for the GTech Grass Trimmer
Many other batteries can be charged in one hour or even 3 hours, but it takes this battery approx. 4 hours to charge which is definitely one of the longest we have come across.
Pricewise, this grass trimmer is on the higher end scale and you can expect to pay over £120 for this trimmer. There are cordless grass trimmers available elsewhere for a lot less than this!
Again, if the cheapest possible price is what you are after, then you should skip this one and start looking at other brands
Lacks the superior power from petrol grass trimmers but it is great for lighter trimming type work all the same.
You need to plan well in advance of any trimming work to ensure the battery is fully charged before you start
The length of the shaft cannot be extended which was disappointing. Many other brands offer telescopic shafts that can be extended for taller people which in turn reduces potential backaches
The plastic blade cutters work well but tends to wear down a lot quicker when cutting tougher weeds, plants and grasses (at least spares are included in the box)

Part 3: What's in the Box?
There are 6 main parts included with this Grass trimmer and each of these are outlined and numbered below such as the trimmer shroud, the bag of plastic blades and the grass trimmer head.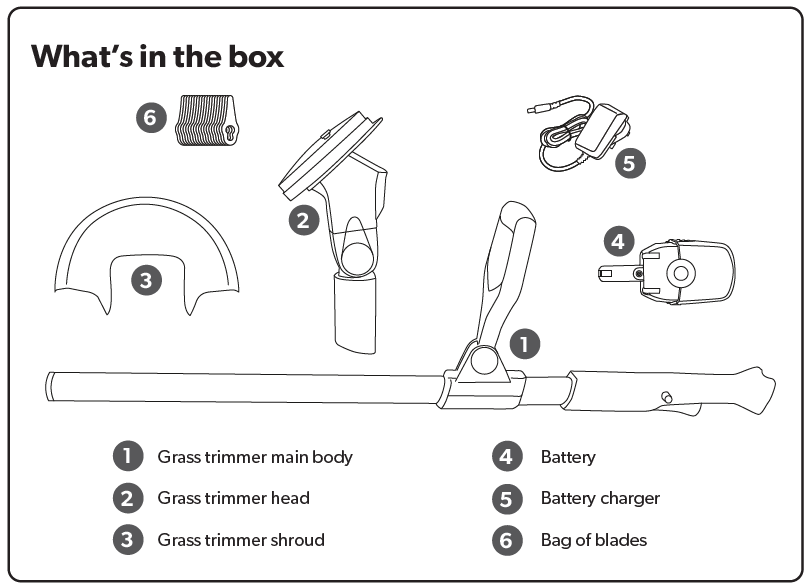 Safety tips when using this Trimmer
Like with any grass trimmer, you should only use this trimmer in daylight hours or with good artificial light and always keep it out of reach of small children. You need to have both hands correctly positioned on the handle at all times when the tool is switched on and you should also make sure you have solid and secure footing while in trimming is in operation. You should always note that the plastic blade will continue to rotate a while when you switch it off so make sure you double check that it has completely stopped.
In addition, please always pay attention to potential hazards around your garden, wear suitable protective clothing and do not overreach on steep slopes for your own safety as slippages can occur on damp ground. When it comes to removing the battery, you should press the button as outlined in the image below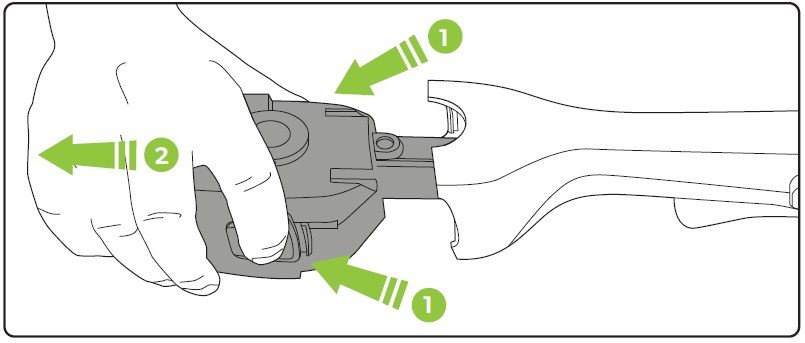 Part 4: Assembly Tips
All the assembly tips are outlined in detail in their manual but a sneak preview of the main steps that you will need to follow are outlined below. These assembly steps are quite easy to follow and well laid out in the manual. You will need to assemble and attach the shroud first by aligning the 3 clips, then insert the pole, hook a plastic blade over the pin and finally insert the battery. These key steps are outlined in the images below.
Part 5: Our Conclusion
Would we buy this Grass trimmer? Most likely not to be honest. We much preferred both the Worx cordless trimmer and the Spear and Jackson grass trimmer as that one has the adjustable shaft which could be extended plus it has a longer warranty period. The one advantage here though for the Gtech is the easier plastic blade changing and the lighter weight along with the adjustable handle, but the battery does take a lot longer than expected to get charged up again and the plastic blades do tend to wear down rather quickly in tougher conditions. Many other batteries are charged in a lot less time than this.
Verdict
Would I recommend it? To be honest, we are only 50/50 on it as we have worked with better grass trimmer tools than this and the price here is actually higher than the ones we preferred. While it is not the best option out there in our opinion, it was still able to trim the edges as we had expected it to do. That being said, it can't be faulted in terms of getting the work done as required all the same.

Spread the Word
Have you ever used a Gtech Cordless grass trimmer yourself in the recent past? Anything positive or negative to say about the plastic blades or the battery?
If possible, please educate others in the UK community by leaving your feedback or comment in the comment box section provided below.