Greetings once again and thanks for taking the time to visit.  If you are interested in buying a Flymo Easi Glide Hover Lawnmower in the coming days, then you will need to check out this detailed review which will outline all you need to know before you buy.
This review will outline all the key features that it has to offer plus all the pros and cons that you need to be aware of to find out if indeed this will be the most suitable Hover lawn mower for you or not.
In addition, we will also outline several frequently asked questions that have come up that will definitely be of interest to you and should answer most of the queries that you may have. We will also outline some images to give you a better understanding of the main features plus a comparison table against other Flymo models to add further clarity and peace of mind.
Please note also that guide prices can only be presented at the time of this review as prices can change from week to week depending on discount activities so please make sure to view the price checkers outlined below to ensure you have the most accurate up to date price information.
For your convenience, this review will be laid out in 5 parts as follows:
Quick Overview
Frequently Asked Questions
Review of Features, Pros and Cons
Comparison Table
Price Comparison Options
Part 1: Lawn Mower Review Overview
| Brand: | Brand: |
| --- | --- |
| Model: | Flymo 33cm Easi Glide Hover Lawnmower |
| Warranty: | 12 months |
| Orders Online: | Yes, with hassle free home delivery |
| Cheap Place to Buy: | Argos UK – View Stock Availability Here |
| Support: | Helpline is available at 0344 844 4558 |
Part 2: Frequently Asked Questions
Q. Does it include the vision window?
A. Unfortunately no vision window is available for this model but is available on other models under this brand
Q. How does the Hover lawnmower operate?
A. It operates by the motor driving a fan beside the blade, drawing in the air and lifting it on a generated cushion of air
Q. Can I use extension cords?
A. Yes, you can use an extension cord but please make sure the fittings are compatible
Q. How long is the cable provided?
A. The length of the cable included for this model is 12m (15m with the UltraGlide)
Q. How big is the grass boxes and do you need to empty it regularly?
A. The grass box is quite small at 20L but the grass is compacted to reduce time spent emptying
Q. What height of mowing is available?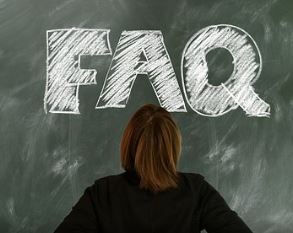 A. The range of mow heights are 1cm to 3cm across 4 different height settings
Q. What type of blade is used?
A. A metal blade is used for cuttings
Q. How can the heights be changed?
A. You can change the heights by adjusting (adding / removing) the spacers provided with the spanner that is included.
Q, When it is delivered, what mow height is it set to?
A. When you receive it, the height for mowing is set at 2cm
Q. Can it give the stripes across the lawn?
A. There is no rear roller so it cannot give the striped effect
Q. Does it have the mulching ability?
A. Unfortunately no, there is no mulching capability – only standard cuttings
Q. What blade is available if I need to replace it?
A. You can order a replacement blade by using reference number FLY027
Q. What are the dimensions when folded down?
A. The dimensions when folded away are approx.  H69cm by L143cm by W40cm
Q. Can you get a free trimmer?
A. It is seller dependant – when last seen on sale with Argos, it was available under reference 7304871 but only while stocks last
Q. Can additional spacers be bought if they go missing?
A. Yes, you can buy additional spacers if they go missing in the spares department at Argos
Q. Some say the cable is only 10m – is it 10m or 12m?
A. The cable length for the Easi Glide 330 is 12m
Part 3: Flymo Easi Glide 330 Review – Features / Pros / Cons
Flymo 33cm Easi Glide Hover Lawnmower 1400W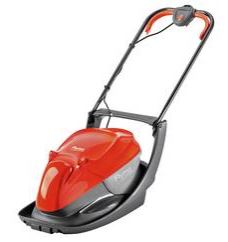 Main Features Available:
Provides a mow cutting path of 33cm and a power level of 1400W.
Operates on a cushion of air with a metal blade
Suitable for small and medium sized gardens only
Corded version for power with a 12m cable included as standard
Front roller wheels to help with transport when not in use
Light weight coming in at 8.8kg
Includes a grass box with a collection capacity of 20L
Provides 4 different mow height settings that range from 1cm to 3cm
Includes the double handed switchbox for left or right-hand use
If you need a vision window, consider the 1450W or the 1800W models instead
Spacers and a spanner is included for height adjustments
The price when last seen on sale with Argos was in the £85 to £115 bracket (plus a Free Trimmer valued at approx. £30) which of course can be double checked below

Further Images with Features are outlined below:
Main Pros Outlined:
The big attraction here is that there can be a free trimmer valued at approx. £30 included when you buy (seller dependant)
Another big attraction is that there is zero assembly work needed – it's ready to go straight from the box
Cable length here of 12m is 2m longer than the Hovervac 280
Extremely light piece of equipment to work with as the weight is around 9kg so it can be carried around quite easily
Ideal for areas around steep slopes, uneven ground, banks or areas hard to reach by rotary lawn mowers
When not in use, you can use the front roller wheels to bring it to your required destination and the rear handle allows it to be carried easily also
No charging of batteries, spare batteries, fuel or ongoing maintenance costs to worry about.
Environmentally friendly alternative to petrol lawn mower with no toxic fumes
Noise level is considerably lower than petrol mowers which is great if you have neighbours living close by.
If you are left or right handed, you can adapt it via the double handed switchbox
Not only does it collect the grass, it will also compact it which means less time is spent emptying
Perfect for people who have limited storage space in their sheds as it folds away easy in a compact format
Although not the perfect Hover model for everyone, many people recommend it strongly and the price level gives good value for the amount you have to pay
Main Cons Outlined:
The width is 3cm narrower than the UltraGlide which means more mow passes are needed on your end
Warranty available is only 12 months where McGregor offer 2 years for theirs.
Grass box has a lower capacity then the Glider 1450W of 6L and lower than the UltraGlide 1800W by 10L
Confusion over the vision window – stated as being available in some places but is not – only available with the 1450W Glider and the UltraGlide
The length of the cable is shorted than the UltraGlide by 3 metres so plan ahead for this if needed
No rear roller is available for the striped effect plus no mulching capabilities for composting grass cuttings back into the soil.
Cannot be used for long grass, damp grass or large gardens – otherwise you need to start looking elsewhere
Limited work area to the length of the cable or extension cord so check your garden dimensions first
You must learn to master the technique of avoiding the cord on your cutting paths as you work but gets easier once you get the hang of it.
The free trimmer that can be included is very lightweight and is not suitable for thick grass or heavy duty work. Plus is only available with limited stocks so it's not always guaranteed and the line could be better and stronger
Getting an 100% even cut at times can be difficult to achieve and many reported too much grass was left uncollected meaning additional work to clean up afterwards especially around patio areas / driveways

Part 4: Comparison Table
A comparison table versus other Flymo Hover Lawn mowers is outlined below for further clarity with their available features
| Feature: | Easi-Glide 330 | Hover vac 280 | Glider 330 | UltraGlide |
| --- | --- | --- | --- | --- |
| Mow Width: | 33cm | 28cm | 33cm | 36cm |
| Power Level: | 1400W | 1300W | 1450W | 1800W |
| Grass bag Size: | 20L Capacity | 20L Capacity | 26L Capacity | 30L Capacity |
| Height Settings: | 4 | 4 | 4 | 4 |
| Mow Height Range: | 1cm to 3cm | 1cm to 3cm | 1.2cm to 3.2cm | 1.3cm to 3.2cm |
| Warranty: | 12 months | 12 months | 12 months | 12 months |
| Cable: | 12m long | 10m long | 12m long | 15m long |
| Rear Roller: | Not available | Not available | Not available | Not available |
| Mulching: | Not available | Not available | Not available | Not available |
| Safety Switch: | Included | Included | Included | Included |
| Vision Window: | Not available | Not available | Available | Available |
| Weight: | 8.8kg | 8.4kg | 9.9kg | 12kg |
Part 5 – Price Comparisons
If you would like to compare prices elsewhere in the marketplace, then make sure to take a quick look also at the options provided below…
Further Reading:
While you are here and if you are still undecided – take a look at further reviews outlined as follows:
Have you any previous experience of using a Flymo Hover Lawnmower? If so, please educate the UK community by leaving your feedback good or bad in the comment section provided below – So that they can learn also! (any personal data is kept strictly confidential)