Greetings once again and welcome to this compilation review of Wolf Garten lawnmowers which are available for sale in the UK at the moment. If you are thinking about buying a Wolf Garten mower in the comings days, then take a quick look through this useful review which will help you decide if this brand of mowers is the one for you or not.
Corded, Cordless & Cylinder
Depending on your preference we have conducted a review on mowers in each of the categories be it corded, cordless and hand push mowers so that it can meet multiple preferences and needs. In addition, while you are here, I also want to make sure you get the best possible price so please ensure to take a quick look also at the price checkers provided below...
Lawnmower Review Overview
| Lawnmower Review: | Detail: |
| --- | --- |
| Brand: | Wolf Garten |
| Lawnmower types: | Corded Push, Cordless, Hand Push Reel, Corded Self Propelled |
| Models: | 4 popular models reviewed |
| Cheap Place to Buy: | Amazon UK – View today's low prices here |
Video demo: Wolf Garten Lawnmowers
Wolf Garten Lawnmower Overview
The Wolf Garten range of products are distributed by a British company in the UK called E.P Barrus and they have over 80 years' experience trading in the UK market. This company E.P Barrus Ltd is a family based company which is co-owned by another company called MTD products who are one of the largest organisations in the world for manufacturing outdoor power equipment.
In addition to Wolf Garten, this company are also responsible for other brands that you will be familiar with such as Cub Cadet and also Lawnflite and all their tools have a warranty and are covered by a guarantee.
Frequently Asked Questions about Wolf Garten Lawnmowers
Q1. Where does the brand originate from?
A. It originates from Germany
Q2. What level of warranty is available?
A. There is a 3 year limited warranty (please double check and confirm with your seller prior to purchase)
Q3. How long does it take to charge the 70V battery?
A. The recharge time is approximately 1 hour duration
Q4. How long with the charged battery last for the cordless 70V?
A. It is expected to run from 25 to 40 minutes (30 min on average)
Q5. Does the corded 38cm model have a rear roller?
A. No, there is no rear roller included
Q6. Is there an extension cable included with the 38cm corded mower?
A. You get a 20m cable included with this mower
Q7. Do you need to use the grass collector with the Push cylinder reel mower?
A. No, it works fine also without the grass collection – it is your choice to use it or not
Wolf Garten Lawnmower Review Compilation - Our Top Picks
1, Wolf-Garten Select S3800E 38cm 1400W Corded Lawnmower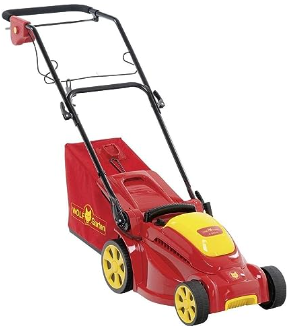 Key Features
This corded mower has an 1400W electric motor which will give you sufficient power you need as long as grass conditions are maintained properly. The chassis is made from high quality heavy duty plastic which reduces the weight of the mower and making it easier for you to push around
You get handles with the ability to fold down and there is also a carry handle so it becomes very easy to move around when it is not in use. The width of the mower is 38cm so it is really only suited for your smaller to medium size lawns
The larger wheels at the back will also make it easier to get through the taller grasses and there is 5 mow height settings with mow heights ranging from 2.5cm to 6cm plus the grass collection box can carry 40L. The size is also 70 by 45 by 35cm
There is also the 3 year guarantee which is great, a safety switch for added protection and also the weight of this model is only 16kg making it very easy to work with.
Pros:
The big advantage is the lighter weight of 16kg and the plastic chassis so this machine is really easy to work with.
Extra carry handle is great also for carrying around when you are not using it.
The extension cable is longer than most other models in this category which its longer length of 20m. Very easy to assemble
Cons:
You are limited to the area you can mow by the length of the cord which is 20m.
A secondary extension cord may also be needed which is an added expense if your lawn extends beyond 20m.
Grass box is quite small and will fill up very quickly. Can be difficult to clean underneath also.

2, Wolf-Garten Cordless 72V Power 34 Lawnmower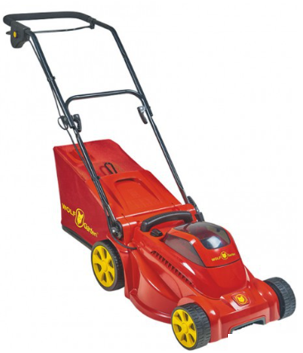 Key Features:
This a cordless alternative to the corded version above so there are no cables to worry about here but the price tends to be higher than the corded model. Included in this model is the 72V Lithium ion battery which is a lot higher that many other models in the same category.
The width of the deck is 34cm and the charge time for the battery is roughly 1 hour. Included is the grass box with a 30L capacity and the safety switch is included as standard.
It is built around a high-resistance polypropylene system cutter deck which won't corrode. It also has comfortable hand grips to help fight fatigue in the hands and arms. Finally, the mow height ranges from 2.5cm up as far as 7.5cm and there are 6 different height adjustment levels.
Pros:
No cables to worry about as the mower is powered by a charged battery.
Gives the power similar to a petrol mower with its 70V battery.
Environmentally friendly alternative with no gas / petrol / oil and the maintenance costs is virtually nil apart from sharpening the blades.
Cons:
Price is much higher than the corded version. You are also limited to mow time of your charged battery which tends to be between 25 and 40 minutes.
If your lawn takes longer than this then you will run into difficulty.
Over a few years, you may also run into issues with battery degradation and the need for replacing it.
Grass box is also 10L smaller than the corded version above

3, Wolf-Garten Expert 46cm 1600W Electric Self Propelled Lawnmower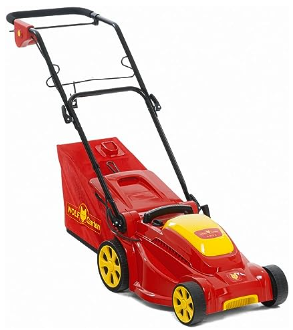 Key Features:
The width is 16 inches or 46cm wide and this mower is a self propelled electric mower which helps you push your mower the garden and makes your life so much easier especially when it comes to climbing up steep hills.
It is powered by a 1600W induction engine and gives plenty of power that you would expect. It is larger than the models mentioned above as the weights is 26kg and the grass box is also larger at 55L capacity. The chassis is made of high quality heavy duty plastic which makes it lighter than others in the same bracket.
There is also 5 different height settings and the mow height range from 2.5cm up as far as 8cm and the higher wheels at the back which helps with tall grasses
Pros:
Larger grass box so less time emptying is needed and the self propelled feature is great for getting around more difficult spots around your lawn.
You also get a longer cable than most other models which has a length of 20m.
Cons:
A lot heavier than the previous 2 models with a weight of 46cm which makes it more difficult to move about it and work it.
This is a single speed only so the speed cannot be varied.
You are limited to a reach of 20m with the cord – if your lawn extends beyond 20m, then you will need to get another added extension cord.

4, Wolf-Garten 30cm Cylinder WPCM Hand Mower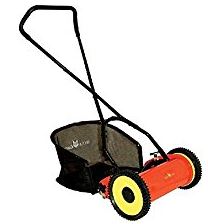 Key Features:
This is a cylinder Push reel mower with no engine and the mowing width is 30cm wide. You get handles that fold down so easy to store plus there us 5 blades in the cylinder
It has a smaller grass bag of 20L capacity and the dimensions of the pack are 49 by 42 by 24 cm when it comes to soring it away in your shed.
The blades are made from carbon steel to last longer and the mow heights can be adjusted from 1.9cm up as far as 3.5cm
Pros:
No fuel costs and little to no maintenance costs. No need to worry about cords or batteries or anything like that.
Environmentally friendly with no power needed except from the power of your arms.
Really cheap price and is ideal for you if you need to work with a tighter budget.
There is no noise which is great if you have neighbours close-by and again the price is the main attraction
Cons:
Difficult to master and also struggles with longer thicker grass as the long grass and weeds tend to get tangled through it and its extremely difficult to untangle it.
Requires a tough workout to manually do all by yourself but you burn tons of calories with your effort.
Grass need to be kept under strict control – you must not allow the grass to grow too long and out of control.
Grass bag tends to be a bit flimsy also and could be made sturdier and many tend to use this mower without the grass box attached.

Comparison Table
A summary comparison table is also outlined below:
| Model | Type | Grass box | Mow heights | Weight & Width | Power |
| --- | --- | --- | --- | --- | --- |
| Wolf-Garten Select S3800E 38cm Corded Lawnmower | Corded | 40L | 2.5 to 6cm | 16kg, 38cm | 1400W |
| Wolf-Garten Cordless Power 34 Lawnmower | Cordless | 30L | 2.5 to 7.5cm | 14kg, 34cm | 72V battery |
| Wolf-Garten Expert 46cm 1600W Self Propelled Lawnmower | Corded Self propelled | 55L | 2.5 to 8cm | 26kg, 46cm | 1600W |
| Wolf-Garten 30cm Cylinder WPCM Hand Mower | Push Reel | 20L | 1.9 to 3.5cm | 10kg, 20cm | Push |
Further Reading
So that wraps up this quick review on Wolf Garten Lawnmowers. If you are still undecided about the Wolf Garten brand of Lawn mowers, then take a quick look through other UK based lawnmower reviews as follows that may be of interest to you also…
Bosch Lawnmower Review Compilation – Read more here
Flymo Lawnmower Review Compilation – Read more here
Best UK Corded Lawnmowers reviewed – Read more here
Best UK Cordless Lawnmowers reviewed – Read more here

Community Feedback
Finally, if you have used a Wolf Garten lawnmower in the past - please share your experiences good or bad with community by leaving a comment in the comment box below so that they can learn also!